A little bit of fried food doesn't hurt anyone, especially if you make it with your favorite oil.
Is sunflower oil something that you love to cook with?
If yes, what do you do when you want to fry your veggies but realize that you used it all up the last time? You get irritated.
But there are several oils that you can substitute for sunflower oil.
In the following sections, let us find out which are the five best substitutes for sunflower oil.
What is Sunflower Oil?
Sunflower oil is the product of squeezed sunflower seeds.
It is popular as cooking oil, as medicine, and also in cosmetics.
It has high vitamin E content and therefore is excellent for skin care.
You can find two types of sunflower oil in the market; refined and cold-pressed.
Both are edible and delicious.
However, the first one is suited for sautéing and stir-frying because its smoke point is relatively high.
In contrast, the second type is ideal as dressing for salads and foods that require low heat for cooking.
It is a suitable oil for cooking in many homes because it is healthy and because it is affordable.
5 Best Substitute for Sunflower Oil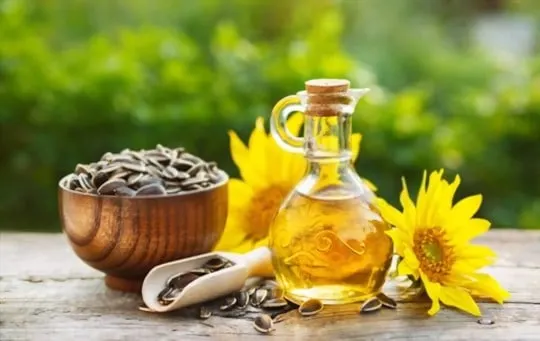 While sunflower oil is an amazingly delicious and versatile oil, it can run out of stock too.
But as mentioned earlier, nothing that can't be fixed.
Here is a list of the five best substitutes for sunflower oil that you can use when your favorite variety is not available.
1 – Vegetable Oil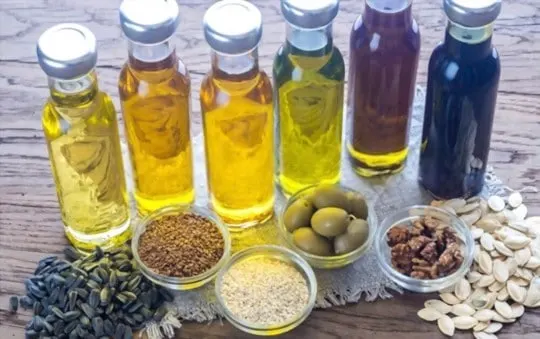 Oil made from various seeds and plants all comes under vegetable oil.
Many vegetable oils available on the market are from a mixture of various plants and not just one species of plants/seeds.
It is also likely that one of the oils which you choose could contain sunflower oil.
So, while buying one, go through the contents. Vegetable oil is a versatile oil and is suitable for cooking or baking.
You can make any dish without the oil overpowering the flavor. However, not all vegetable oils are healthy.
So, use it moderately in your diet. Besides, use a small quantity for frying, and if possible, don't reuse the oil at all.
Suitable ratio:
• 1 teaspoon sunflower oil = 1 teaspoon vegetable oil.
2 – Canola Oil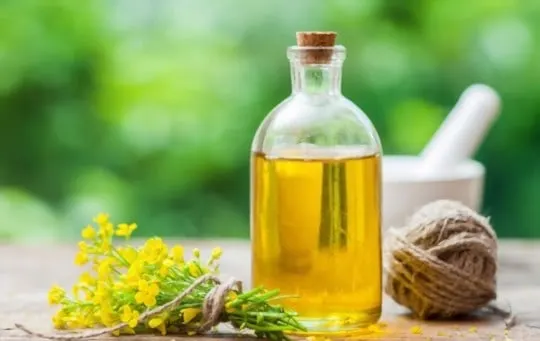 Canola oil is a good alternative in case you run out of sunflower oil.
This particular oil is good for cooking at high heat and contains minimum levels of saturated fats.
Since it has a very subtle flavor, it is quite suitable for baking different items.
You can also stir fry, sauté, and grill with it. A touch of canola oil can also go well with sauces and salads.
Apart from being a versatile oil, it offers certain health benefits too.
It does not contain gluten or soy and also has some healthy fatty acids.
However, it also contains some substances that can be harmful.
But anything of too much is always bad for health. So, use it sparingly for good health and taste.
Suitable ratio:
• 1 teaspoon of sunflower oil = 1 teaspoon of canola oil.
3 – Coconut Oil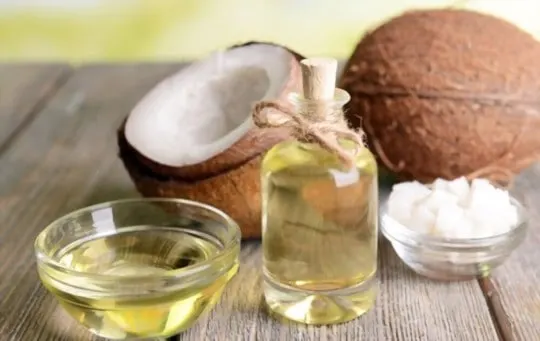 Looks can be deceiving, and this is true about coconut oil.
It becomes solid when cold but is a great choice when sunflower oil is not available.
You can use it for baking a variety of items.
Due to it being highly resistant to oxidation at high heat, it is perfect for frying food.
Coconut oil is also a healthier choice than many other varieties.
Studies show that moderate intake can improve heart health and help in weight loss.
It is also a popular ingredient in many hair and skincare products.
However, coconut oil also has a powerful flavor and fragrance.
Too much of it can overpower the dish. So, when substituting sunflower oil, use it wisely.
Suitable ratio:
• 1 teaspoon sunflower oil = ½ teaspoon coconut oil (add extra only if you need a specific flavor).
4 – Safflower Oil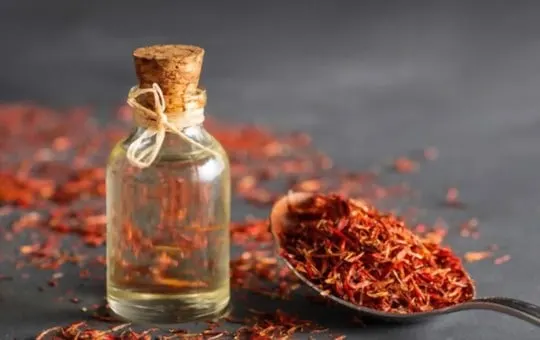 Safflower oil must be the closest in similarities with sunflower oil.
Produced from the seeds of the safflower plant, it has a mild flavor.
It, therefore, is a good choice for sunflower oil, especially in baking.
You can also use safflower oil for stir-frying and sautéing.
Follow the exact instructions as vegetable oil when deep frying any item.
Though it offers some health benefits, experts say it has a high content of polyunsaturated fats.
These are unhealthy fats. Hence, use it moderately, and only you are out of any option.
Suitable ratio:
• 1 teaspoon sunflower oil = 1 teaspoon safflower oil.
5 – Olive Oil
Olive oil is a suitable choice in place of sunflower mostly because it is very healthy.
One of the doctors and nutritionists' most recommended edible oils, olive oil, can give a unique taste to dishes.
It has a stronger flavor than sunflower oil. Hence, if you want to use it in cooking, choose a lighter variety.
The extra virgin type is suitable for salad dressing and light frying.
You can use olive oil in moderate quantities to boost your overall health.
As per research, daily consumption in small amounts showed a notable decrease in the risk for cardiovascular disease.
Since it has a very strong flavor, we recommend you to use it sparingly when replacing sunflower oil.
Otherwise, it will change the taste of the whole dish.
Suitable ratio.
• 1 teaspoon sunflower oil = 1/3 teaspoon olive oil (you can add more if needed).
Conclusion
So, these are the oils that you can substitute for sunflower oil when it isn't available.
But the choice is not limited because there are plenty of edible oils out there.
It is important to remember that anything can be harmful if we use it too much.
So, whatever oil you choose, use it in small amounts and enjoy cooking any dish.
Also, try to finish a bottle before the expiry date.