Have you ever heard of Sulguni cheese? If the answer is no, you're missing out.
This delicacy from Georgia has become one of the most popular ingredients in the country.
You can cook with it and use it in traditional dishes or just as a standalone treat.
But if finding this unique cheese is not possible for you, fear not.
We have some great substitutes that are sure to satisfy your cravings.
So fire up those pans, and let's get cooking with Sulguni cheese – or its delicious alternatives.
What's Sulguni Cheese?
Sulguni cheese is a type of brined cheese originating in the Georgian region of Samegrelo.
It has a sour, moderately salty flavor and a dimpled texture with an elastic consistency.
The cylindrical shape of Sulguni cheese is white to pale yellow in color and usually comes in the form of a flat disc.
The taste of Sulguni cheese is slightly sour and salty, making it perfect for use in savory dishes.
Its creamy texture makes it ideal for melting, while its elasticity makes it great for slicing or shredding.
It can be used as an ingredient in salads, soups, stews, sandwiches, pizzas, and more.
It can also be enjoyed on its own as part of a cheese plate or served alongside crackers or bread.
Sulguni cheese is often smoked to give it an even richer flavor and aroma.
Smoked Sulguni has a milder taste than regular Sulguni and can be used in both sweet and savory dishes such as omelets, quiches and desserts.
The 5 BEST Substitutes for Sulguni Cheese
If you're searching for the perfect substitute for Sulguni cheese, look no further.
Our top 5 picks will give you everything you need to create delicious dishes.
1 – Feta Cheese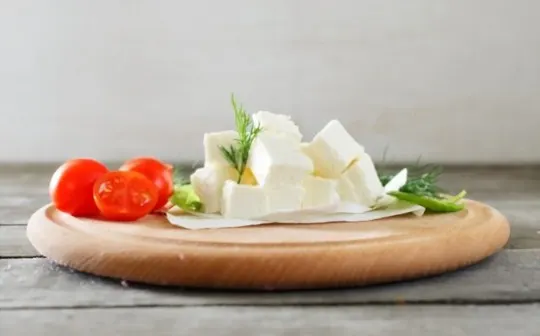 Feta cheese is a delicious, tangy treat with an interesting backstory.
It's an ancient Greek delicacy that has been beloved for hundreds of years and can easily become a staple in your fridge.
Feta has a firm texture, a slightly salty taste, and crumbles easily when cut.
To substitute it for Sulguni cheese, let it sit at room temperature before adding it to salads or crumbling it into baked egg dishes like frittatas.
In fact, feta is so versatile that you can even mix it into your favorite sauces or spread some over freshly toasted pita bread.
No matter how you choose to use it, one thing's for sure; feta cheese packs a flavorful punch and will instantly elevate any dish you put it in.
2 – Mozzarella Cheese
Mozzarella cheese is a staple Italian cheese famous for its distinctive flavor and stringy texture.
It's crafted using a unique way of kneading fresh milk curd, heated at high temperatures, to create that familiar stretchy texture we all love.
Besides being perfect on pizza and in food dishes, mozzarella also tastes great paired with sweet tomatoes, salty olives, and crispy basil leaves.
If you're looking to switch it up from your usual mozzarella, try substituting it with Sulguni cheese – a close relative of the former – for a more mild take on the traditional chewy texture that also comes with a slightly lemony aftertaste.
3 – Ricotta Cheese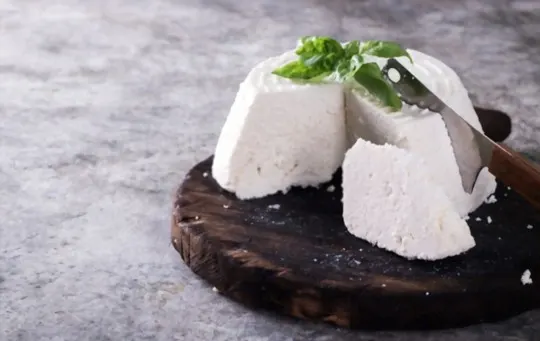 Ricotta cheese is an Italian staple beloved around the world for its creamy, milky flavor and delightfully light texture.
It's a versatile ingredient in many recipes, from pancakes to pasta dishes, and its subtle sweet taste adds an extra layer of deliciousness.
Unlike other cheeses, ricotta is uncooked, made from the whey of cow, sheep, or buffalo milk; yet when it comes to finding the perfect melting cheese, there's no substitute for Sulguni.
Luckily you can use them interchangeably – Ricotta provides a milder flavor, while Sulguni offers a unique tanginess that makes cooking with either option fun.
4 – Gouda Cheese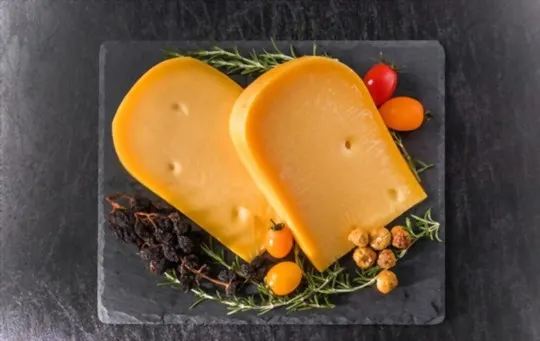 Ah, Gouda cheese – the classic Dutch creation that has won over the hearts of cheese lovers around the world.
Whether you love to munch on it in slices or melted over toast during an early morning breakfast, this cheese has a remarkable texture and taste every time.
The first thing most people notice about Gouda is its sharp flavor as well as its slightly firm texture due to aging – both qualities which make it a perfect addition to any sandwich or platter of hors d'oeuvres.
If you're looking for an alternative to Sulguni cheese, Gouda is your go-to choice.
Grate it onto a pizza or bake it into savory dishes for a unique dose of cheesy goodness.
5 – Cottage Cheese
Cottage cheese is a delicious and versatile cheese that has been around since the 1800s.
It's produced from pasteurized cow's milk, separated into curds and whey.
The curds are drained, salted, and left to ripen for a slightly sour flavor.
The texture of cottage cheese is soft, creamy, and lumpy – perfect for spreading or savoring by the spoonful.
This cheese pairs nicely with both savory and sweet combinations – from slices of toast with olive oil to fresh fruit salads or even crumbled-on tacos and burgers.
If you're looking for an alternative to sullguni cheese, give cottage cheese a try.
It will lend the same creaminess as Sulguni plus a signature tartness that creates delightful new flavor profiles in your recipes.
Conclusion
In conclusion, Sulguni cheese is a unique and delicious ingredient that can be difficult to find.
Luckily, there are many substitutions available, including feta, mozzarella, ricotta, Gouda, and cottage cheese.
Each of these cheeses has its own special flavor and texture, which will lend an interesting twist to any dish.
Whether you're looking to make an Italian pizza or a gourmet salad, these substitutions will provide plenty of rich and creamy goodness.
About The Author