People who are fond of alcoholic drinks cannot miss this popular beverage.
Even if not that, if you are a fan of Kdramas, then pretty sure you know what soju is.
While, of course, no Korean dramas are complete without the characters drinking soju, it gets you wondering – what does soju taste like?
Soju is a well-known alcoholic beverage all around the globe. People love to drink it whenever they eat pork bellies, grilled beef with their friends.
And as it happens, soju is made mainly for this very reason.
If you drink this beverage moderately, it brings enjoyment and indeed makes your meat taste better too.
If we have caught your attention, then do keep reading. In this post, you will learn more about soju, what it tastes like, and much more.
What is Soju?
Soju is generally prepared of barley, wheat, and rice, similar to Japanese sake.
It is a purified spirit that has no color, containing low content of alcohol. Going under the purified process increases the alcohol content a little bit.
Also, soju can be prepared using tapioca and sweet potatoes. This method was first discovered in the olden days since people were banned from producing rice to brew alcoholic beverages.
Soju is acclaimed as the 'National Drink' of Korea because of its rising popularity in the country as well as throughout the globe.
This drink is one of the best in the world.
Given that soju has no color, people often get confused between this drink and vodka. But, they are pretty different from each other.
What Does Soju Taste Like? Does Soju Taste Good?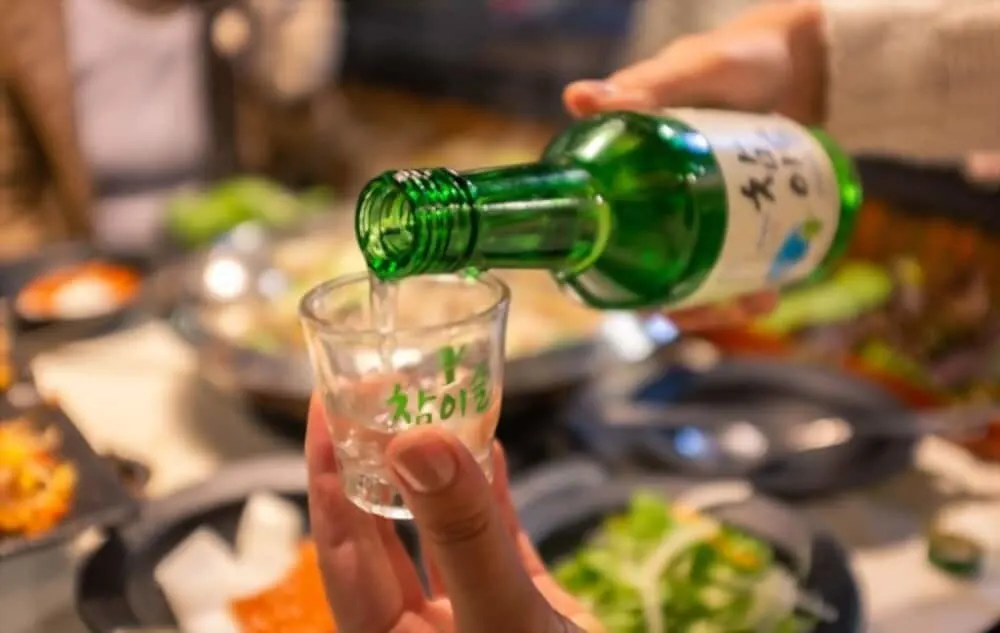 There is a reason why soju rose to popularity throughout the world as well as among the hard drinkers. It is because of its taste.
The taste of soju is a clean, neutral one. It often makes people think about vodka and how it tastes on the palate but most commercial brands have sweeter flavors than their Moscow counterparts.
This means there's less astringency for those who enjoy more bitterness undertones in alcoholic drinks to detect!
With high alcohol content, this drink tastes like high-proof moonshine. The authentic soju tastes relatively strong yet sweet.
When you consume it pure, you feel a faint and subtle kick on your throat.
After some time, you will feel the burn down the throat while your mouth is left with a sweet, refreshing aftertaste.
Having said that, in case you do not prefer the authentic flavor, you can try out the different types of soju flavors.
It includes peach, pineapple, green grape, grapefruit, apple pomegranate, and blueberry.
When it comes to the nutritional content, a bottle of soju, fruit soju, to be more specific, contains about 400 calories.
It has no protein, fat, and 20g of carbs. As for the calories, it has higher content in comparison to beer.
For Korean soju, here is an overview of the nutrition facts for one bottle:
Calories – 527
Carbohydrate – 17 grams
Protein – 6% of Daily Value
Calcium – 1% of Daily Value
Iron – 2% of Daily Value
Potassium – 2% of Daily Value
Therefore, too much consumption of soju is discouraged, especially if you are planning on losing weight.
Other than that, it has been found that one drink of soju daily may aid in preventing strokes.
Additionally, mixing salt with soju and consuming it helps in relieving inflammation, coughing, chest pain, and swelling.
How to Drink Soju Properly?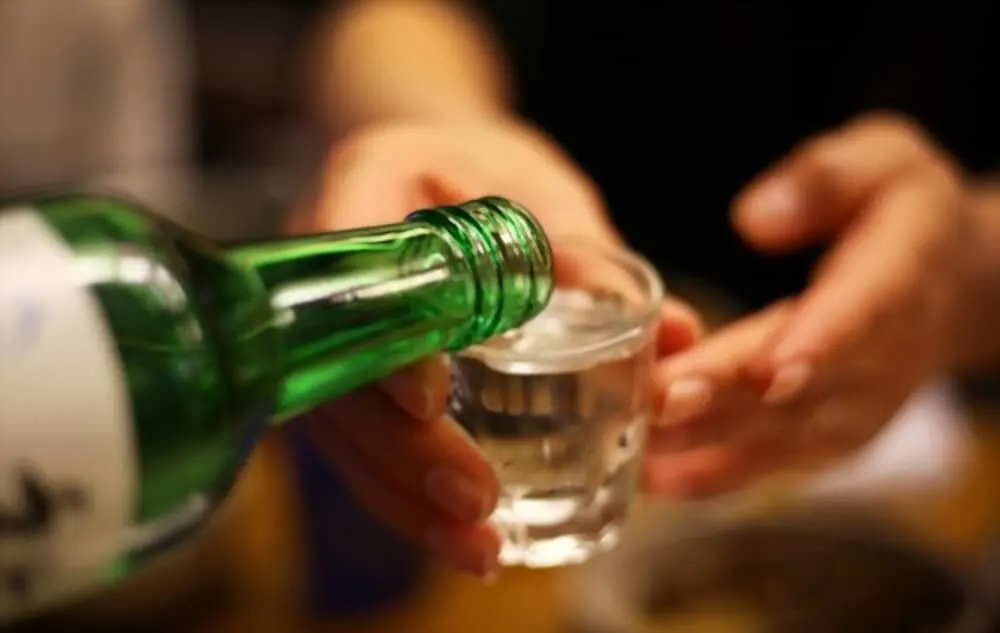 Neat and usually chilled is one of the most common ways to drink soju. You can sip it straight from a small glass and enjoy the drink with snacks and food.
You can try the drink with kimchi and Tteok-bokki as well. You will love it!
That said, social norms are fixed in Korean culture, and it associates with consuming soju.
Usually, they pour the drink for others and never for themselves, and this starts with the group's eldest member.
Everyone is supposed to hold the glass with both their hands.
You then need to down the drink at one go and should not look at the one who poured for you.
After that, you can sip on the drink. Not even a drop of soju is left once the bottle opens, and this leads to some unpleasant hangovers.
Aside from the traditional style, you can even use soju in alcoholic punches as well as mixed drinks.
Soju with a high alcohol content will go well with cocktails since the mild ones may lose their taste because of other ingredients.
Soju is an easy and great way to turn any drink into low-proof mixed drinks.
Especially during summer, the drink is often paired with watermelon. Soju is also combined with beer, and this mixed drink is called Somaek.
Some other cocktails mixed with soju are Soju Yakult and Soju Bomb.
With that said, do keep in mind that the alcohol content in Soju is between 12 and 53% alc/vol.
So if you are lightweight, a bottle of this drink can easily knock you out.
Conclusion
Soju has gained the spotlight it deserves worldwide because of its distinct taste.
Furthermore, you can add more flavors to the drink and enjoy it with your friends.
The best part is Soju is widely available in the market since it is reasonably priced.
Now, do you have an answer to your question of what soju tastes like?
Once you are done reading this guide, go ahead and try the drink for yourself.
About The Author