When food gets boring, a pinch of smoked paprika can make all the difference.
It is an essential ingredient to have in the kitchen with a rich, smoky flavor and a pronounced heat.
Whether you like it quite hot or mild, you can add it according to your liking.
But your kitchen cupboard may run out of the ingredient sometimes, and you might need it desperately.
Not to worry because you can substitute it with several items.
As the write-up continues, we will learn about at least the five best substitutes for smoked paprika.
What is Smoked Paprika?
Smoked paprika comes from the smoked-dried and crushed peppers.
It is mainly dried over an oak wood fire for a fantastic flavor.
It is a popular ingredient in many cultures. Hence, you can find many varieties on the market.
Some types are mild, while others are quite spicy.
The difference between smoked and regular paprika is the latter is dried but not smoked before being minced into powder.
While it adds plenty of flavor to any dish, smoked paprika has medicinal properties too.
It has lots of nutrients and antioxidants which fight cell damage.
You can boost your overall health by adding it to your diet in moderate amounts.
5 Best Substitute for Smoked Paprika
There are a whole lot of products that can substitute for smoked paprika.
But some items are more popular than others.
So, in the coming sections below, we will learn about the most recommended five best substitutes for smoked paprika.
1 – Chipotle Powder
If you want a similar fragrance and taste, the chipotle powder is undoubtedly a top contender for substituting smoked paprika.
Made with smoked and dried jalapeno peppers, it is quite flavorful.
The word chipotle comes from the Nahuatl word chipotle. It indicates "smoked chile peppers".
There are two ways to use it; firstly, you can get a readymade pack from the market or grind the dried peppers at home.
Either way, you can use it instead of smoked paprika in any dish as per your preference and requirement.
It is darker in the shade and has a higher degree of heat.
If you can't eat too much spice, we suggest you go easy on the quantity.
Suitable ratio:
1 teaspoon smoked paprika=1/4 chipotle powder (add extra if needed after tasting).
2 – Cayenne Pepper Powder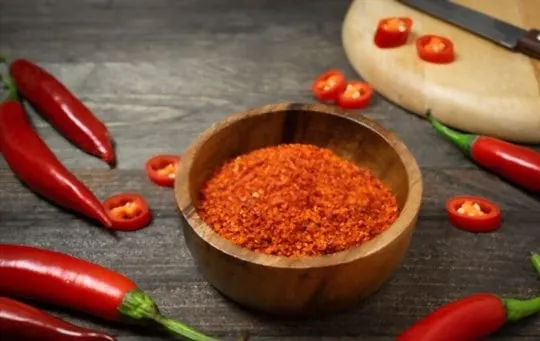 Similar in taste but spicier, the cayenne powder is close to substituting smoked paprika.
The smoky flavor and availability make it a strong candidate.
It is also a versatile ingredient as you can add it to many different dishes.
Cayenne pepper is also known for having medicinal properties.
A vital substance in hot peppers like cayenne called capsaicin has antimicrobial and anti-inflammatory properties.
Research shows that these substances many help in preventing diseases.
If you don't have the readymade version at home, take dried cayenne peppers and crush them.
You will have a sufficient amount for several dishes.
Suitable ratio:
1 teaspoon smoked paprika=1/8 teaspoon cayenne powder (scale-up until you get the right amount of heat).
3 – Ancho Powder
Made from dried poblano peppers, ancho powder is another suitable substitute for smoked paprika.
Milder than chipotle and cayenne, it is also a popular ingredient in chili powder.
Since it is less spicy, you can add it to various dishes generously.
However, it is not as smoky as you might want it to be.
It goes quite well with Mexican dishes, but you can use it in any dish of your preference.
If you want to have an added smoky flavor, buy smoked-dried peppers and crush them at home.
You will get the required flavor and add it as needed.
Suitable ratio:
Since ancho has a mild taste, you put.
1 teaspoon smoked paprika=1 teaspoon ancho powder (add more if you want it spicier).
4 – Chili Powder
This ingredient finds itself on the list because of its flavor and versatility.
It is a must-have spice at home, mainly made with a single or several types of peppers and some components.
It can be a suitable substitute for smoked paprika if you don't have it.
If it has cayenne, it can be a bit spicier so check the ingredients before adding any amount.
If it is something like ancho powder, you can put the same quantity as smoked paprika.
Chili powder is not only delicious and useful in many dishes, but it offers health benefits too.
According to research, the anti-inflammatory properties can be quite helpful in arthritis treatments and also prevent joint and muscle pain and inflammation.
Suitable ratio.
1 teaspoon smoked paprika = 1 teaspoon chili powder (with mild pepper-like ancho).
1 teaspoon smoked paprika =1/4 or 1/2 teaspoon chili powder (with hot pepper like cayenne).
5 – Guajillo Pepper Powder
The last one on the list but certainly not the least; guajillo powder is a Mexican spice.
It has a smoky flavor but with a sweeter taste. You can add this spice to various dishes according to requirements.
When you don't have your favorite smoked paprika variety, guajillo pepper powder will come in handy.
If you don't have the factory-made type, mince the dried pepper using a grinder.
Add the same amount as given in the recipe for smoked paprika.
If it isn't spicy enough, add some other pepper powder that offers a spicy flavor.
Suitable ratio:
1 teaspoon smoked paprika = 1 teaspoon guajillo pepper powder.
Conclusion
You don't have to panic when your favorite spice is out of stock with so many options.
You can use any of the items mentioned above.
If none is available, here are also some more options; garam masala, Hungarian paprika, Spanish paprika, ghost chili pepper powder (it can be extremely spicy, so beware), cajun spice, and red pepper flakes.