Skirt steak has a ton of connective tissues, but it is, without a doubt, one of the most delicious and flavorful beef cuts.
This steak is perfect for grilling, and it comes in two different muscles, I.e., inside the skirt and outside skirts.
These muscles are long and flat with really thick grain, which runs right across the muscle length.
What are the best substitutes for skirt steak? They consist of Ribeye Steak, Flat Iron Steak, Flap Steak, Flank Steak, and Strip Loin Steak.
What Is a Skirt Steak?
Skirt Steak refers to a cut of beef from its plate.
The skirt steak is sought after for its tenderness and tasty flavors.
But you shouldn't confuse it with the hanger steak, which is a similar type of adjacent cut from the plate.
Both the outside and inside skirts are trimmed.
The boneless part of the beef's diaphragm muscle is connected to the sixth through twelfth ribs in the short plate's underside.
Here, a strong membrane covers this steak, which you must remove before cooking.
The Skirt Steak is usually marinated before grilling or pan-searing it.
You can even broil, and this meat also goes by the name of "Fajita Meat" in shops.
Many people widely use this steak for making delicious "Philly Cheesesteak Sandwiches".
5 Best Substitutes for Skirt Steak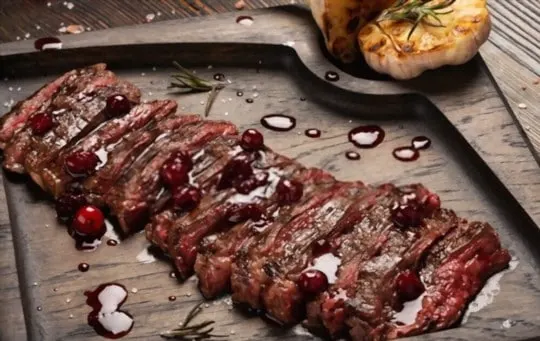 Here is a breakdown of the best alternatives for your skirt steak:
1 – Strip Loin Steak
Strip Loin Steak comes from the lower loin area of the cow.
Here, this portion does little to no work at all, making it juicy and tender whenever you cook it.
Strip loins tend to be thicker, but you can always ask the butcher to turn them into strip steaks by slicing them.
The beefy flavor of this meat is super intense, making it a great substitute for skirt steak.
You can roast, broil, sear, or grill this steak.
This steak easily melts in your mouth, and it stands out the best in wraps or salads.
How To Substitute – You need to ensure that the meat is fresh to obtain its sweet and juicy taste.
You can marinade it like the way it directs on the skirt steak recipe.
Make sure to marinade it when it's partially cold and cook at the right temperature.
2 – Ribeye Steak
This beef cut is loved by many people, making it an overall favorite for substituting skirt steak.
It can come with or without bones, with the bone-in one being hard to cook.
Why? Well, it is because the meat located near the bone takes longer to cook.
The Ribeye Steak is quite tender and buttery. You can easily find this steak in any store or butcher shop.
What most people love about this steak would be the creamy taste and rich beefy flavor.
How To Substitute – When you buy it from the butcher or store, ensure that it's newly cut and fresh.
You can cut it into multiple strips for thinning it out and cooking it.
You can use it in your spicy fajitas, salad toppings, barbecues, and beef sandwiches.
3 – Flank Steak
Flank Steak consists of a cut that comes from the belly muscle or flanks primal.
This lean cut of meat has a flavor that's less beefy compared to skirt steak.
However, it is quite tender when you cook it the right way.
Both flank and skirt are flat and long with a unique grain that runs across every cut.
But the flank steak cut tends to run oppositely to the one present on the skirt steak.
This cut possesses more lean meat and lesser fat, saving you the trouble of trimming it.
How To Substitute – We would advise you to pound the meat to maintain its tenderness and absorb marinades.
It will become soft and thin, preventing it from creating that chewy and rubbery texture whenever you cook it.
4 – Flap Steak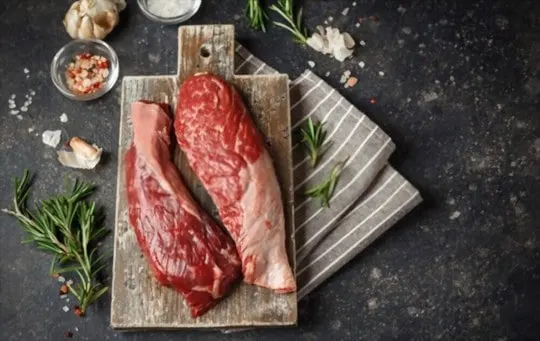 The Flap Steak is an affordable substitute for the skirt steak.
This meat is quite thin, allowing it to be perfectly ideal for grilling as the main course.
This steak comes from the sirloin butt of the cow's bottom.
It has the right balance of fatty and lean meat, and many shops sell them as beef patties.
You can make your burger patty out of it and expect the juiciest flavors.
The Flap Steak already comes equipped with multiple flavors, but you can still enhance its taste and texture by marinating it.
How To Substitute – This meat is best cooked when you pan-fry or grill it under high heat.
It does a great job in absorbing marinade like Skirt Steak.
You can sauté this meat with carrots and potatoes, make a hearty soup, mix it in salads, or stir-fry it with vegetables.
5 – Flat Iron Steak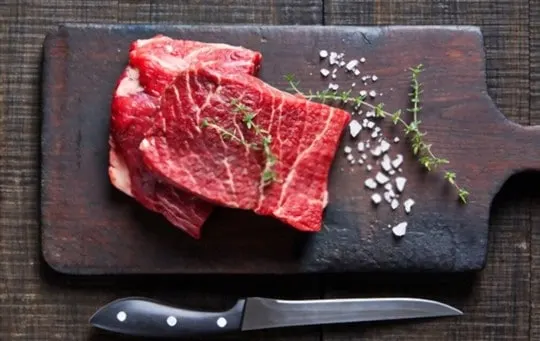 The Flat Iron Steak comes from the cow's shoulders.
This portion has more marbling, giving it tons of beefy flavors and texture.
It is best to grill this steak because it is thicker compared to the skirt steak.
If you choose to pan-sear this steak, you can do so under high heat to obtain that nice beautiful crust.
After that, you can resort to a lower heat until it is fully cooked.
It is also possible to cook this meat inside the oven.
Its marbling offers a buttery finish, which is perfect for tacos and fajitas.
We would also recommend you slice it into multiple thin slices for preparing a slow-cooked meal or casserole.
How To Substitute – To ensure it turns out as good as your skirt steak, you need first to marinate your Flat Iron Steak to obtain that tenderness.
Plus, avoid overcooking it to maintain its juiciness.
Conclusion
Cooking skirt steak in a cast iron pan or a hot skillet using olive oil or butter is your best option.
You should always avoid cooking it for extended periods to ensure that it doesn't become tough.
If you are out of skirt steak, you can always try any of the substitutes mentioned above for similar results.