Have you ever considered the many uses and alternatives for skim milk?
Is it a necessary ingredient in your kitchen pantry or just a convenient item to reduce calorie intake?
From baking to coffee creamer, skim milk can be used in many classic recipes while offering a healthful alternative.
For those looking to substitute it out of their regular meals, there are several good options that may not even require a trip to the grocery store.
Explore every option and see what works best for your lifestyle with the top five alternatives for skim milk.
What's Skim Milk?
Skim milk, or fat-free milk, is a low-calorie dairy product made by removing the cream from regular cow's milk.
The result of this process is a lighter version of the traditional dairy product you know and love.
Skim milk contains all of the same essential vitamins and minerals as whole milk, but with approximately 1/4 of its calories and fat removed.
If you are trying to reduce your calorie intake or make healthier dietary choices, skim milk might be the perfect choice for you.
When used in the place of regular cow's milk, it offers all of the same benefits — plus more.
Skim milk has been linked with improved cardiovascular health and reduced risk for certain diseases such as type-2 diabetes.
Though there are several benefits to using skimmed (aka fat-free) milks instead of whole milks in cooking recipes and beverages, it's important to understand how they work best — not just when making drinks or smoothies but also when baking cakes or even savory dishes like mac n' cheese.
Let's learn more about what you need to know when it comes to using skimmed milks in your cooking or baking recipes.
It's important to remember that skimmed milks have different viscosities than regular cow's milks; they tend to be thinner than their full-fat counterparts.
To compensate for this difference, you may need to add a bit more liquid into your recipe than usual.
The 5 Best Substitutes for Skim Milk
Skim milk, also known as non-fat milk, is cow's milk with most of its fat removed.
The fat-free version of cow's milk is high in vitamins and minerals while being low in calories and fat.
For those that don't like the taste, or are intolerant to the proteins found in cow's milk, there are some excellent alternatives.
Here are five of the best substitutes for skim milk that may better suit your needs:
1 – Soy Milk
Soy milk is derived from soybeans and can be used as a substitute for traditional dairy milk in any recipe.
Most grocery stores stock soy milk in multiple varieties, such as regular, unsweetened, and even flavored variations.
It's important to bear in mind that unsweetened soy milk has a strong flavor so it can affect the taste of your recipe.
You may need to adjust the sweetness or flavor of your dish if you use it instead of skim milk.
In addition, although it contains less saturated fat than low-fat dairy milk, soy milk does have more calories because of its higher fat content.
It's also important to note that because of its high protein content, soy milk will produce thicker results when used in recipes unless thinned with water or other ingredients.
2 – Almond Milk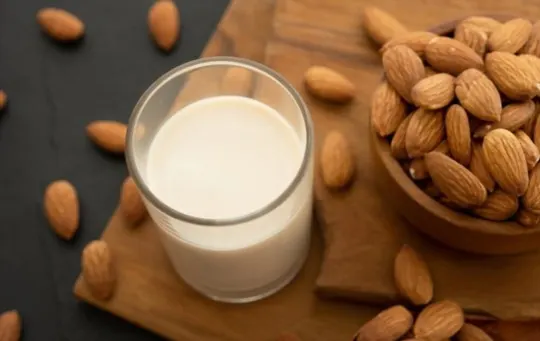 Almond milk is one of the most widely available vegan milk options.
It can be found in most stores and supermarkets.
Almond milk is made by combining almonds with water and then straining it through a cheesecloth.
It's popular because it contains fewer calories than other dairy milks and has a nutty, slightly sweet flavor that makes it a great substitute for traditional milks.
Almond milk doesn't contain any lactose, but it isn't as nutritious as skim milk due to the fact that almonds don't naturally contain much protein or calcium.
Additionally, almond milk is not fortified with vitamins A and D like skim milk is, making it an inadequate replacement when these vitamins are important for your diet.
3 – Cashew Milk
Cashew milk is a popular nut-based milk due to its sweet and creamy flavor, as well as its natural smooth and velvety texture.
Though cashew milks may have a slightly lower protein content than skim milk, it is still considerably higher compared to other non-dairy alternatives.
Not only does it have low levels of saturated fat, but also naturally contains healthful unsaturated fats.
It also provides essential nutrients such as calcium, zinc, magnesium and iron that can be beneficial for bone health.
This type of non-dairy alternative is vegan friendly and soy-free if you cannot tolerate dairy or soy products in your diet.
Cashew milks are usually fortified with added vitamin A, D or B12 and can generally be found in most grocery stores or online retailers.
4 – Coconut Milk
Coconut milk is an excellent substitute for skim milk. It has a similar texture, but a different flavor.
Coconut milk does not contain any lactose and it is also an excellent source of healthy fats and antioxidants.
Moreover, it contains medium-chain fatty acids that have been linked to many health benefits including reduced inflammation, improved heart health, and improved digestion.
Coconut milk can be found in most grocery stores and health food stores.
It should be noted that the type of coconut milk sold in cartons tends to be very thin; if you are looking for a thicker alternative, it is best to buy coconut cream, which is much thicker than regular coconut milk.
5 – Oat Milk
Oat milk is made from steel-cut or rolled oats, which are blended with water, strained and sweetened.
Since oat milk contains no dairy products, it is vegan-friendly and a great choice for those who have dairy allergies.
It is a great alternative to skim milk in coffee and recipes, as it has a creamy texture that's often considered superior to other non-dairy milks.
It also has a mild flavor that works well with both sweet and savory dishes.
In terms of nutrition, oat milk is typically higher in calories than other non-dairy milks but is rich in fiber, making it a good choice for weight control.
It's also lower in fat than cow's milk and soy milk.
However, since it does contain some natural sugars, watch your portions if you're watching your sugar intake.
Oat milk can be found in most supermarkets or health food stores.
Conclusion
In conclusion, skim milk is a low-fat option that has many health benefits and can be used in a variety of recipes.
Although it is always the best choice when wanting to maintain a healthy lifestyle, there are several other substitutes available if you cannot find or afford skim milk.
However, keep in mind that none of the substitutions listed above will provide the same nutritional benefits as skim milk and should only be used in certain situations.
As always, be sure to consult with your doctor before making any drastic changes to your diet or lifestyle.
About The Author