Salsa is a sauce made from tomatoes, onions, and peppers.
It has a slightly spicy taste and is usually served cold or at room temperature.
Salsa is easy to make and can be used as a dip or added to other dishes to give them a bit of flavor.
When making salsa, it's important to use fresh ingredients.
You can either chop the tomatoes, onions, and peppers yourself or buy them pre-chopped.
If you're using fresh ingredients, make sure to rinse them well before chopping.
It's important to use ripe tomatoes since they help make salsa extra tasty.
You can tell whether a tomato is ripe by looking at its color – if it's bright red (or pink) and not too wrinkly, it should be ready for chopping.
Salsa tastes delicious on its own or as part of another dish.
In this article, we'll give you 8 of our favorite side dishes that taste great with salsa.
What to Serve with Salsa? 8 BEST Side Dishes
Salsa has always been one of my favorite sides to Mexican cuisine.
It adds a fresh, delicious flavor that compliments the food and provides nutrients from its tomato base.
As for flavor, salsa is always a winner in my book.
But it's not the only option out there – there are plenty of other side dishes to consider that will add flavor and excitement to your meal.
Since there are so many salsas, it can be hard to decide on a side dish.
But don't worry, I've got you covered.
Below are eight of my favorite side dishes to serve with salsa:
1. Chicken Caesar Salad
Who doesn't love a good Caesar salad? This classic dish is always a hit, and it goes perfectly with salsa.
The crisp romaine lettuce pairs well with the salsa's acidity, while the chicken and croutons add a touch of heartiness to the salad.
Top it off with some creamy Caesar dressing, and it's a match made in heaven.
2. Parmesan-Panko Zucchini Tots
Zucchini is an awesome way to get maximum nutrition with minimal effort.
It can be used in many dishes, but one of my favorites is zucchini tots.
Parmesan cheese and panko bread crumbs give these tots a delicious flavor and crispy texture.
They're perfect as a side dish or appetizer.
Be sure to try them with salsa – you won't be disappointed.
3. Baked Zucchini Fries
If you like fries, you'll love zucchini fries.
They are a delicious alternative to your typical potato side dish at dinner time.
The great thing about these is that they're baked instead of fried, making them super healthy.
The other amazing part? You can dip them in just about anything you want.
Serve some zucchini fries with salsa for a fresh side dish that will go well with any meal.
4. Buttermilk Ranch Greens Beans
This recipe is similar to my oven-roasted carrots, but it has its unique twist.
The buttermilk ranch dressing turns these greens beans into a flavorful side dish that you'll love.
The beans are crispy on the outside and tender on the inside, making them a perfect side for any main course.
Serve them with salsa for a dish that is sure to please.
5. Cilantro Lime Rice
Is there anything better than cilantro lime rice? This dish is light, refreshing, and flavorful.
It's the perfect side to any Mexican-inspired meal.
Cilantro and lime are a classic pairing, and this rice is the perfect example of why they work so well together.
The rice is cooked until tender and tossed with cilantro and lime juice.
So simple, but so good.
Serve it with your favorite salsa for a side dish that you'll love.
6. Grilled Corn with Bacon and Jalapeños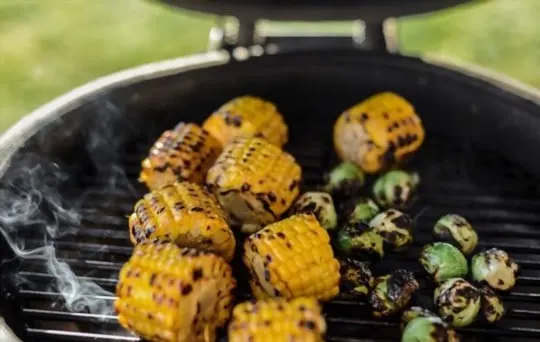 Corn is a summer staple, and this recipe takes it to the next level.
Grilling the corn gives it a delicious smoky flavor, while the bacon and jalapeños add a touch of spice.
This is the perfect side dish for any barbecue or outdoor gathering.
It's easy to prepare, and everyone will love it.
Serve it with salsa for a dish that is sure to please.
7. Classic Deviled Eggs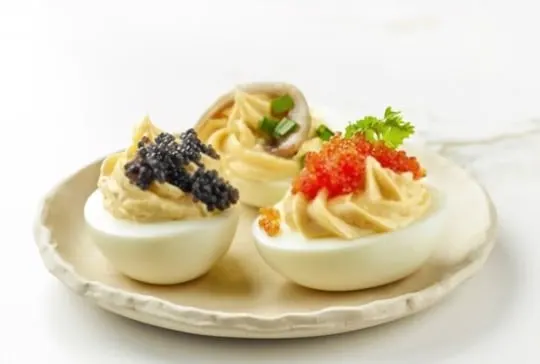 Deviled eggs are always a hit, and they go perfectly with salsa.
The creamy egg filling is flavored with mustard, vinegar, and salt.
It's a classic recipe that everyone will love.
Since deviled eggs are already bite-size, it's easy to serve them as hors d'oeuvres when you pair them with salsa for dipping.
Whether you're serving this dish at a party or just having dinner at home, deviled eggs and salsa is a match made in heaven.
8. Fried Plantains
If you're looking for a unique side dish to serve with your salsa, give fried plantains a try.
This dish is inspired by Latin cuisine, and it's sure to impress your guests.
Plantains are a type of banana that is typically eaten ripe.
But when they're green, they're perfect for frying.
They are crispy on the outside and sweet and sticky on the inside.
They're a delicious addition to any meal.
Serve them with your favorite salsa for a side dish that is sure to please.
Conclusion
Salsa is the perfect dip to enjoy with various side dishes.
These eight recipes are some of my favorites, but there are plenty of other options out there.
Depending on what you're in the mood for, there is a perfect side dish for you.
The recipes listed here are all flavorful and great when paired with salsa.
So, next time you have a get-together, be sure to serve some of these side dishes alongside your favorite salsa.