Have you ever wondered how to cook and use a roasting pan?
Do you need to know what could be the best substitutes for it? Roasting pans are ideal for baking significant cuts of meat, vegetables, and potatoes.
They have raised edges that help to prevent spilling or the food from sticking out.
If a roasting pan is not available, though, there are a few great substitutions that can be made.
From baking sheets with sides to casserole dishes, these alternatives can be used instead.
Keep reading to learn more about how to cook with a roasting pan, as well as the five best substitute options.
What is a Roasting Pan?
A roasting pan is a kitchen essential that has been around for centuries and is still a faithful companion of many home cooks.
Roasting pans have evolved over time and are now made from various materials, including stainless steel, aluminum, enameled cast iron, and nonstick surfaces.
The most important features of a roasting pan are its shape, size, and depth; it should be large enough to accommodate larger cuts of meat and deep enough for juices to collect in the bottom.
It is most commonly used for baking poultry or roasted meats such as pork and beef, although it can also be used for baking, braising, poaching liquids, or cooling cooked foods.
To get the best results when using a roasting pan, it should be pre-heated before adding any food.
When done cooking, the roasting pan then needs to be cleaned thoroughly with soapy water to ensure all the residual oils are removed before storing it away.
The 5 Best Substitutes for Roasting Pan
If you're looking for a replacement roasting pan, you're in luck.
There are plenty of alternatives available for the kitchen-minded chef who needs to roast their food without a traditional roasting pan.
Here are five of the best substitutes for a roasting pan:
1 – Baking Sheet
A baking sheet is an essential kitchen tool that comes in all shapes and sizes, making them important for a variety of tasks.
These sheets feature raised edges all around, which helps to keep liquids and small pieces contained during cooking or baking sessions.
There are many materials baking sheets are made of, including aluminum, steel, and nonstick-coating materials, giving you various options to choose from according to your needs.
Baking sheets can also be quite useful when you don't have a roasting pan handy; the raised sides allow them to double as a substitute to provide just enough room and support for larger portions of food.
With this multi-tasker at hand, getting your meals ready will become much easier.
2 – Cast-Iron Skillet
A cast-iron skillet is a versatile kitchen tool that can greatly enrich the culinary experience.
It is a timeless cooking device renowned for its durability and heat retention – meaning that it heats evenly across the surface.
It also produces a natural nonstick coating when used correctly.
The cast-iron skillet can even substitute as a roasting pan with the help of its built-in handles; simply place the ingredients in the pan, wrap them in foil, and bake.
This marvel of cookware offers countless possibilities, making it an indispensable item in any home kitchen.
3 – Braiser Pan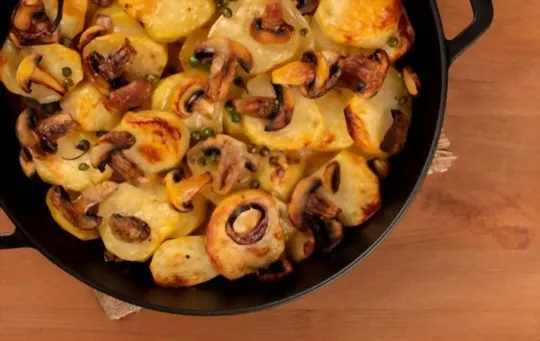 A braiser pan is an incredibly versatile kitchen tool that makes preparing a delicious dinner easy.
It has deep sides and can often be multi-functional, with some models featuring a roasting rack insert and glazed interior to make cleaning effortless.
Braiser pans are the ideal solution for searing meats, simmering stews, and making slow-cooked lemon chicken, meaning it's a must for any serious cook.
The shallow lid contained by vertical walls also means that it can be easily used as an alternative to a roasting pan – making all kinds of meals, from ribs to vegetables, with ease.
4 – Casserole Dish
A casserole dish can be a versatile tool in the kitchen; typically used for baking and roasting, it also allows you to both cooks and serves food in one dish.
A well-made casserole dish is an oven safe at high temperatures so that you can confidently finish cooking your creation without having to transfer from pan to plate.
Many of them also come with their own lids, which keep your meal warm whilst serving and avoid any spillages during transportation.
Plus, a casserole dish can easily be substituted for a roasting pan – especially if you need to cram more ingredients into the base than what would fit inside a traditional roasting tray.
5 – Foil Roasting Pan
The foil roasting pan is an essential part of any kitchen.
Its design makes it the perfect tool for roasting.
It is lightweight yet strong enough to hold your main dishes, whether it's a hearty steak or a delicious roasted vegetable dish.
The sides of the pan are slightly raised; this helps to prevent fat from spilling over and burning the bottom of your oven.
Additionally, because it is made from aluminum foil, it is completely reusable; not only does this help save money, but it also minimizes environmental waste.
If you don't have a classic metal roasting pan handy for when you need something sturdier than a foil pan, you can always double up the layers of foil, making it as thick and as strong as you need it to be.
Conclusion
In conclusion, roasting pan is an essential kitchen tool that can help you create delicious meals with minimal effort.
However, there are plenty of alternatives that can be used if you don't have one.
Baking sheets, cast-iron skillets, braiser pans, casserole dishes, and foil roasting pans all provide a neat solution when you're in need of substitutes.
With these items at your disposal, cooking up a delicious meal will be an effortless and enjoyable experience.
So whether you are in the mood for roasted vegetables or want to make a fantastic slow-cooked dinner, you can do so with ease when using any one of these five great substitutes.