Have you ever tried the delicious and mild-flavored cheese from England called Red Leicester?
This kind of cheese is unique to the area, and due to its flavor, it accents a variety of dishes.
When cooking with Red Leicester, it melts beautifully for grilled cheese sandwiches or quesadillas, goes especially well on macaroni cheese, or can be used to top pizzas or burgers.
If your favorite local grocery store doesn't carry Red Leicester, then don't worry – there are some great substitutes like cheddar, gouda, and more.
Let's take a look at the five best substitutes for Red Leicester.
What's Red Leicester Cheese?
Red Leicester is an English cheese made in a similar manner to Cheddar cheese, although it has a crumbly texture and is typically sold at 6 to 12 months of age.
It has a deep and unusual russet red color with a flaky and silky texture that is quite different from cheddar.
The cheese has a milder flavor than cheddar, with nutty and sweet notes and a citrus finish.
Red Leicester is moister than cheddar, with an open interior that gives it its unique crumbly texture.
When cooking with Red Leicester, it can be used in place of cheddar in many dishes.
It melts well, so it can be used for sauces or gratins.
It also pairs nicely with apples or pears as part of a salad or charcuterie board.
Red Leicester also makes for an excellent snack when served on crackers or toast points.
Red Leicester is easily recognizable due to its bright orangey-red color, which sets it apart from other cheeses.
Its flavor profile is also distinct from other hard cheeses, such as cheddar, making it an interesting addition to any cheese plate or dish.
The 5 BEST Substitutes for Red Leicester Cheese
If you're looking for a cheese to replicate the mellow, nutty flavor of Red Leicester, there are several options for you to choose from.
Here are five of the best substitutes for Red Leicester that will help you recreate your favorite dishes:
1 – Cheddar Cheese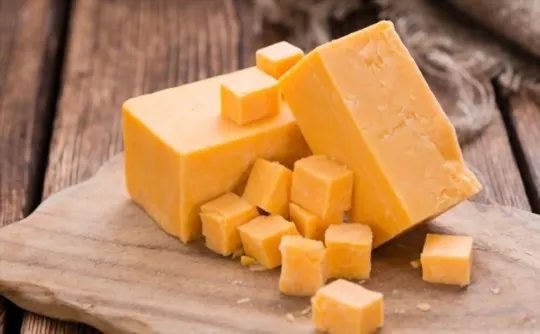 Cheddar cheese is a staple in pantries around the world, adding welcome creaminess and robust flavor to everyday dishes.
It's a semi-hard cheese made from cow's milk which is notable for its elastic texture and strong, sharp flavor-the longer it matures, the sharper and more intense its flavor will be.
Cheddar is often used for snacking, topping burgers, melting into quesadillas or grilled sandwiches, and of course, can also be grated over salads too.
If you're looking for a substitution for Red Leicester cheese in your favorite recipes, cheddar might be your best alternative.
Its hardy tanginess makes it a versatile option that will pair perfectly with whatever dish you are crafting.
2 – Gouda Cheese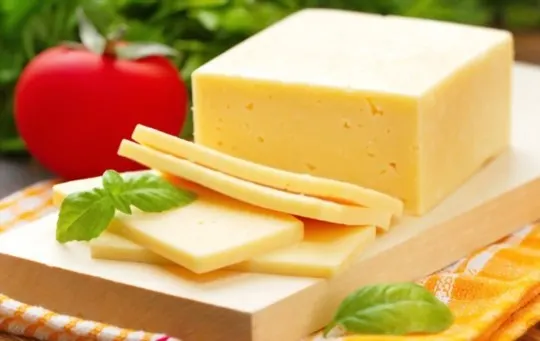 Gouda cheese is a mouthwatering Dutch delight that has become immensely popular for its complex flavor profile and versatility.
It can range from mild, creamy, and nutty to sharp and intense, depending on the length of aging.
Gouda has a semi-hard texture that is pliable when melted, making it perfect for sandwiches or grilled cheese.
And if you're in need of a Red Leicester substitution, gouda makes one of the best swaps there is.
Its slightly sweet notes and pleasant saltiness pair perfectly with many dishes – just be sure to add it toward the end if you're using it as a topping.
3 – Monterey Jack Cheese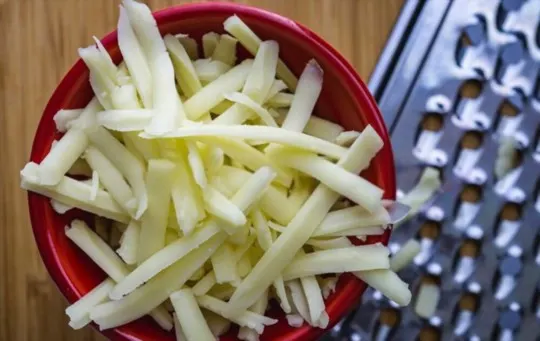 Monterey Jack cheese is definitely a crowd-pleaser.
With its creamy, semi-hard texture and mild taste, it serves as an ideal base for all kinds of dishes.
Originally produced in Monterey, California, in the 19th century, this cheese has gone global entirely.
Its versatility lies in the fact that it melts easily without losing its shape and can be used to make everything from grilled cheese sandwiches to quesadillas.
As a delicious substitute for Red Leicester cheese, Monterey Jack can bring complex flavors to your dish – all while guaranteeing a gooey, buttery texture that everyone will enjoy.
So try some today and drive your tastebuds wild with a burst of cheesy goodness.
4 – Gruyere Cheese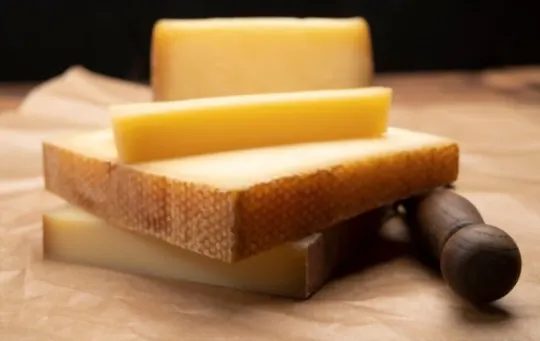 Gruyere cheese is a quintessential Swiss delight.
It's a hard and semi-firm yellow cheese that'll certainly tantalize your taste buds.
Known for its rich and creamy flavor, it is produced with raw cow's milk and has tiny crunchy salt crystals in it.
Its texture is slightly springy, allowing it to melt smoothly.
Plus, it's famous for being used in classic French recipes like Croque Monsieur and fondue due to its ability to melt easily without separating.
If you're in a sticky situation and need to replace Red Leicester cheese with Gruyere, don't fret.
You won't regret giving the dish a tasty twist; just prepare for an extra tanginess, as this cheese boasts an umami flavor.
5 – White Cheddar Cheese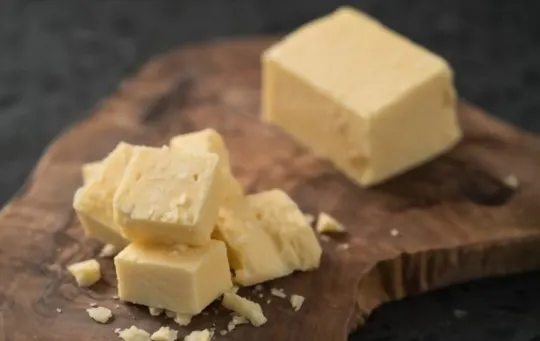 White Cheddar cheese is having a moment.
Long considered old hat and out of style, this classic cheese has come back into the spotlight.
The beloved cheddar has a mild flavor that can be fairly described as nutty and tangy, with an unmistakable sharpness when aged over 3-6 months.
On the tongue, it has a velvety texture that melts away and coats the palate in just the right way.
Perfect when used in grilled cheese sandwiches, mac, and cheese, or sprinkled on top of popcorn, White Cheddar can also be substituted for Red Leicester if you're in a pinch.
Add some to your next dish for an extra dimension of cheesy flavor sure to delight your taste buds.
Conclusion
In conclusion, there are some amazingly delicious alternatives to Red Leicester cheese out there.
Whether you're looking for a mellow, nutty flavor or something sharper and more intense, cheddar, gouda, Monterey Jack, Gruyere, and white cheddar, all make excellent substitutes.
So don't feel limited by your options – try incorporating one of these delicious cheeses into your next dish for a unique and flavourful experience.