Have you ever been curious about Ranch Dressing and its uses?
This creamy condiment is a favorite in many households around the world, but there are some plant-based alternatives that could be the perfect substitute.
From its texture to its flavor, Ranch Dressing has become an increasingly popular condiment used to elevate a variety of dishes; think salads, snacks, sandwiches and more.
It has a mild and herbaceous taste that pairs perfectly with a range of ingredients.
Whether you're looking for ways to use it or for some delicious substitutes, we've got everything you need to know about this beloved condiment.
What's Ranch Dressing?
Ranch dressing is one of the most popular American condiments, perfect for salads, dips and more.
Whether you're new to this creamy salad dressing or looking to refine your ranch knowledge, there are a few facts worth knowing.
This versatile sauce has a mild yet distinct flavor that should feel surprisingly familiar; it's made with a blend of dry herbs including onion and garlic powder, as well as buttermilk and mayonnaise.
Its texture is both creamy and slightly runny, allowing it to coat items evenly when mixing.
To use this delicious sauce in cooking or on salads, simply whisk the ingredients together until they reach a pouring consistency or mix with store-bought ranch dressing to further thin it out if necessary.
The uses for ranch dressing are endless and its availability means you can enjoy it wherever you go.
The 5 Best Substitutes for Ranch Dressing
Many people swear by the classic flavor of Ranch dressing, but it isn't always the healthiest condiment out there.
If you're looking for a healthier option or just a good balance of flavors, you may want to consider trying one of these five substitutes for Ranch dressing:
1 – Yogurt-Based Dressing
Yogurt-based dressings are a light and healthy substitute for ranch dressing as they still have a creamy texture but contain fewer calories and saturated fat.
They are based on plain Greek yogurt combined with ingredients such as olive oil, garlic, chives, and herbs of your choice.
Depending on the ingredients you add in, you can use this substitute for any type of recipe.
An example of a yogurt-based dressing recipe is to combine Greek yogurt with garlic, lemon juice, olive oil, salt and pepper for an easy dressing that's low in calories and fat.
This dressing is perfect for topping salads or using as a dip for vegetables.
2 – Hummus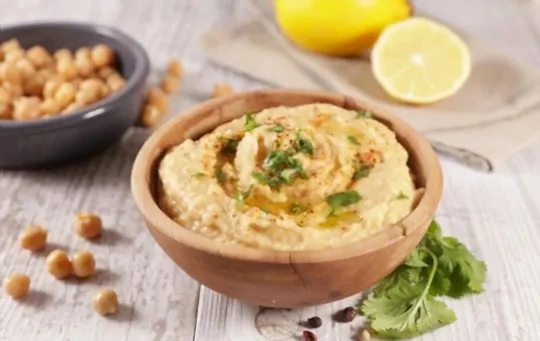 Hummus is a Middle Eastern dip or spread which is made from ground chickpeas, tahini (sesame seed paste), garlic, lemon juice and olive oil.
It has a creamy texture which is great for dipping veggies in, yet provides an awesome alternative to traditional ranch dressing.
Adding a little more garlic or lemon juice can give it an extra kick.
Hummus also contains protein, fiber, vitamin B6 and iron making it a nutritional powerhouse.
To make this hummus ranch substitute even healthier, use Greek yogurt in place of tahini and garlic powder instead of fresh cloves.
3 – Avocado Ranch Dressing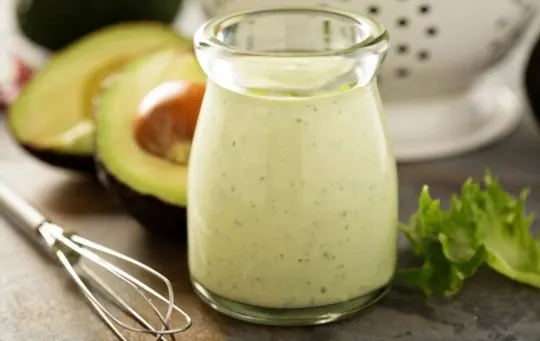 Avocado ranch dressing is an excellent gluten-free, vegan, and low-carb alternative to classic ranch.
While avocados are high in fat, it's the good kind of fat.
Avocado ranch is super easy to make: just blend together one avocado, 1/2 cup plain nonfat yogurt or non-dairy alternative like vegan mayo, 1 tablespoon fresh lemon juice or vinegar, 1 garlic clove plus a pinch of sea salt and black pepper until smooth and creamy.
You can adjust the seasonings as needed for extra flavor or creamy texture.
For a lighter version of avocado ranch dressing, try omitting the garlic and using Greek yogurt instead of plain nonfat yogurt.
Serve this delicious dressing with veggies, tacos, sandwiches – the options are endless.
4 – Caesar Dressing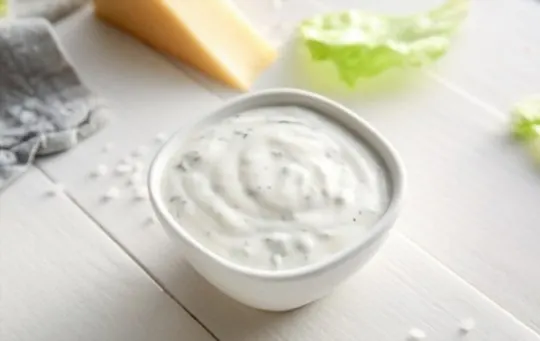 Caesar dressing, though not as tangy as ranch dressing, is quite similar in texture and in its ability to accompany sandwiches and salads that would otherwise need a dipping sauce or condiment.
Its classic flavor comes from anchovies and Worcestershire sauce, but it can also be made without either of these ingredients.
Caesar dressing is believed to be named after its so-called inventor, Caesar Cardini, who made the original version with olive oil, lemon juice, Worcestershire sauce, egg yolk, garlic salt, pepper and both Parmesan cheese and Romano cheese for extra sharp flavor.
While many ready-made versions are available in stores that are stocked with mayo-based dressings, making your own lets you adjust the amount of tanginess to match your personal taste preference.
Furthermore if you need a vegan version for yourself or guests that refrain from animal products then homemade Caesar dressing serves perfectly for this purpose.
5 – Vinaigrette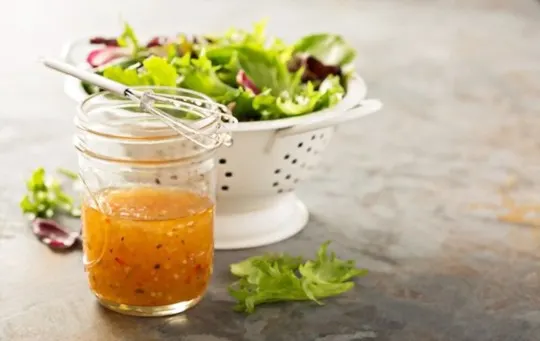 A classic vinaigrette dressing can be a great alternative to ranch dressing if you're looking for a lighter option.
To make it, simply mix together ½ cup of your favorite vinegar (white wine, apple cider, or balsamic are all popular options) and ½ cup of olive oil.
Add some salt and pepper to taste and you have an easy and delicious dressing that goes with just about any salad.
If you're feeling adventurous, try adding some fresh herbs like basil or parsley for more flavour.
Conclusion
In conclusion, ranch dressing is a popular condiment around the world, but it can be difficult to find due to its limited availability in many areas.
Fortunately, there are a number of tasty substitutes available that make great alternatives to ranch dressing.
Some of these include Italian dressing, tzatziki sauce, mayonnaise and olive oil based dressings.
Each of these substitutes offers their own unique flavor profile that can complement and enhance a variety of dishes.
Give them a try and find the substitute that best suits your tastes.
No matter which ranch substitution you choose, make sure you prepared the recipe correctly so you can enjoy all the flavors without compromising your health or nutrition goals.
Lastly, when introducing new dressings or condiments into your diet consider the quantity used – healthy eating always starts with portion control.