Pineapple Juice is popular worldwide because of its anti-inflammatory and antioxidant properties.
They are considered a natural treatment for osteoarthritic patients and reduce inflammatory conditions that many people suffer from.
Pineapple juice is also the best remedy for people suffering from digestive and eye problems.
The pineapple juice gives its best benefits when extracted from fresh pineapple and not from canned or bottled.
However, pineapple contains a substance called bromelain that has proteins that can cause digestive problems such as bloating and gas if you're intolerant to it.
The juice is rich in bromelain, too, so if you are intolerant of pineapple, you should avoid drinking it.
Pineapple juice is useful for adults and children but can be problematic if taken in large quantities because of its high sugar content.
If you wish to substitute pineapple juice with another fruit juice, some substitutes can be used.
What is Pineapple Juice?
Pineapple Juice is a juice extracted from pineapple.
Pineapple is a tropical fruit, and the commercial pineapple juice is made of various pineapple varieties.
The most common varieties include Red Spanish, Smooth Cayenne, Abacax, and Queen.
The commercial pineapple juice is available in a can or cartons.
These tropical fruits might not be available throughout the year, and sometimes you may not have enough stock of pineapple juice at home when you want to use it in your cooking.
If this is the case, you should know what the best substitutes for pineapple juice are and how you can replace them with other types of juices.
It's important to know what substitutes you can use with pineapple juice because juices like pineapple juice are widely consumed worldwide and rich in nutrients.
You wouldn't want to miss out on any of these benefits by replacing it with another fruit juice containing all the healthy compounds within pineapple.
5 Best Substitutes for Pineapple Juice
1 – Grapefruit Juice
Grapefruit juice is one of the best substitutes for Pineapple Juice.
Grapefruit juice gives a sour taste and a slight sweetness, which is similar to pineapple juice with a balanced flavor.
Grapefruit juice can be used as an alternative for pineapple for the recipes that add pineapple juice as the grapefruit juice also blend perfectly into a recipe, and it provides the same flavors.
Grapefruit juice offers similar health benefits as pineapple, as it also has beneficial antioxidants.
Grapefruit is loaded with nutrients, and it helps you get healthy skin and safeguards you from various health conditions.
Grapefruit juice also helps you maintain the right weight.
2 – Orange Juice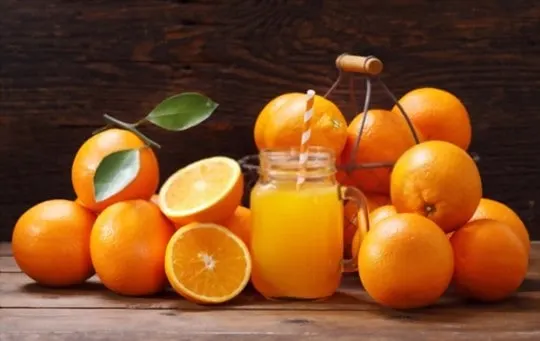 Orange juice is another tropical fruit juice that is rich in vitamin C and beneficial antioxidants.
It can be used as a substitute for pineapple juice, provided it's freshly squeezed orange juice.
Orange juice adds the same refreshing zing to the recipes that are made with pineapple juice.
You can use orange juice instead of pineapple in any salad dressing, salsa, or marinade.
It has a good flavor and blends well.
This juice also tastes somewhat like grapefruit juice as they both have similar characteristics.
Orange juice also tastes both sourness and sweetness in equal quantity.
This citric fruit contains high citric acid that makes the fruit taste sour, and it tastes sweet because the fruit has natural sugars.
The combination of sour and sweet makes the orange fruit provide a refreshing, balanced flavor.
Orange juice also has similar nutrient values as pineapple juice that includes Vitamin C, so orange juice is considered the perfect alternative for pineapple juice.
Orange Juice contains a high content of Vitamin C and a high content of sugars compared to soft drinks.
That is why the nutritional experts support raw fruit instead of orange juice, as the fruit digests slowly and cuts daily consumption.
3 – Papaya Juice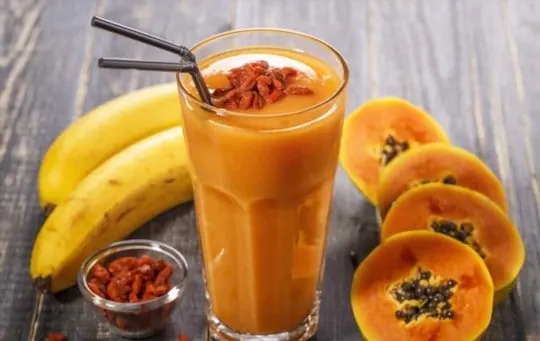 Papaya juice is also a good substitute for pineapple juice. It imparts an exotic flavor to the recipes.
The juice is not as thick as puree, but it has a light consistency and balancing taste.
It imparts a strong aroma along with its delicate sweetness, which makes it suitable for fruit salads.
When compared with pineapple juice, the flavor of papaya juice is mild.
The color of the fruit appears vivid when it is in its raw form, but it turns into a translucent color after being processed.
Papaya is also a tropical fruit loaded with sweetness and gives you a smooth texture that melts like chocolate when you eat.
However, papaya juice does not have the sourness that you get from pineapple juice.
But still, it is considered the best substitute because of its medicinal properties.
Papaya also provides a significant amount of bromelain that offers antioxidants and anti-inflammatory properties.
Papaya juice is also considered the best meat tenderizer, like pineapple juice.
Eating raw papaya gives you more health benefits; avoid heating papaya as it can destroy the enzymes called proteolytic in papaya.
4 – Pomegranate Juice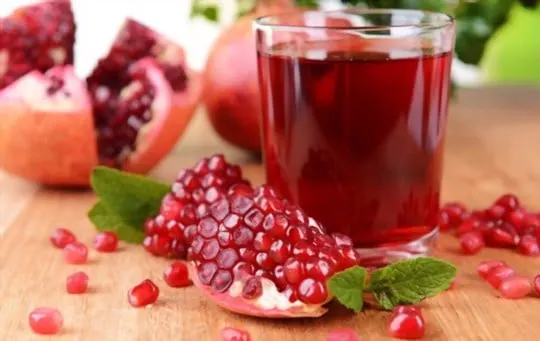 Pomegranate juice is also many substitute for pineapple juice because of its intense fruity flavor.
The addition of pomegranate juice in any recipe is an excellent way to elevate the flavors and make them delicious.
The classic red ruby color of Pomegranate juice is very palatable, and also it offers several medicinal benefits.
Pomegranate juice is also a blend of sour and sweet flavors, and it is generally considered a sour juice as it has tannin content.
This ruby red color pomegranate juice reduces inflammation in the body.
Also, studies show that pomegranate juice fight against cancer when you consume often.
It also works well with several recipes when you use it in the place of pineapple juice.
5 – Guava Juice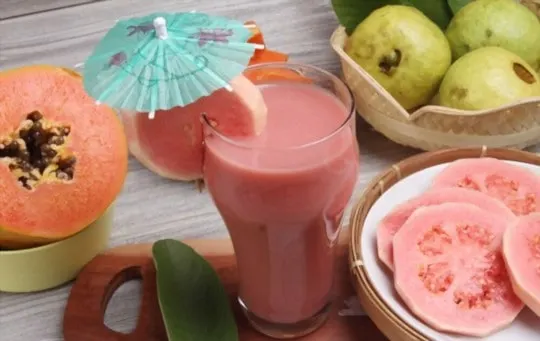 Guava juice can be a healthy alternative to pineapple juice as it shares similar nutritional benefits.
Guava has high fiber content and provides vitamin C and minerals, calcium, and potassium.
The juice of guava fruit is thick and sweet, making it preferable for smoothies, ice creams, jams, and jellies.
Guava is a tropical fruit that tastes lightly sweet.
But unripe guava contains a blend of sourness and sweetness and tastes a bit of bitter and salty hint.
The taste of the guava is a bit closer to the grapefruit or pear.
Guava also provides several medicinal properties as it is rich in Vitamin C and contains antioxidant properties.
That is the reason guava juice is suitable to replace pineapple if you run out of pineapple juice.
Conclusion
Choosing the best substitute for pineapple juice is necessary to get an exact blend of taste and flavor when added to your recipe.
Though there are no similar substitutes for pineapple, most of these substitutes mentioned above work well.
To get the best substitutes for pineapple juice, you should try anyone from this list and feel it yourself.
You can only decide which of them replicates the taste and flavor of pineapple juice in your recipe.
About The Author