Have you ever tried pea shoots? You might be surprised to learn just how versatile these plants can be.
With their vibrant flavor and delicate texture, pea shoots are a great way to add something special to your meals.
Whether you stir fry them with some garlic or add them to your favorite sandwich, there are plenty of ways to prepare and enjoy pea shoots.
But what if you can't find any? No worries.
We've got you covered with the five best substitutes for pea shoots.
Discover which ingredients work as fantastic alternatives and learn all about the creative possibilities for cooking with them.
What's Pea Shoot?
Confusingly named, pea shoots are not the same thing as peas.
They are actually the edible tendrils and leaves of a young pea plant.
Tiny in size and delicate in taste, these shoots are appealing to anyone who wants to add a crunchy texture and a mild sweetness to their meal.
Pea shoots boast an impressive nutrient profile–encompassing magnesium, calcium, vitamin C, and iron–making them a fantastic addition to salads or your favorite dish.
In terms of flavor and texture, pea shoots enjoy an uncanny middle ground between that of leafy greens like spinach while maintaining the same light crispness associated with vegetables like peas.
To best receive its benefits, lightly steam (just 2 minutes.
) or stir-fry the shoots with other vegetables for a savory side dish.
The 5 BEST Substitutes for Pea Shoots
If you're a fan of salads and want to switch it up a bit, pea shoots are a great addition.
They add color, texture, and sweetness to any dish.
But if you're in an area where these aren't available, or you just don't have access to them, there are plenty of substitutes that can fill in the void.
Here are five of the best alternatives to pea shoots.
1 – Spinach
Spinach is nothing short of perplexing; while it has a seemingly simple flavor, its texture is anything but.
Every bite of spinach seems to take on unique characteristics – some bites are tender, some are chewy, and some take a thorough chew to even break the leaves into smaller pieces.
The secret to the layered complexity of spinach lies in how it's cooked.
If lightly wilted, spinach has a mild, buttery finish and pairs amazingly with garlic for a savory side dish.
For more of a crunchy and sweet flavor, try lightly sautéing in olive oil with a splash of lemon juice and sea salt.
Either way, spinach is an incredibly versatile substitute for pea shoots that you can use to spice up any salad.
2 – Watercress
Watercress is an anomaly for a vegetable – it looks like something from another realm, with its curious lacy leaves and dark green color.
People often wonder what its purpose is.
But in actuality, watercress is packed full of vitamins and minerals, making it a valuable part of any diet.
It has a mild, peppery taste that is delicious with some olive oil, lemon juice, and sea salt.
The texture of the watercress is crunchy but creamy all at the same time; it adds crunch to salads or wraps with ease.
Suppose you're looking to cook up watercress, steam, or sauté quickly to keep the nutritional values intact.
You can even substitute it for pea shoots in dishes like spring rolls or stir-fries – whatever your craving may be.
3 – Sunflower Shoots
Sunflower shoots are a relatively unknown green vegetable, often passed up in grocery stores for kale and spinach.
However, these tender shoots have a subtle sweetness that sets them apart from their leafy counterparts.
With a texture reminiscent of asparagus and a hint of lemon zest to its taste, sunflower shoots are an exciting addition to any meal.
If you've ever cooked with pea shoots before, sunflower shoots can make the perfect substitute in salads, stir-fries, or pasta.
The small sprouts boast tons of protein and fiber – making them perfect for vegans looking to add some extra plant-based nutrition to their daily diet.
So if you're ready to try something new, give sunflower shoots a whirl.
4 – Radish Greens
Radish greens are a lesser-known member of the vegetable family that many don't realize can be eaten.
They have a surprisingly peppery taste, along with an earthy undertone.
The leaves are dark green and crisp yet slightly brittle when raw.
When cooked down, they develop a tender texture while still maintaining their intense flavor.
If you're looking to switch things up from pea shoots, then radish greens may be perfect for you.
All you need to do is toss them lightly in oil and spices (our personal favorite combination being garlic and parmesan), spread them out on a tray, and croon in the oven until crispy – the perfect side or snack.
5 – Beet Greens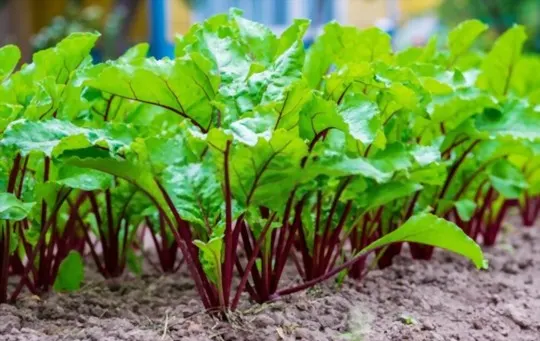 Beet greens are the leafy tops of beets. They are controversial in the culinary world.
Some people find them to be unpalatable, while others relish their unique taste.
Beet greens have an anguish, slightly sweet flavor with a tough texture.
When cooked, the tough texture softens, and the flavor becomes more complex.
Many people compare the taste of beet greens to spinach or chard.
When cooking beet greens, it is important to remove the thick stem from the leaves.
The stem is where most of the bitterness is concentrated.
To cook beet greens, sauté them in olive oil with garlic and onion until they are wilted.
You can also add them to soups or stews for extra flavor.
Conclusion
In conclusion, there are lots of great substitutes for pea shoots that you can use to give your dishes an extra kick.
Whether you're looking for something mild, like spinach or watercress, or something a bit more adventurous, like radish greens or beet greens, these alternatives are sure to please any palate.
With such a wide variety of flavors and textures, it's easy to find the perfect green to add some life to your meals.