Oyster stew is a nutritious, creamy soup that's easy to make and delicious to eat – who wouldn't want to try some?
When choosing oysters for your oyster stew, try to find the freshest ones possible.
Oysters tend to spoil quickly, so make sure you aren't buying open or slimy ones.
If you plan on shucking them yourself, it's important to look for oysters that are tightly closed before purchasing them.
Oyster stew has a unique flavor of fresh oysters cooked in cream with salt, pepper, paprika, thyme, chives, or parsley.
This hearty soup even contains chunks of potato, carrots, and celery for texture and flavor.
You can even add other meats, such as bacon or sausage.
Oyster stew is a delicious, filling side dish to go with any entree, or you can have it by itself.
The best accompaniment to oyster stew is a light, refreshing side dish like roasted asparagus.
Other great options are boiled baby red potatoes (just cut them up into bite-sized pieces before boiling), grilled zucchini or eggplant, or pasta salad.
In this article, we will list 8 of the best side dishes that go perfectly with oyster stew.
Why Consider Serving Side Dishes for Oyster Stew?
Oysters are well known for great seafood, especially around the holiday season.
While many people enjoy eating freshly shucked oysters on the half-shell and raw, cooking them in various ways has become increasingly popular.
Oyster stew is a creamy soup usually made with milk or heavy cream and seasoned with herbs and spices.
The oysters themselves are usually served as a main course, either on their own or as a topping for a larger seafood dish.
Side dishes to serve with oyster stew can vary from region to region and family to family.
Still, it is worth considering adding them because of the big difference compared to serving oysters by themselves.
In general, it's best to serve simple, mild-tasting dishes with oysters (such as baked potatoes) since they can easily overpower more subtle flavors.
However, this isn't to say that stronger, tangier flavors won't go well with them either; it's just that you should never serve anything sharp or strongly flavored like citrus juice or vinegar with oysters.
Another reason to consider serving side dishes with oyster stew is that it can make your dinner feel more like a meal and less like an appetizer course.
Since the only options people usually think of for "side dishes" when eating oysters are bread, crackers, or chips, these tend to leave diners feeling hungry shortly after they finish their oysters.
Serving other, more substantial dishes with oysters turns them into a single course and thus leaves people feeling full.
What to Serve with Oyster Stew? 8 BEST Side Dishes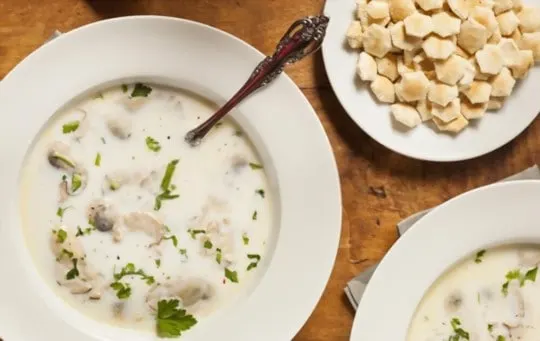 Here are the eight best side dishes to serve with oyster stew to leave you and your guests satisfied after a satisfying meal:
1 – Tangy Lemon Chive Potatoes
Potatoes are a staple for many occasions, but it can sometimes feel like you've had them one too many times.
This recipe for lemon-chive potatoes is the perfect way to switch up your standard mashed potatoes.
Many people have probably never heard of lemon chives before, but they are quite tasty and give these potatoes a unique lemony flavor.
These are also great for your guests because they can easily be made hours in advance, freeing up valuable time during the cooking process.
All you have to do is put them in the oven when you are almost ready to serve dinner, and voila.
You have delicious potatoes that are crispy on the outside but soft and fluffy on the inside, just like you'd hope for.
2 – Buttery Cheddar Bay Biscuits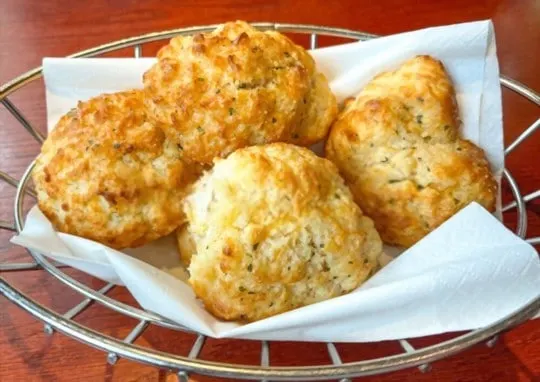 The only thing better than a classic biscuit is one that's buttered and cheesy.
That's why buttermilk biscuits are such a staple for many households around the holidays (or any other time of the year, really).
They're delicious, and they can be whipped up in no time flat.
This recipe turns the classic buttermilk biscuit recipe on its head instead of butter and cheddar cheese to give them a rich, buttery flavor.
These go perfectly with oysters because the buttery richness helps cut through their briny saltiness, and the cheddar cheese gives them a bright, tangy flavor that goes well with oysters and other seafood.
3 – Roasted Asparagus
Asparagus is an often overlooked vegetable because it doesn't look as impressive as its more colorful counterparts.
But don't let looks fool you: asparagus can be just as tasty as something like broccoli or cauliflower.
One of the best ways to enjoy asparagus is roasting because roasting brings out its natural sweetness and leaves behind a crispy exterior that gives it a nice contrast with the tender inside.
This recipe calls for roasting asparagus with lemon juice, garlic, and olive oil; you'll be left with a side dish that's both savory and bright.
4 – Savory Green Beans with Tomatoes
There is a reason that green beans are one of the most popular veggies out there: they're delicious, versatile, and can fit into just about any kind of cuisine.
This recipe for roasted green beans gives them an Italian twist with marinara sauce.
While the Italians are known for their pasta and red sauces, nowhere is it written that these can't be served together (in fact, one may argue that they go perfectly together).
This dish is best served warm or at least room temperature; this allows both the green beans and the sauce to soak into the pasta and makes for a dish full of flavor and depth.
5 – Turnip Puree
The primary reason most people don't like turnips is pure ignorance: they haven't had them cooked properly.
A properly prepared turnip can be as flavorful and delicious as its more popular cousins, such as potatoes and carrots.
This recipe for turnip puree is a great way to introduce your family and friends to the wonderful world of turnips.
It calls for roasting the turnips with olive oil, thyme, and garlic; these ingredients give them a savory flavor that goes perfectly with seafood like oysters.
You can also add herbs such as parsley or chervil to the puree to give it even more depth of flavor.
6 – Creamy Wild Rice Pilaf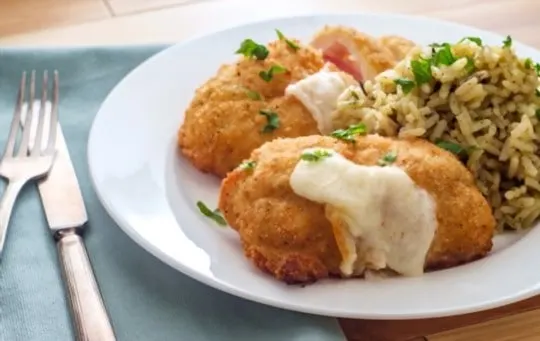 There are few things quite as comforting as creamy, savory rice.
This wild rice pilaf is no exception because it's made with long grain wild rice.
This particular type of rice originates from North America and is cultivated primarily in California, Minnesota, and Canada for export to Europe or Asia.
Wild rice has a nutty, earthy flavor that makes it perfect for pairing with seafood.
The creamy sauce is also another great way to cut the saltiness of shellfish like oysters.
7 – Scalloped Potatoes
Tater tots might be everyone's favorite side dish, but sometimes you need a little change of pace from the classic potato dish.
Scalloped potatoes offer the same kind of comfort as tater tots, but they're a little more complex and have a lot more flavor.
This scalloped potato recipe is made with cheddar cheese, cream cheese, garlic powder, nutmeg, salt, and pepper; these ingredients give the potatoes a rich, creamy flavor that works well with the briny oyster meat.
You can also top the potatoes with chives before serving for a fresh oniony taste to brighten up the dish.
8 – Buttermilk Biscuits
A staple of Southern cooking, buttermilk biscuits are just dry dough—flour, shortening, baking powder, and salt—moistened with buttermilk and then baked in the oven.
What may seem like a simple side dish is incredibly versatile because it can make anything from sandwiches to appetizers.
For this particular oyster stew recipe, you'll want to consider pairing the biscuits with honey butter; that way, you'll get the sweet and salty flavors that complement shellfish perfectly.
The great thing about this recipe is that it's incredibly flexible.
You can top these biscuits with your favorite spices or herbs to give them a unique flavor that goes well with any seafood dish.
Conclusion
Oyster stew is a classic dish that will always have a place at the dinner table.
But you don't have to limit yourself to just using oysters in your stew.
These side dishes are delicious ways to complement dishes with seafood, so feel free to experiment with them on your own.
Don't forget to share your oyster stew and side dishes with us on Twitter using the hashtag #hearthsidecook.