Onion Soup Mix is an essential ingredient to add flavor to a variety of dishes.
But what do you do if you can't find any in your pantry? Do not fret.
There are numerous substitutes for onion soup mix that can provide that same savory layering of texture and taste.
While the exact combination of seasonings in each brand's recipe may be a mystery, by understanding some basic principles about substituting ingredients, you'll have no problem creating something similar that's perfect for your dish.
Let's explore just how easy it is to use alternatives for onion soup mix, so you can continue making delicious recipes.
What's Onion Soup Mix?
Onion soup mix is a flavor enhancer that offers a savory, salty taste to dishes.
The traditional onion soup mix consists of finely powdered onions and herbs along with other seasonings like celery seed, salt, tumeric and chili peppers.
It has a delicate texture that adds an instant flavor burst to various dishes such as casseroles; soups and sauces; salads; beef or pork roasts; and more.
Plus, the mild onion flavor makes it an ideal addition for mild recipes to avoid adding harsh onion chunks.
To use onion soup mix in your meals simply dissolve it into water until there are no lumps left and stir it into whatever dish you are making.
For example, you could use one tablespoon of onion soup mix per cup of liquid if you're making a soup or casserole dish.
This is especially helpful when you need to quickly whip up something without having to cut onions – although substituting diced onions can be done if desired.
Onion soup mix is a great addition for many types of dishes and takes the guesswork out of figuring how much seasoning to add.
The 5 Best Substitutes for Onion Soup Mix
Some people prefer to avoid using store-bought mixes due to the sodium and preservatives that they often contain.
Finding an appropriate substitute for onion soup mix can be difficult but the following are five alternatives that you may want to consider.
1 – Dried Onion Flakes
Onion flakes provide an easy way to add flavor, texture and pungency to any dish.
With a shelf life of up to 18 months, they are convenient to stock in a pantry.
The sweetness that onion flakes bring is less overpowering than the taste of raw onions, but it's still interesting enough to make a subtle difference in the flavors of dishes.
In terms of texture, they are crunchy and sharp instead soft like cooked onions.
It can be used as a seasoning for meat dishes or add zest to your favorite soup.
If you want deeper flavor with more aromatic elements, you can try using fresh onion pieces.
Alternatively, if you don't have onion flakes on hand, easily substitute them by using an equal part of dehydrated onion powder mixed with about 1/4th part dried parsley for every tablespoon of dry mix blend in your recipe.
2 – Caramelized Onions
Caramelized onions may also be used in place of onion soup mix.
Thus is a great option for those who are looking for something more flavorful and natural.
To make caramelized onions, you will need sliced onion, butter, and a pinch of salt.
Heat the butter in a skillet over medium heat and add the sliced onions and salt.
Let the onions cook until they become golden brown and caramelized.
Once they are done cooking, they can be added to recipes in place of onion soup mix.
Caramelized onions generally yield a sweeter flavor than onion soup mix would provide, so tastes should always be adjusted accordingly during cooking.
3 – Onion Powder
Onion powder is a great onion soup mix substitute for dishes where you want the flavor of onions, but don't need the added crunch that fresh onions provide.
All you need to do is combine 1 tablespoon of onion powder with 2 cups of beef or chicken broth.
You could also mix it with a few tablespoons of olive oil, red wine and Worcestershire sauce to make an onion soup base.
Because all the ingredients in this mixture are dry, there's no need to pre-blend them.
Simply combine and enjoy.
4 – Fresh Green Onions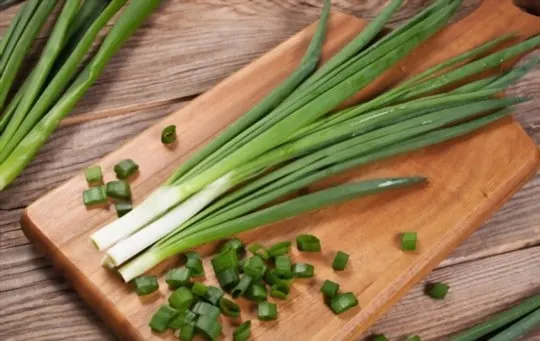 Fresh green onions provide a milder onion flavor to your dishes and are one of the most common onion soup mix substitutes.
To use fresh green onions in recipes intended for dry onion soup mix, simply finely chop three to five green onions (depending on your preference) and add it to the dish.
Keep in mind that fresh green onions require more cooking time than dry onion soup mix so you may want to adjust your cooking times accordingly.
Fresh green onions are an excellent addition to soups, stews, salads, casseroles, or anywhere else that you may wish to use dry onion soup mix.
5 – Mix of Dried and Fresh Herbs
This creative mix of dried and fresh herbs is the perfect substitute for onion soup mix.
All you have to do is create a mixture that contains the following:
1 teaspoon dried thyme leaves.
2 teaspoons dried parsley.
1 tablespoon garlic powder.
¼ teaspoon celery seed.
½!– /wp:list-item –>
¼ – ½ teaspoon onion powder.
¼ cup minced fresh onions (optionally included).
Mix all of these ingredients together and use as a substitute for onion soup mix in your favorite recipes.
You can also store it in an airtight container in a dark, dry place for up to six months.
Conclusion
In conclusion, onion soup mix is a common ingredient in many recipes, but there are many easy substitutes available for those who do not have access to it.
These include fresh onions, dried onions, garlic powder, onion powder, and bouillon cubes.
All of these are versatile ingredients that can be used in a wide range of recipes and can help you to make delicious dishes without having to use the pre-packaged onion soup mix.
Whichever substitute you choose, be sure that its flavor profile complements the recipe you're making and provides an enjoyable result.
The 5 BEST Substitutes for Onion Soup Mix
1 – Dried Onion Flakes
2 – Caramelized Onions
3 – Onion Powder
4 – Fresh Green Onions
5 – Mix of Dried and Fresh Herbs
Choose your preferred substitute from the list of options.
Organize all of your ingredients.
Use the proper substitute to cook your recipes.
About The Author