If you feel like there is never enough space in your kitchen's refrigerator, a mini fridge can be the best solution. This is a constant problem plaguing a large family.
It can also come in very handy if you have a small space but do not want to compromise the taste and temperature of your drinks.
Beverage coolers are versatile, compact, and efficient to keep you hydrated and satiated. They consume less energy and come packed with features as well.
In today's NewAir AB-850 beverage cooler and refrigerator review, we take a look at its features, design, and performance and weigh its pros and cons.
NewAir AB-850 84-Can Beverage Cooler – Glass Door Review
The NewAir AB -850 beverage cooler is a compact model. It is 25.20 inches high, 17 inches long and 18.5 inches wide.
This cooler has five removable chrome racks, which makes it ideal for storing any kind of beverages.
The AB- 850 is made of stainless steel, which makes it look great and ensures it's durability as well. It has LED light installed on the inside, which adds to the convenience.
The cooling system is very efficient and can chill your drinks down to 34 degrees F. You can store 84 standard-sized beer cans.
This cooler works quietly, so it won't bother your sleep even if you keep it beside your bed. If you want to keep your drinks chilled right beside you, the AB-850 is exactly what you need.
Pros
Very efficient cooling system.
Double-paned glass doors for great insulation.
Interior LED lighting makes it very convenient.
Customizable chrome racks make it very versatile.
Very affordable price.
Cons
Some units may have fluctuations in the temperature.
It not the quietest of mini fridges.
Key Features And Benefits
The AB-850 from NewAir comes in two sizes, a mini fridge that holds 90 cans and a beverage cooler that holds 126 cans. We will focus on the mini fridge in this review.
1 – Capacity
With a total volume of 2.2 cubic feet, you can fit up to 90 cans each having 12 oz inside this mini fridge. Whether it is beer or water or juice that you want, you can do without any problem. A full 15 six-packs can be stocked inside this mini fridge so you can have a chilled drink anytime you desire.
You can also put in standard water bottles or juice boxes by reshuffling and customizing the racks. The chrome racks are removable which allows you to fit a drink of any size.
2 – Performance
The AB-850 has a temperature range from 34 to 64 degrees F, which keeps your drink sufficiently cool or chilled. The cooling process is done by the compressor, which is powerful. The loudest sound it makes is 35 dB, which is not very quiet for a fridge of this size.
Having a voltage of 110 volts and wattage of 85, this fridge is one of the most efficient in comparison to its size. The thermostat settings have 7 options which can be customized to get that perfect drink every time. However, the control settings need to be performed manually, so if you prefer an automatic one, you will be disappointed.
3 – Design
The exterior of the fridge has a sleek and streamlined design. The color is black on the body and bare steel on the door. The freestanding and compact feature makes this mini fridge a great addition to a room, dorm, an RV, or a boat. The simplistic aesthetic allows it to blend into any décor without a problem. The stainless steel frame makes it robust and durable.
The door is made of double-paned glass, which keeps insulation to the optimum level. The glass door not only alleviates the overall appearance of the fridge but also allows you to see the contents of the refrigerator. Unlike other models where the door can be hinged from both sides, the AB-850's door is fixed on the right.
The internal LED lighting adds to its practicality as well as its aesthetics. It is particularly helpful when you crave a drink at night or if the unit is stored in an area with low light. You can choose to keep the lights on or off, although it will switch on whenever you open the door of the fridge.
Apart from the versatility, the removable racks also make cleaning the fridge very effortless. The four chrome racks add to the durability of the unit. The mini fridge is a simple plug and play, which makes the installation and maintenance minimal.
4 – Additional Information
The AB-850 from NewAir weighs 49 lbs and measures 18.74 inches in depth, 17 inches in width and 24.75 inches in height. It is a single zone type of fridge.
Overall, the materials used in the construction of the fridge are great, and it is built to last. This mini fridge comes with a one year manufacturer's warranty.
The Verdict
NewAir has been consistent with the cooling technology, and the AB-850 does not disappoint. It is excellent at keeping your drinks chilled at all times.
Its smart and compact design makes it easily fit into the smallest of places with ease. A minor issue with its noise, but a 35 decibel sound is very negligible.
About The Author
NewAir AB-850 84-Can Beverage Cooler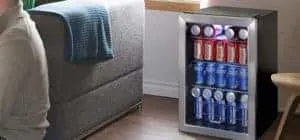 As briefly highlighted in the beginning, the AB-850 is an excellent option if you are looking for a backup for the main refrigerator. It can also serve as a beverage cooler if you live in a place that is not very spacious. For a mini fridge, it can hold a good number of cans and effectively cools it, which is a great achievement.
Product Brand: NewAir
Product Currency: USD
Product In-Stock: InStock