Neem oil comes from the seeds and fruits of the neem plant.
From taking care of your plants to your own health, neem oil is a hero ingredient found in various products, including medicines, pesticides, and essential oils.
Not only that, but neem oil has a long traditional history of various medicinal as well as skincare uses.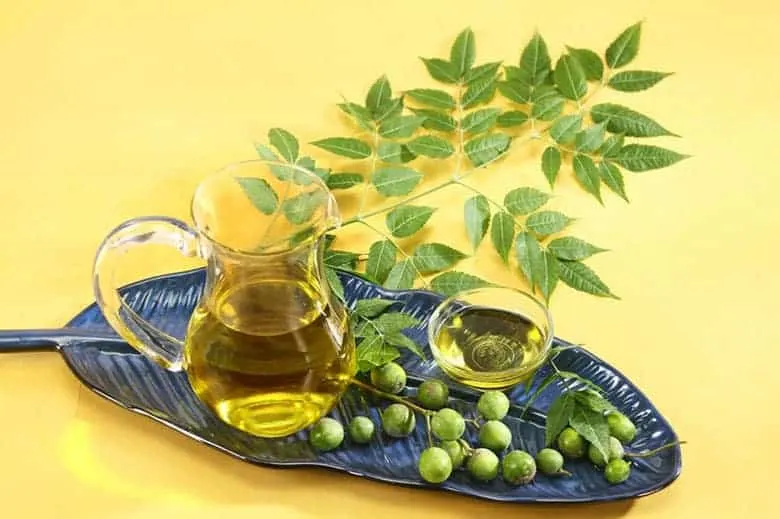 With so many benefits under its bag, neem oil is a staple in several households worldwide.
However, there is one common question around this star ingredient: how long does neem oil last? Or, if neem oil can actually go bad?
Surely neem oil is not immune to expiry. Using expired neem oil on your skin can lead to adverse skin conditions. Hence, it is important that you know the right way of storing your neem oil so as to extend its lifespan.
To know more about the shelf life and storage of neem oil, please continue reading.
How Long Does Neem Oil Last? Does Neem Oil Go Bad?
Neem oil does go bad. They usually come with a "best before," date.
As the rule of thumb goes, make sure to check the expiry date before buying your neem oil. Once you bring it home, you can store it in your pantry, away from direct sunlight.
Generally, unopened neem oil has a minimum shelf life of around one year at room temperature. However, you can extend its shelf life.
An even better way to store your neem oil is to refrigerate it. Refrigerating your neem oil will generally extend its shelf life by up to 2-3 years.
If you want your neem oil to last you for years, make sure to buy only pure and cold-pressed neem oils.
Good quality neem oil usually comes in dark glass bottles. They should last you for anywhere between 18 months to 2 years, provided that you store them in a cool place, away from direct sunlight.
When it comes to pure neem oil, it can retain its potency in temperatures at around 40°F. Also, note that neem oil tends to harden at colder temperatures (usually below 77°F). But don't worry! Solidified neem oil is still safe for use.
In fact, solidified neem oil extends its shelf life and makes it less likely to turn bad. Hence, if you had to buy neem oil in bulk at the sale, you can easily let it harden in the fridge and store it for up to 3 years.
As for homemade neem oil, the storage instructions and shelf life remain the same.
Additionally, when it comes to a mixed solution of neem, make sure to use the solution within 8-10 hours. After this, neem oil will start breaking down and lose its effectiveness.
How to Tell if Neem Oil is Bad?
Neem oil can turn rancid if you don't store it properly. The fatty molecules in neem oil tend to break down after a certain period, which eventually makes the neem oil rancid.
Even more, this process is boosted by constant exposure to heat, air, and light. This is why it is recommended to keep your neem oil airtight in a cool place.
Rancid neem oil loses most of its healthy properties, making it unfit for use. If you use rancid neem oil on your skin, you may develop some skin allergies like swelling, hives, or redness.
Additionally, mixing rancid neem oil in your pesticides may negatively affect your plants and may even kill them.
Hence, if your bottle of neem oil has been sitting in your pantry for the longest time, you must check for signs of spoilage in your neem oil.
Now comes the interesting part. Here are some tips that you can use to check if your neem oil has gone bad:
Firstly, you can use your sight to check for signs of spoilage. Neem oil comes in different colors ranging from golden yellow to dark brown and sometimes even red. Hence, the best thing you can do is check for any discoloration or cloudiness. If you find any, it means your neem oil has likely gone bad.
You can also compare your neem oil's present color to how it was when you first bought it.
The next thing you can do to check the quality of your neem oil is by taking a whiff. Generally, neem oil has a strong aroma, similar to peanuts and garlic. But some other varieties of neem oil may even smell bitter, earthy, or nutty. Other than these aromas, if your neem oil smells off and unusual, then it's time to toss it in the trash.
Conclusion
Other than working as a pesticide and fungicide on plants, neem oil has a wide range of benefits on your skin as well. Neem oil can treat wrinkles, dry skin problems, acne, wounds and stimulate collagen production.
You can find this star ingredient in various products like toothpaste, hair oil, supplements, lotions, cosmetics, etc.
You can also find it in its pure and potent form in bottles at the supermarket. Or, you can even make neem oil at the comfort of your own home.
Regardless, make sure to store it in a cool place at all times, in an airtight jar. Unfamiliar color and odd aroma is the key to identifying rancid neem oil.