Are you a mashed potato lover? If so, this information is for you.
Cooking and serving mashed potatoes can be easy but delicious.
All you need to master is the perfect texture before topping it off with your favorite accompaniments.
Even those who don't like mashed potatoes have plenty of options to substitute them with, such as cauliflower, sweet potatoes, parsnips, and more.
With these five best substitutes for mashed potatoes, you won't miss having the regular version on your plate.
What is the Trick to Making Good Mashed Potatoes?
Making delicious mashed potatoes is an art.
It's all about adding just the right ingredients and technique to get the perfect creamy mash.
First, make sure you use either potato that is high in starch, such as russets or Yukon golds.
Then boil them until they are soft enough to mash easily but still have a bit of bite to them.
Add butter for flavor and milk for texture; find a balance between the two – having too much milk can give your mash a soupy texture, while too little will cause it to be clumpy.
Lastly, once all the ingredients are added and blended together, mix until it reaches desired smoothness.
These tricks can turn an ordinary dish into something truly wonderful.
The 5 BEST Substitutes for Mashed Potatoes
If you're looking for a delicious alternative to mashed potatoes, then you're in luck.
There are plenty of tasty substitutes out there that can make the perfect side dish or even main course.
Here are some of our favorite alternatives to mashed potatoes:
1 – Mashed cauliflower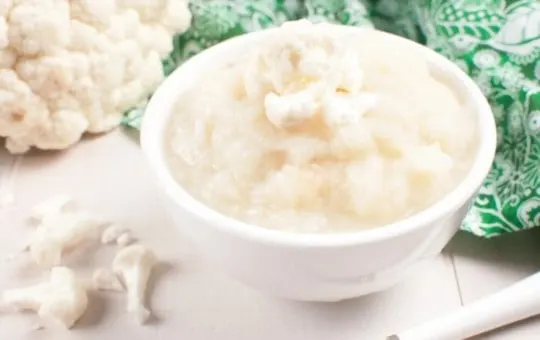 Mashed cauliflower is an amazing alternative to mashed potatoes and is surprisingly delicious with the right flavors.
Its sweetness pairs perfectly with garlic, butter, and a bit of salt.
The texture replicates mashed potatoes but with a slightly milder flavor.
To make this dish, simply boil cauliflower florets for about 8-10 minutes until a tender, strain, and mash it in a bowl using a potato masher or fork.
If desired, one could add olive oil or vegan butter for added richness.
For those watching their carbs or on keto diets, this healthy option works well – it's also gluten-free.
2 – Mashed Parsnips
Mashed parsnips are a great alternative to potatoes.
These vegetables have a subtle nutty flavor and creamy texture that pairs perfectly with any main course.
To prepare them, boil the peeled and chopped parsnips until they reach a fork-tender consistency.
Gently mash them with butter, heavy cream, and sea salt or garlic – whichever seasonings you prefer.
You can also opt for adding some Parmesan cheese for an even more luxurious side dish.
The color of mashed parsnips will be slightly brighter than that of mashed potatoes, but its texture is still smooth and creamy, just like its potato counterpart.
A unique root vegetable dish your family and guests are sure to love.
3 – Butternut Squash
Butternut squash offers an exotic addition to any winter meal.
Its bright orange color and hard, oblong shape make it a unique vegetable that is sure to stand out in any dish.
This squash has a delightfully sweet taste and can be served cooked or raw, depending on preference.
When cooked, butternut squash has a naturally creamy texture that makes it a lovely substitute for mashed potatoes on a cold night.
It's easy to prepare with only four simple steps – peel, cube, cook, then mash – before adding your favorite herbs and spices.
Try substituting butternut squash into your traditional winter recipes this season to add an unexpected flair to your meals.
4 – Mashed Carrots
Mashed carrots are an underrated side dish that is an excellent alternative to mashed potatoes, especially for those looking to incorporate more vegetables into their diet.
This side dish is surprisingly easy to make – all you need to do is boil and mash some carrots, along with salt and butter.
The final result is a warm, delicious bowl of soft carrots – the perfect complement to any main course.
The taste is subtly sweet but not overpowering, while the texture is tender and smooth.
Try it as a substitution for mashed potatoes in your next meal – everyone at the table will surely fall in love with its subtle yet irresistible flavor.
5 – Mashed Turnips
If you are looking for a unique dish to serve at the dinner table, mashed turnips might be the trick.
Their earthy flavor has often been compared to that of potatoes, so they can easily substitute in any recipe calling for them.
While each vegetable has its own distinct taste and texture, mashed turnips have a slightly softer consistency with an astringent bite.
To make the most of this veggie's powerful flavor, try seasoning with a hint of nutmeg and garlic, as well as some grated Parmesan cheese.
With minimal effort and time, you can treat yourself and your family to a delicious side dish – from roasting to sautéing or even mashing into creamy perfection.
Conclusion
In conclusion, mashed potatoes are a delicious side dish, but they can be easily replaced with other vegetables.
From cauliflower and parsnips to butternut squash and carrots – there is an abundance of alternatives out there.
Each veggie offers its own unique flavor, texture, and color – perfect for those looking to change up their meals or add some nutritious veggies to their plate.
So the next time you are craving mashed potatoes, try one of these five substitutes and enjoy a delicious bowl of goodness.