Out of all the fruits globally, mangoes are the most widely eaten varieties of fruits.
Mostly found in India and Southeast Asia, Mangoes have been in cultivation for about 4,000 years.
It is a fleshy fruit with a large seed and comes in different sizes.
Mangoes are referred to as the king of fruits because they have the combined taste of oranges, peaches, and pineapples.
They are sweet and pulpy in taste. So, what does Mango taste like? Read on to find out.
What is a Mango?
Mango is a popular fruit, eaten unripe, ripe, or even added to some dishes.
The skin's outer covering can be green, orange, yellow, or a mixture of these colors.
Removal of the outer skin of the Mango is necessary before eating. Sometimes, we cut it with the skin, and the flesh is eaten or scooped out.
It has a hard seed at the center, and we throw it away as it is not edible.
What Does Mango Taste Like? Does Mango Taste Good?
Mangoes are typically sweet if ripe, have a sweet-sour taste if unripe. As mentioned earlier, it has a combined taste of oranges, peaches, and pineapples.
The texture of the flesh is like a peach and 'tart-y' or jelly-ish.
When unripe, they are not sweet rather sour and are slightly crunchy; we use them often in salads and many savory recipes.
Mangoes boost immunity, digestive system, eyesight and helps in lowering the risk of certain cancers.
It has low calories but high in nutrients like vitamin C, which in turn boosts immunity.
It also helps in regulating iron absorption and the growth and repair of the body.
They are also rich in minerals and antioxidants. It can also prove as a weight-loss food when replaced with the unhealthy snacks in your diet.
Of course, oranges are the most nutritious fruits of all, but mangoes are no less.
Adding mangoes to your diet can boost your hair and skin health as well.
Best Mango Recipes to Try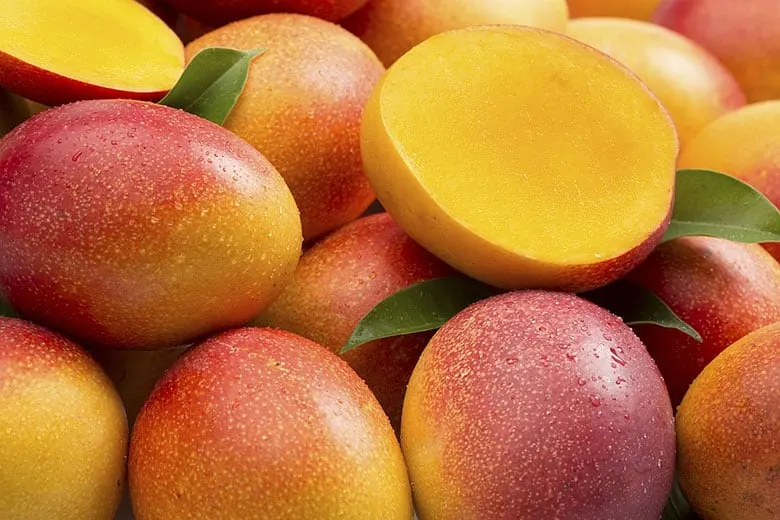 We use mangoes in various recipes all over the world. We can use them in baking, ice-cream, salads, dishes, smoothies, desserts, and many more.
Mangoes are one of the best ingredients to use in savoury dishes, especially Indian dishes.
Mangoes are the best fruits to use in any recipe. For years mangoes have been added to various recipes and are still used today.
People often eat Mangoes raw with salt and chilli flakes, ripe ones as they are.
There are thousand and one recipes to use Mangoes, and all of them will, I'm sure, taste amazing!
In various pickles and other masala treats, mangoes are a must. Here are some recipes that you can try at home:
When making different mango recipes, you should keep in mind the type of Mango you use.
It is better to avoid fibrous ones, but the sweet ones are preferable. There are different recipes altogether for raw mangoes.
You can also try Mango ice cream or a Mango milkshake if you aren't a good cook.
Conclusion
There are many cultivators of Mango all over the world. Depending on the environment and the type of soil, the sizes and taste of the mangoes differ.
Mango is the national fruit of India and the national tree of Bangladesh.
Another fun fact about mangoes is that the fruit was popular in China during the Cultural Revolution.
The fruit symbolized Chairman Mao Zedong's love for the people.
About The Author