Have you ever wondered about the various ways in which a loaf pan can be used?
A loaf pan is quite versatile and can be used for baking all sorts of recipes, from banana bread to pound cake.
But what happens when you don't have a loaf pan or aren't able to get one? Luckily there are some great alternatives that you can use.
In this article we will discuss how to use a loaf pan and the five best substitutes if one isn't available.
With these techniques, no recipe is off limits.
What is Loaf Pan?
A loaf pan is a type of kitchenware that is used to bake a variety of breads, cakes, and even puddings.
It is rectangular in shape and usually has a non-stick coating or lining on the inside.
The pans typically have one large bottom piece with two side pieces snapped into place.
This allows the baker to easily remove the finished product by simply popping open the sides of the pan.
Loaf pans come in a variety of sizes, ranging from one-pound up to two-pound sizes.
If you're looking to bake larger loaves, you can buy oversized loaf pans or even smaller mini loaf pans that can be used for individual servings such as quick breads and muffins.
There are also specialty shaped pans in addition to your basic rectangular ones like heart shapes and oval shapes which give your baking an extra special touch.
Using a loaf pan is quite simple: just prepare your ingredients as usual for your desired recipe (bread, cake, etc), mix them together in an appropriate bowl and then pour them into your greased loaf pan before baking at the specified temperature stated on the recipe's instructions.
Once it's finished baking, turn out the contents onto a wire cooling rack and enjoy.
When using recipes that call for a specific type or size of loaf pan (or any other type of cooking/baking vessel), make sure you are using something comparable in size/shape as this will affect how long it takes for food to cook throughly as well as how well it holds its shape once removed from its cooking container.
The 5 BEST Substitutes for Loaf Pan
If you're a baker, then you likely already know how important it is to have the proper tools for making delicious treats.
One of these essential tools is a loaf pan.
But sometimes there is no loaf pan available when baking needs to be done, and it can cause a dilemma in the kitchen.
The good news is that there are some excellent substitutes that can help get your baking done just as easily as if you had a loaf pan.
Here's a detailed comparison of the 5 best substitutes for a loaf pan, along with their key characteristics and proper ratios:
| Substitute | Key Characteristics | Note |
| --- | --- | --- |
| Skillet | Versatile, creates a crisp crust on baked goods | Use a similar size skillet or adjust baking time accordingly |
| Baking Sheet | Wide surface area, ideal for shaping free-form loaves | Shape the dough into a loaf and bake directly on the sheet |
| Cake Pan | Straight sides, suitable for cakes and quick breads | Use the same size cake pan or adjust baking time accordingly |
| Casserole Dish | Deep and wide, great for denser breads or recipes with mix-ins | Use a similar size casserole dish or adjust baking time |
| Pie Plate | Shallow with sloping sides, perfect for lighter, fluffier breads or sweet breads with toppings | Use the same size pie plate or adjust baking time accordingly |
Let's dive deeper into each substitute:
1 – Skillet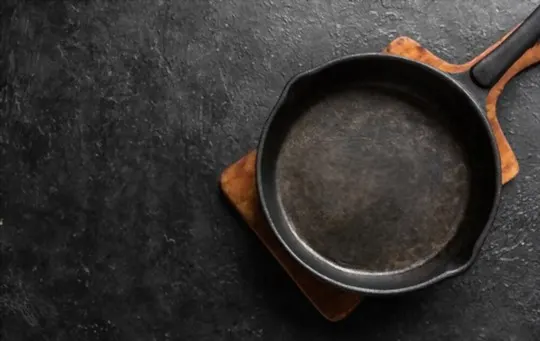 A skillet, which is also known as a frying pan or a sauté pan, is a versatile kitchen tool that can be used for everything from searing steak to frying eggs.
Because skillets are shallow and open, they're also great for baking quick breads, such as loaves, in lieu of a traditional loaf pan.
When using a skillet instead of a loaf pan, make sure to use either butter or cooking spray on the surface of the pan to ensure that the bread won't stick.
The key benefit of using a skillet is that it heats up more quickly than an oven – meaning your loaf will be ready in less time.
To bake longer-cooking cakes and pies, however, you'll still need to use your oven.
2 – Baking Sheet
Baking sheets are flatter than a loaf pan, so they can work well as a substitute in certain recipes.
When substituting a baking sheet for a loaf pan, it's best to use nine-inch batter cakes for quick bread recipes.
For dishes that bake for longer periods of time such as meatloaf, place a smaller amount of lean ground beef mixture on one end of the sheet and in a slightly thicker layer.
This will help ensure even cooking and avoid burning.
Another idea is to make individual servings by pouring the batter into 12 separate muffin cups or custard cups placed two inches apart on the baking sheet.
It's beneficial to use nonstick cooking spray when substituting for nonstick loaf pans since the larger area does not retain moisture like a loaf pan does.
3 – Cake Pan
A cake pan of any size or shape can serve as an adequate substitute for a loaf pan in baking.
Non-stick varieties are especially beneficial as they will make it easier to remove cakes and quick breads after baking.
Cake pans also provide more flexibility than loaf pans when it comes to shapes, allowing you to bake custom creations like layered cakes and novelty cakes.
The results are almost always aesthetically pleasing and delicious.
Keep in mind that baking times may be reduced slightly when using cake pans, so adjust accordingly.
4 – Casserole Dish
A casserole dish is a larger, flatter rectangle option that gives you the ability to spread out your ingredients more evenly throughout.
Ideally, use a 3-quart size when baking smaller loaves.
Common options include glass, ceramic, cast iron and iron.
If you decide to opt for one of the heavier varieties of casserole dish, make sure your oven rack is in the middle position to accommodate it.
If using this alternative, keep in mind that the additional surface area may make for a less tall and more spread-out loaf than if you had used an actual loaf pan.
With this in mind, always read recipes carefully so that you are aware of certain adjustments (such as cooking times) that might need to be made when baking with your substituted pan.
5 – Pie Plate
A Pie Plate, or Pie Tin, is a flat-bottomed pan made of either ceramic or metal.
This type of pan is usually used for making pies and tartars, but it can also be used in place of a loaf pan when needs be.
It's generally larger than a loaf pan and might accommodate up to 1-2 cups more liquid.
If you're going to use a pie plate, bear in mind that you'll need to shorten the baking time by 5-10 minutes since it's larger and shallower than a loaf pan.
The cost of an average 9-inch pie plate ranges from $3-$8.
Conclusion
In conclusion, Loaf pans are a great tool for making breads, cakes and other pastries.
However, if you don't have one in your kitchen, there are plenty of substitutes you can use to get the same results.
A 9x13x2 inch baking pan is an easy to use substitution that will give you the same texture and shape in baking.
If you prefer something smaller or do not have a regular-sized baking pan then using an 8x4x2 inch bread pan or ramekins will give you the desired results as well.
Lastly, if none of these optios are available, using a cake pan as a substitute is another practical solution.
No matter what kind of loaf pan substitute you choose, it's important to ensure that your recipe specifies what size your loaf should be before investing in any one particular product.
About The Author