If you have ever visited a Middle Eastern restaurant, you may have tried kibbeh.
Kibbeh is a dish of ground meat, usually lamb or beef but can also be made with crushed walnuts.
The outer shell is most often a bulgur wheat shell.
Each type of kibbeh tastes very different depending on the preparation and ingredients used.
Kibbeh is popular throughout the Middle East due to its simplicity and great taste with minimal effort.
It is a popular meal throughout the day, and its taste varies depending on how it is cooked.
In order to achieve the best taste, kibbeh should be served hot.
It can also be served as a cold appetizer or snack by placing it in the refrigerator for a few hours before serving.
In this article, we bring you the eight best side dishes that will perfectly suit your kibbeh plate.
What to Serve with Kibbeh? 8 BEST Side Dishes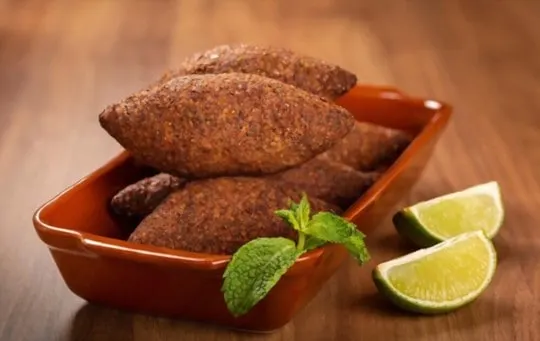 In terms of flavor, kibbeh itself is naturally very savory and meaty.
This makes sense because that's the ground meat and bulgur used to create it.
The side dishes that go with kibbeh (in this case, potatoes, tomatoes, salad, etc.
) make the meal more complete by adding flavor contrasts.
While spiciness isn't always the case, it's very common for Levantine side dishes (and sometimes even drinks) to be spicy too.
This spiciness contrasts with kibbeh's savoriness and serves as a palate cleanser.
These flavors allow us to experience a well-rounded meal that revitalizes our taste buds at every step – from the first bite of kibbeh to the last sip at the end.
Here are eight best side dishes for kibbeh that you can serve to complete your meal:
1 – Chickpea Salad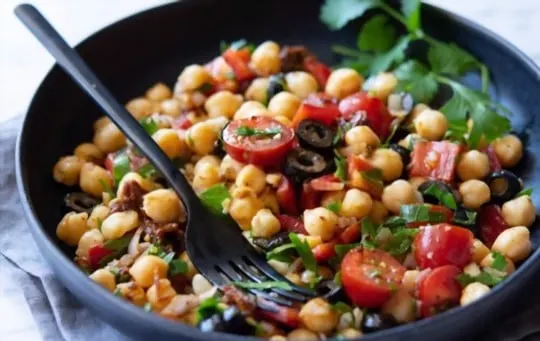 A great dish for warm weather brunches, this chickpea salad is simple to make and very healthy.
It's full of fresh herbs like mint and parsley, which give it a bright flavor.
The lemon juice adds the perfect amount of tartness while also enhancing the flavors in the other ingredients.
The best thing about this recipe is its versatility.
The ingredients are very light, so you can eat it by itself or enjoy it as a side dish with your favorite protein.
It's gluten-free, vegan, and full of protein, so it's the perfect choice for any diet.
2 – Tahini Sauce
If you like hummus, you're going to love this Tahini sauce.
Tahini is the main ingredient in hummus and gives it that creamy texture.
Unfortunately, most people don't know how versatile tahini is.
It makes a great dipping sauce for fresh vegetables like carrots, cucumbers, celery, and of course, pita bread.
We recommend pairing this Tahini sauce with crispy oven-baked fries for a quick and easy after-school snack.
3 – Easy Tabbouleh Salad
This light and refreshing salad is an excellent choice for summer brunches or picnics.
The dish comes together in minutes – chop up your vegetables and herbs, mix them with the bulgur wheat, and you're all set.
It's a simple recipe that yields big results.
Although this dish is traditionally eaten with kibbeh, it goes great with just about any protein.
This easy tabbouleh salad is not only quick and simple to make, but it's also vegan and gluten-free.
It's the perfect side for any special meal or weeknight dinner.
4 – Pickled Cucumbers
Pickled cucumbers are usually served with falafel or shawarma, but they go just as well with kibbeh.
The pickles add a nice texture contrast without overpowering the dish.
This recipe is straightforward – all you have to do is put together your cucumbers and spices in a jar, let them pickle for a few days, and enjoy.
This pickled cucumbers recipe is very easy to make and refreshing to add a little something extra to your meal.
5 – Greek Tzatziki Sauce
The tzatziki sauce is a classic Mediterranean side dish with almost any meal.
It's ridiculously simple to make and requires very few ingredients, but it can be surprisingly versatile.
This tangy sauce is best enjoyed with vegetables like carrots, cucumbers, or broccoli – try dipping the vegetables in the tzatziki sauce for a quick and healthy snack.
If you're looking for something more filling, tzatziki makes an excellent sauce for lamb or kofte.
It's especially good when paired with this Greek Lamb Kabob recipe.
6 – Rice Pilaf
Rice pilaf is a Mediterranean-style rice dish that goes great with any meal.
It's simple to make and easy to customize based on your preferences.
You can add any vegetables you want, making it the perfect one-pot meal for your family dinner.
If you don't already have a preferred recipe for this dish, try this Rice Pilaf Recipe with Mint & Dill.
It's healthy, flavorful, and sure to become a staple in your home.
7 – Cucumber Yogurt Salad
Cucumbers are some of the most refreshing vegetables on earth.
This cucumber salad combines the cool crunchiness of cucumbers with the tartness of the yogurt.
The result is a light and refreshing meal that can be eaten with just about anything.
You can make this cucumber salad recipe in minutes, and it works great with any protein.
This makes it a perfect side for barbecues or large get-togethers because you can make the dish ahead of time without having to worry that it will get soggy.
8 – Hamud (Syrian Mint Sauce)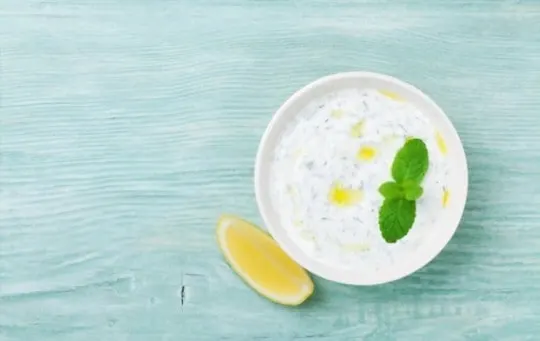 This mint sauce is a traditional way to dress up your kibbeh.
It adds a refreshing flavor to the dish while giving it a spicy kick.
The sauce is made primarily from tart mint leaves and garlic, but it also contains traditional Syrian spices like allspice and cumin.
Try pairing this sauce with lamb kibbeh for a one-of-a-kind mealtime experience.
This recipe calls for an ingredient that might be hard to find – sumac.
Fortunately, you can usually find it in Middle Eastern or Mediterranean grocery stores.
If you can't find it locally, then try buying sumac online.
Conclusion
Kibbeh is a simple yet hearty dish that's sure to satisfy.
It has a unique flavor and boasts a wide range of health benefits.
The best thing about it is that there are many different ways to serve it.
This list has 8 of the best side dishes for kibbeh, but there are still lots more where those came from.
However you choose to serve your kibbeh, it's sure to impress.