Who doesn't enjoy a spoonful of creamy, delicious ice cream?
As the weather turns warm and sunny, everyone's love for this cool treat comes to life.
Popular flavors like vanilla, chocolate, and cookie dough always delight our taste buds – but how can we make and serve them ourselves?
Even better, what are the five best substitutes for ice cream if you don't want the real thing?
With the right ingredients and guidelines, anyone can create creative takes on this frozen dessert.
If a substitute is what you seek, there are always plant-based options or dairy-free sorbets that offer alternatives to your summertime sweet cravings.
What is Ice Cream?
Ice cream is a quintessential summer treat that's loved by people of all ages.
It's made from a mixture of milk, cream, sugar, and other flavorings and is churned to combine air with the ingredients, making it smooth and creamy.
The best ice creams have an incredibly smooth texture that practically melts in your mouth.
From classic vanilla to exotic red bean, the variety of flavors available when it comes to this beloved cold treat is immense these days.
Whether you eat, it simply scooped in a cone or served in different desserts like sundaes or floats, there are countless creative ways to enjoy ice cream.
So why not pick up a pint today and treat yourself?
The 5 BEST Substitutes for Ice Cream
If you're looking for a delicious and healthy alternative to ice cream, you've come to the right place.
We have compiled a list of 5 great substitutes that won't let you down when it comes to taste, texture, and satisfaction.
1 – Coconut Milk Ice Cream
Coconut milk ice cream is the vegan's dream frozen treat.
The creamy texture of this dairy-free alternative is an absolute delight.
Coconut milk ice cream also allows those with lactose intolerance or allergies to fully enjoy the sweet indulgence of dessert.
But its flavor and texture are not left in the dust either- it provides a subtle, rich sweetness and won't leave you feeling too heavy.
It pairs perfectly with traditional toppings like rainbow sprinkles or nuts but can be used as a simple substitute for regular ice cream in all sorts of desserts, like berry cobblers or shakes.
Try taking advantage of the deliciousness of coconut milk ice cream today.
2 – Frozen Bananas In Chocolate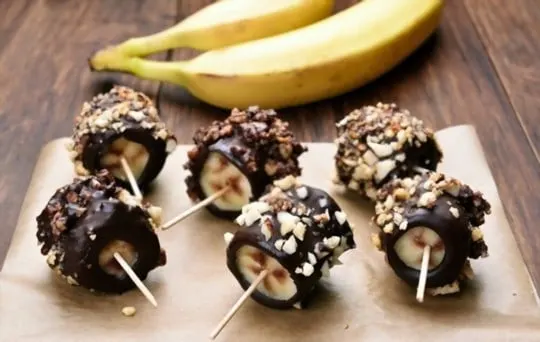 For an indulgent treat with a tropical twist, nothing compares to frozen bananas in chocolate.
This delicious dessert combines cool fruit and luxury Belgian dark chocolate to create an irresistible combination of taste and texture.
The banana slices freeze perfectly for a pleasant crunch when bitten into, and the rich chocolate melts blissfully on your tongue.
As an added bonus, it's a delightful substitute for regular ice cream when you're looking for something sweeter yet healthier – just pop some frozen banana slices into a plastic bag, pour melted chocolate over them, and enjoy.
3 – Greek Yogurt Ice Cream
Greek yogurt ice cream is a delicious, healthy alternative to traditional dairy-based ice cream.
This light, creamy frozen treat is made with Greek yogurt instead of cream and milk, making it much lower in fat than typical ice cream.
Its subtly sweet taste and delightful texture make it just as refreshing as regular ice cream, only guilt-free.
The velvety smooth texture is perfect for scooping or spooning up into indulgent dessert creations.
Greek yogurt ice cream can be substituted in any recipe that calls for regular ice cream, giving everyone a healthier way to enjoy their favorite treats.
4 – Gelato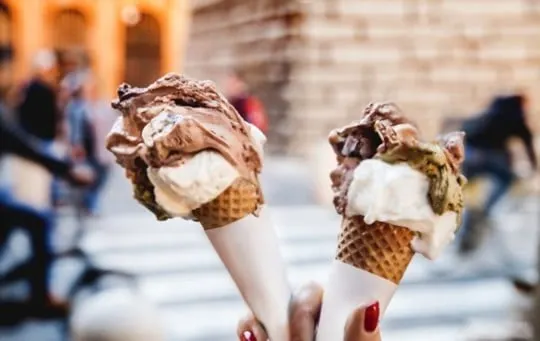 Gelato is an Italian ice cream that has a unique flavor and texture.
It is made with high-quality ingredients like fresh dairy, artisan chocolate, and organic fruit and nut flavors.
Gelato has a lower butterfat content than regular ice cream, making it very smooth and creamy.
Its delicate sweetness offers a hint of richness that is perfect for any occasion.
The light texture makes it great for testing out interesting flavor combinations too.
For those looking to substitute regular ice cream for something a bit more indulgent, gelato is the way to go – it's sure to hit that sweet tooth every time.
5 – Shaved Ice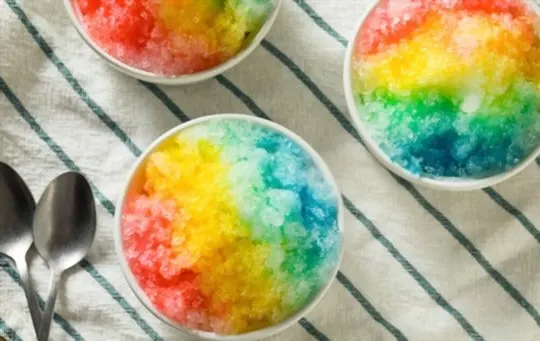 Shaved Ice can be an enjoyable treat in warm weather.
It is made by shavings blocks of solid ice, usually with a blade or electric grater.
The resulting snow-like ice is sweetened and flavored to give a delicious taste and creamy texture.
An interesting spin on this classic dessert is to use frozen fruit juices instead of artificial syrups or natural sweeteners, creating a healthier and vegan alternative to regular ice cream.
To enjoy this cool snack, simply pour some juice over the shaved ice, and it's ready to eat.
Conclusion
In conclusion, there are many great alternatives to traditional ice cream that can satisfy any craving without sacrificing taste or texture.
From coconut milk ice cream and frozen bananas in chocolate to Greek yogurt ice cream and gelato, the options are endless.
And for those looking for a healthier treat, shaved ice using natural fruit juices is an excellent option to try.
So what are you waiting for? Let's get scooping and enjoy these delicious substitutes for ice cream.