A good refrigerator is one that keeps your beverages chilled, is energy efficient, and does not take up a lot of space.
You will find a perfect match with this mini fridge from hOmeLabs. It is the ideal combination of design, performance, and price.
In this hOmeLabs Beverage Refrigerator and Cooler review, we dissect it and discuss its plus points as well as the negatives. This review is a result of the thorough research done by our experts.
In the end, you will understand every component and feature of this mini fridge and decide whether you want it or give it a pass.
HOmeLabs Beverage Refrigerator and Cooler Mini Fridge Review
This mini fridge from hOmeLabs is 12 inches deep, 16 inches wide and 29 inches high.
You can place it anywhere there are about two inches on all sides.
This is important to ensure proper ventilation and avoid overheating of the unit.
The fridge has a simple plug and play feature.
A word of caution though – It is primarily designed to chill beverages so stay away from putting snacks, fruits, or other types of food inside the fridge.
Pros
The large capacity of 120 cans.
The cooling system is powerful.
Adjustable chrome rack for easy customization.
The LED lighting and digital display.
Double-pane door with reversible hinges.
Cons
The protruding fan at the top causes minor spacing issues.
The chrome racks are somewhat flimsy.
Not suitable for cooling food or snacks.
Key Features And Benefits
This hOmeLabs fridge comes packed with features which makes it a standout from other mini beverage coolers. Let's dig deeper.
1 – Capacity
If you love to have a variety of drinks at all times, this is the perfect one for you. This fridge is by no means small when it comes to the capacity.
Measuring 3.2 cubic feet, it can hold 120 cans of standard sized water, soda or beer. If you instead prefer to chill your red or white wine, it can hold 60 bottles of it.
2 – Performance
The cooling system is the compressor, which is whisper quiet. It quietly hums in the background as it chills your drinks. Running at 120 volts and 240 watts, it is a heavy-duty chiller, considering it is a mini.
The addition of a mini convection fan cools the drinks further. It works in conjunction with the compressor to circulate the air inside the refrigerator. It keeps the temperature consistent throughout. The temperature range of this fridge is between 34 and 50 degrees F.
One of the features we found unique to this hOmeLabs fridge is he automatic memory function rests the preset settings in case of a power outage or when you unplug the fridge. The defrost function is automatic as well, which makes this fridge effortless to use.
At the top of the fridge, a digital display allows you to easily adjust the thermostat. You can personalize the settings according to the desired temperature of your drink. It also displays the current temperature of the fridge.
3 – Design
A freestanding and black minimalist design is what you get with this fridge. This design feature makes it easily fit into a counter as well. It has a sturdy stainless steel frame, which is double boxed, making it look quite hefty and built for endurance.
The three chrome shelves which can be removed and customized are something you will appreciate. You can remove them all at once or as individual pieces to personalize the interiors of the fridge. Whether you want to store cans, juice boxes, water, or wine bottles, it is easily possible.
The double-pane glass doors are excellent at insulating as well as giving you a clear view of the contents inside the fridge. It can be installed either on the right or the left according to your preference.
This beverage cooler also has interior LED lighting, which is very convenient when you want to have a drink at night. You can either choose to keep it on or switch it off. Regardless, the lights will switch on when you open the door.
The feet of the fridge are also adjustable. You can turn it down or up to adjust the height and maintain its level.
The Verdict
The hOmeLabs Beverage Refrigerator and Cooler have one of the best cooling systems in a mini fridge. It works very fast, and the cooling is very consistent as well.
About The Author
hOmeLabs Beverage Refrigerator and Cooler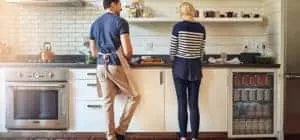 With a straightforward design, durable materials, and large capacity, it is no wonder it is a favorite among many users. It does not work as a multipurpose, but this can be overlooked as it is primarily a beverage cooler.
Product Brand: hOmeLabs
Product Currency: USD
Product In-Stock: InStock