Hazelnuts are a type of nuts just like peanut, walnut, and cashew, and it is available all over the world.
The origin of Hazelnuts is from Southern Europe in the initial period, but over the years, it spread to other countries in the world.
Today, people are growing hazelnut trees for commercial purposes.
Hazelnut is found in countries including Turkey, the USA, and other parts of the world.
Hazelnuts contain a wide range of nutritional benefits, and that is why today, you find many people including Hazelnuts in their diet.
This nutritional nut contains Vitamin E, proteins, and a lot of dietary fiber.
It provides many health benefits that include weight loss, and researchers have proved it.
They concluded that people who are consuming hazelnuts would not cause obesity, and it is also helping people reduce extra weight effortlessly.
Also, Hazelnuts helping people lower their cholesterol levels, reduces inflammation, enhances insulin, controls blood sugar levels, protect cells from damage, and more.
What is Hazelnut?
The hazelnut is a fruit grown on a Hazel tree.
It belongs to the family of nuts originating from species of the Corylus, particularly the nuts of the Corylus Avellana species.
Hazelnuts are also popularly known as filberts or cobnuts according to type.
Hazelnuts are used in baking sweets to make praline, desserts, and chocolate truffles, and other chocolate products, including chocolate bars, Frangelico liqueur, Nutella, etc.
The oil pressed from Hazelnuts contains a strong flavor, and this oil is used for cooking purposes.
Hazelnut is largely produced in Turkey.
Hazelnuts are loaded with monosaturated fat, rich in protein, manganese, vitamin E, and other important nutrients.
The essential thing associated with Hazelnuts is a mouth-watering chocolate dessert loaded with huge chunks of Hazelnuts.
Whole or chopped hazelnuts can be used in cookies, pies, and other baked foods.
Hazelnut flour or ground hazelnut is a famous ingredient in gluten-free desserts.
These nuts are used to make flavored drinks like hazelnut-flavored coffee.
When it comes to alcoholic drinks, hazelnut liqueur is very popular.
The flavored coffee is largely used in baking and making different cocktails.
If you do not have stock of hazelnuts, then don't worry.
There are plenty of substitutes that can help you replace hazelnuts in your desserts or any other recipe.
If you are wondering, what are the substitutes for Hazelnuts? Then, here you can find the five best substitutes for hazelnuts that can help you make your special recipe.
5 Best Substitutes for Hazelnuts
1 – Almonds
Almonds are one of the best substitutes for Hazelnuts.
Almonds are the nuts consumed in the raw form, and they are the best alternative as they share similar health benefits as these both nuts contain comparable nutrition counts.
However, the texture of the almond is a bit rough and raw, but the inside part of the almond is hard and buttery.
Almonds are largely used for making butter, almond milk, flour, and oil.
Almonds are very popular because of its rich nutritional benefits, and it provides fiber, proteins, and essential fats when consumed regularly.
Almonds are used in liqueur, ice-creams, chocolate, cake, and oil.
You can safely replace Hazelnuts with Almonds as both these nuts contain high nutrition values, and the only slight difference between the nuts is their texture.
2 – Pecans
Pecan nuts are also one of the best substitutes for Hazelnuts. Pecans are large-sized nuts, and the seed is covered with a red-brown shell.
Pecans are largely used as a food component like hazelnuts, and that is why it is considered one of the best alternatives for hazelnuts.
However, pecan gives out a bit different taste and texture, and they are generally grounded, and the flour can be used in sweet dishes.
Also, sometimes these nuts are crushed to make oil, and many people use pecans for baking.
3 – Macadamia Nuts
Macadamia nuts are also one of the best substitutes for Hazelnuts.
The macadamia nuts are covered in a hard shell, and these nuts are used commercially and available in a bulk form.
When it comes to nutritional value, both hazelnuts and macadamia nuts provide the same benefits.
Both are a great choice for weight loss, and they can reduce inflammation when consumed regularly.
Also, Macadamia nuts are loaded with Vitamin E, fiber, manganese, and iron.
However, when you are using macadamia nuts as an alternative for hazelnuts, you must remember that the taste and flavor of macadamia nuts might be a bit different, as these nuts taste a bit sweet.
That is why it is recommended to use macadamia nuts as a substitute for hazelnuts while baking bread or cookies only.
4 – Cashew Nuts
Cashew nuts are also one of the best substitutes for Hazelnuts as cashew nuts are loaded with fat content.
Cashews are produced from the cashew apple, and you can eat raw or roasted cashews.
Most chefs use cashews to replace hazelnuts because of their high-fat content, as they also provide a creamy texture that is required in quite a few recipes.
Cashew nuts are also loaded with nutrients that include high magnesium, iron, protein, copper, and fat content.
Cashews are a good choice for healthy hair and eye health.
When you replace hazelnuts with cashews, understand that the texture of the cashew might be a bit different from hazelnut.
5 – Walnuts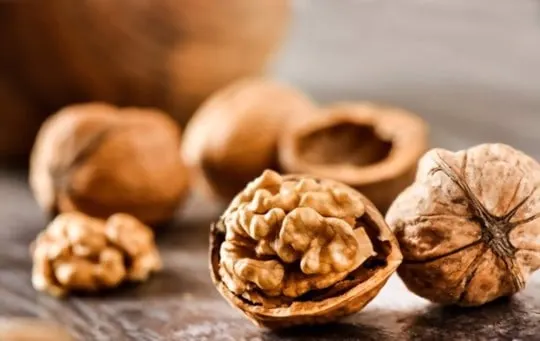 Walnuts are also one of the best substitutes for Hazelnuts, and they both offer similar nutrient values.
Walnuts are also loaded with essential fats and proteins, and they are rich in fiber.
Also, walnuts help reduce blood pressure and inflammation.
Walnuts make the best alternative for hazelnuts when you need an urgent replacement, as both the nuts provide the same kind of flavor and offer crunchy texture.
Conclusion
Finding a substitute for hazelnut is not a very tough task.
You can choose any nut to replace hazelnuts; just make sure that the replacement is a measure for measure.
That means, if you are using one cup of hazelnut, then substitute it with one cup of macadamia nuts, almonds, cashews, or any other nuts.