Ham and bean soup is a wonderful dish for those days where you want something easy to make with minimal effort.
The most difficult part of this process is gathering the ingredients and ensuring you have every necessary utensil on hand.
There are three main types of ham and bean soups; they all use dried beans, either canned or dried, soaked overnight in water.
There is the classic ham and bean soup which is made with dried Great Northern beans, also known as white beans; there is the more flavorful ham and lima bean soup, made with dried baby lima beans; and lastly, there's ham and pinto soup, which uses cooked or canned pinto beans.
In the soup, ham hocks or cubes of ham are used to substitute for bacon or salt pork.
In most recipes, you'll find that the beans are cooked in either water with onion and garlic or chicken stock with garlic and parsley.
This gives your soup a simple yet flavorful broth that doesn't overpower the delicate taste of the beans.
Some recipes call for ham hocks to be added earlier in the cooking process to release their salt and flavor into the soup as it cooks.
Serving ham and bean soup is simple – all you need are some nice crusty bread rolls.
Or, if you're looking for something more filling yet still healthy, serve your soup with a fresh green salad drizzled with oil and balsamic vinegar.
In this article, we will list eight side dishes that are perfect for serving ham and bean soup.
Why Consider Serving Side Dishes for Ham and Bean Soup?
Ham and Bean Soup is a classic dish that many can enjoy, but you can take it to the next level by serving your Ham and Bean Soup with a side dish.
First of all, you can help cut down on the main dishes by serving side dishes with your Ham and Bean Soup.
This way, each guest has more room to enjoy their favorite dish.
But, even better than this is the fact that side dishes for Ham and Bean Soup can be incredibly delicious.
There are many wonderful things out there to eat with your ham and beans, whether it's biscuits or cornbread.
This can help you broaden the appeal of your Ham and Bean Soup to guests who may not have considered eating beans before.
The possibilities are endless when it comes to side dishes for Ham and Beans – so go nuts.
In addition, side dishes for Ham and Beans can help you to cut back on costs.
When serving your Ham and Bean Soup, it is important that each guest feel like they are getting the same amount of food (and that no one feels hungry or unsatisfied once dinner is over).
Side dishes for Ham and Beans play an integral role in keeping the portions balanced and can help to make sure that each person has a satisfying meal.
What to Serve with Ham and Bean Soup? 8 BEST Side Dishes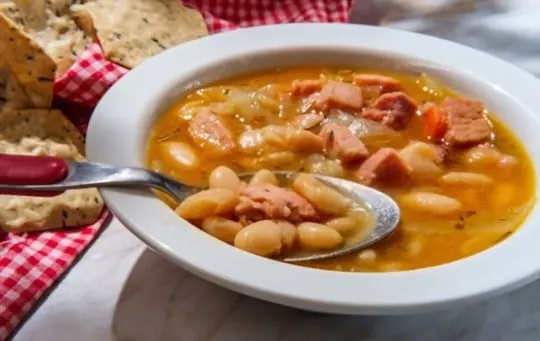 Here are eight of the best side dishes you should consider when serving Ham and Beans:
1 – Coconut Rice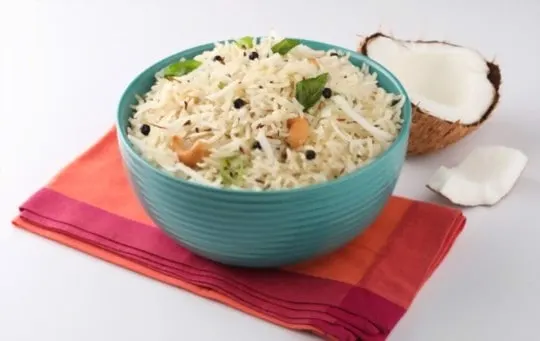 Coconut rice is a rich combination of tender white rice, coconut milk, and spices.
The creamy, nutty nature of the dish counteracts itself with the savory flavors in shepherd's pie or any form of beef stew.
The spices add a much-needed kick of heat to the dish, making it an ideal side for people who prefer their food with a bit of heat.
Though it is not strictly vegetarian, the recipe contains only vegetable oil instead of butter or beef drippings.
However, if you're serving this at a meatless meal, you can easily substitute butter for your oil of choice.
The spices are fresh and bright, the rice is creamy and rich, and this dish has a lovely soft texture that isn't gummy or mushy like other rice dishes can be.
A drizzle of lime juice at the end adds an extra burst of flavor to the otherwise subtle flavors.
2 – Garlic Spaghetti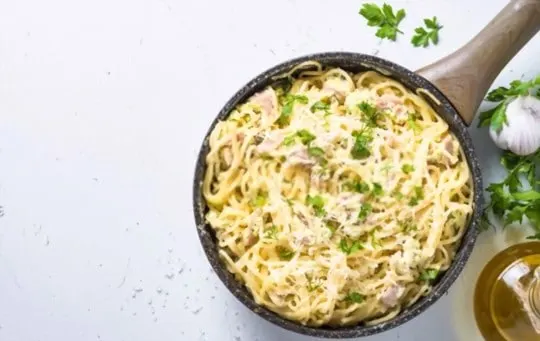 Spaghetti is a classic and timeless choice for a side dish.
It's easy to make and can be made in advance, making it perfect for people who want food but don't want to spend time cooking.
Garlic spaghetti has just the right amount of garlic flavor without being overwhelming, making it a versatile choice for people who are sensitive to garlic.
The sauce is creamy and flavorful, but it's not very thick or heavy.
It goes well with various main dishes, from slow cooker beef stew to ham and bean soup.
The sauce doesn't take too long to whip up, especially if you have all the ingredients prepped ahead of time.
You can get it on the table in 30 minutes or less, making it a great choice for busy families who need to get dinner on the table in a hurry.
It's also vegan if that's something you care about when you're eating spaghetti with garlic sauce.
3 – Biscuits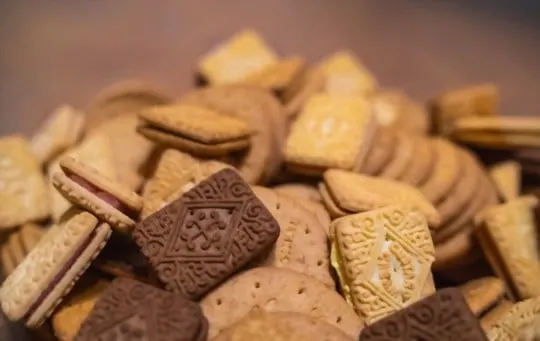 Biscuits are a classic choice for a side dish with ham and beans.
They have a soft, fluffy texture that's perfect for eating alongside a hearty soup like this one.
The best part about biscuits is how versatile they are – you can add anything from dried fruit such as cranberries or raisins to chocolate chips when you make your dough.
The trick is to adjust the sugar in the recipe accordingly so that your biscuit dough isn't too sweet.
Another option is to use sour cream in place of milk, which will give the finished product a slightly tangy taste that complements ham and beans wonderfully.
You can also try adding jalapenos or cilantro to the biscuit dough for a twist on classic biscuits.
Ham and beans can also be served with rice instead of biscuits if you prefer.
Rice is an essential side dish in many countries around the world – it's just one of those dishes that people have enjoyed eating together for centuries.
4 – Roasted Squash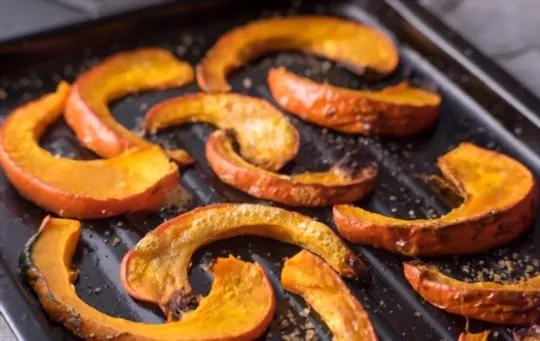 Squash is a vegetable that's fun to eat with ham and beans.
It has just the right sweetness to cut through some of the more savory flavors in this dish, but it isn't as sweet as some vegetables like corn or peas.
Roasting the squash gives it a tender, soft texture that makes it a perfect choice for people who like vegetables like kale and broccoli.
Roasting is also the best way to get the most out of this vegetable since it brings out its natural sugars so much more when it's cooked in the oven.
You can find squash in many different colors – orange, green, and yellow are all common.
Pick your favorite color, or mix up the colors for a fun presentation.
5 – Sweet Potato Fries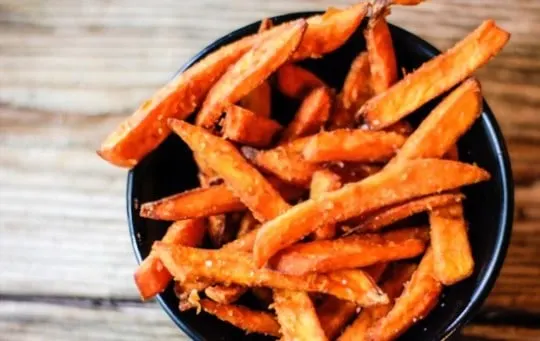 Fries go well with ham and beans, especially if you're looking for a way to bring some extra flavor to the dish.
Sweet potato fries are one of the most flavorful options out there – they're crispy on the outside and soft on the inside.
They also have a great, earthy flavor that goes well with ham and beans.
It might seem like sweet potato fries are more of a fall dish than spring, but you can cook them up any time of year if you opt for the oven instead of a deep fryer.
The key is to use an oil that has a high smoke point when you're cooking them in the oven – coconut oil or olive oil are good choices, whereas butter will burn at low temperatures.
Oven-baked sweet potato fries take about 45 minutes to cook, but they're worth the wait.
If you're in a hurry, try slicing up the potatoes into thin pieces that only require 20 minutes of baking time.
6 – Applesauce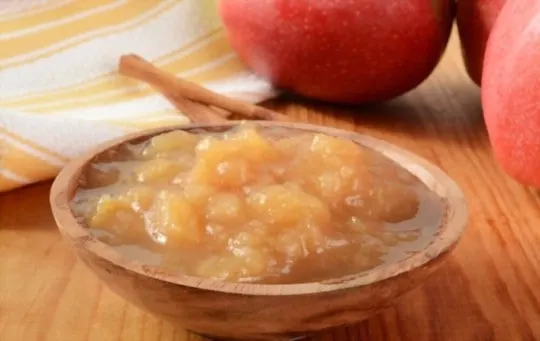 Applesauce is great for people who are looking to lighten up their meal with ham and beans.
This soup has lots of protein and healthy carbs, but it's also got lots of fiber.
Applesauce all that fiber down without adding a lot of calories or fat to the dish.
Plus, apples are generally inexpensive – you won't have to worry about breaking the bank when you're buying them in bulk.
The sweetness of the applesauce cuts through the flavors of ham and beans, making it a flavorful addition to your meal.
7 – Coleslaw
Coleslaw goes great with ham and beans because it's got lots of shredded vegetables that you can enjoy chewing on alongside your soup.
It's also a nice change from traditional salads, especially if you like creamy or coleslaw dressing.
If you prefer to keep your coleslaw dressing on the tart side, you can also opt for rice vinegar instead of white vinegar.
That way, you won't have to worry about your coleslaw dressing being too tangy or acidic – it will be just right.
If you want to add flavor to your coleslaw, try adding in some thinly sliced red onions.
They'll add sharpness to your coleslaw while also giving it a more complex flavor.
8 – Green Chile Cornbread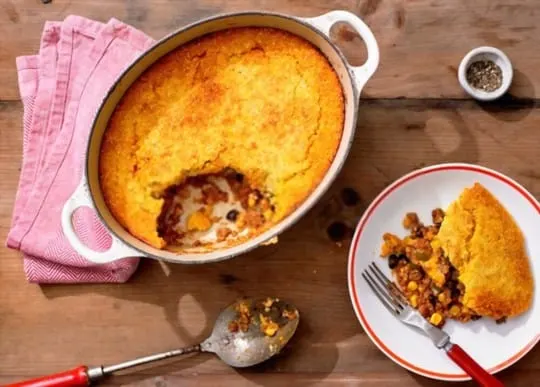 Green chile cornbread goes well with ham and beans because it's got a nice sweetness that you can enjoy alongside your soup.
It gives the dish a more hearty texture, too, since you get to chew on some pieces of cornbread while you eat your ham and beans.
This type of cornbread also has a bit of a kick to it, especially if you add in chopped jalapenos.
You can bring that heat down by pairing the cornbread with creamy coleslaw or scooping some applesauce onto your plate.
If you don't like it spicy, make sure to add less chile powder and other dried spices to your cornbread batter.
You can also enjoy the sweetness of the cornbread by pairing it with a bright and tangy coleslaw.
Conclusion
Ham and beans is a traditional spring dish that can easily be enjoyed in the comfort of your own home.
No matter what side dishes you choose to serve with your ham and beans, keep in mind that the meal will be even better if you prepare it with love.
That way, you can enjoy each spoonful of this hearty soup.
No wonder everyone loves it so much.
There are lots of other ways to serve up ham and beans that'll give your meal a unique twist.