As a foodie, you know that finding the perfect side dish can be difficult.
What if it's too spicy? Too salty? Not filling enough to stand on its own?
Luckily for you, we've done all the hard work of figuring out what to serve with gyros, so you don't have to.
Here are ten of our favorite side dishes, as well as some serving suggestions for gyros.
What to Serve with Gyros? 10 BEST Side Dishes
Gyros are always served with greasy, carb-heavy sides like french fries and rice.
Though those sides can be delicious after a while, it's good to try something new for your next gyro meal.
Here are thirteen different side dishes that will add more variety to the dish plus sound healthy and delicious.
1 – Roasted Garlic and Olive Oil Potatoes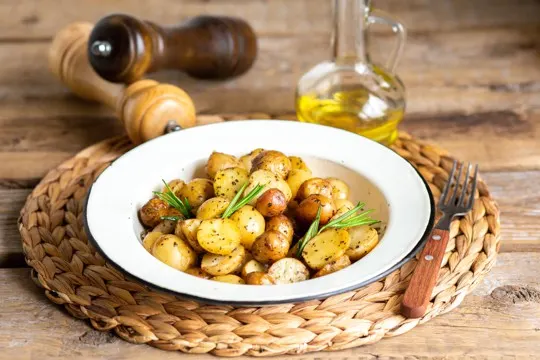 A side dish of Roasted Garlic and Olive Oil Potatoes can be served with Gyros to add flavor, texture, and variety.
The potatoes are roasted in the oven until they become tender on the inside while crisping up nicely on the outside.
This creates a crispy skin that has been infused with garlic oil from olive oil drizzled over them before cooking for extra richness.
The taste is sweet but savory due to the saltiness of olives, along with other spices like thyme sprinkled throughout.
It adds another layer of depth you don't get in plain mashed potatoes or the typical potato salad.
For a bonus, you can put these Roasted Garlic and Olive Oil Potatoes under the broiler to crisp up further if desired after roasting to make them more crunchy than soft.
2 – Greek Style Rice Pilaf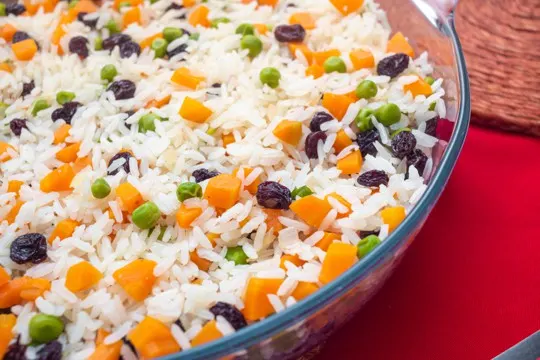 There are many different rice dishes to enjoy as a side dish for gyros.
However, one that stands out is Greek-style pilaf, which has an exciting taste with cinnamon and a touch of nutmeg.
This side dish is excellent for those looking to switch up their rice routine or who want something different from the usual white rice with brown sugar served alongside gyros in many restaurants.
The rice has been cooked until soft with vegetable broth.
The rice is then mixed with chopped bell peppers and cooked until the vegetables are tender.
Next, tomatoes, bulgur wheat (a type of cracked wheat), golden raisins, crushed walnuts, and a touch of cinnamon and nutmeg to add flavor are added.
The dish has been topped off with lemon juice as an acid that balances out all the other flavors before serving up this delicious pilaf side dish for gyros.
3 – Tzatziki Sauce
The tzatziki sauce is a traditional Greek dip made of yogurt, cucumbers, garlic cloves, olive oil, or virgin olive oils.
It's tangy with an acidic tinge of lemon juice and often includes salt, pepper, and fresh dill or mint before plating it up for gyros sandwiches.
The ingredients mainly depend on personal tastes, which means the flavor can vary from gentle to spicy.
The dish has been topped off with lemon juice as an acrid agent that balances out all the other intense flavors before serving this delicious pilaf side-dish alongside gyro wraps.
4 – Yogurt-Marinated Cucumbers with Mint
If you are looking for a new and exciting side dish to accompany your gyros, consider Yogurt-Marinated Cucumbers with Mint.
A bite into this cucumber will reveal its refreshing and tangy flavor.
Mint is a popular herb around the world, used in both savory and sweet dishes.
It has an aromatic fragrance and a hint of sweetness to it – both characteristics that are perfect for complementing other foods such as yogurt-marinated cucumbers or meat.
Cucumbers are a refreshing and healthy side dish with their chilly taste and light texture to enjoy with your gyros.
They also have plenty of fiber, vitamin A, potassium, magnesium, and Vitamin K to offer as well.
The mint in this recipe will be coming from fresh leaves that you should roughly chop before adding them into the yogurt mixture.
It is important not to include any stems or challenging parts since they can make the marinade less flavorful.
5 – Grilled Zucchini Salad
As the summer heat intensifies, a light side dish is always in demand. However, not all salads are created equal.
A popular option is the Grilled Zucchini Salad, which features a mix of tomatoes and cucumbers with grilled zucchini slices tossed in olive oil, lemon juice, salt, and pepper.
The salad tastes salty with just enough sweetness from tomatoes and zesty lemon juice for balance.
The texture of grilled zucchini plays off well against its crunchy white beans and creamy feta cheese toppings, making this dish gluten-free.
6 – Red Pepper Hummus Dip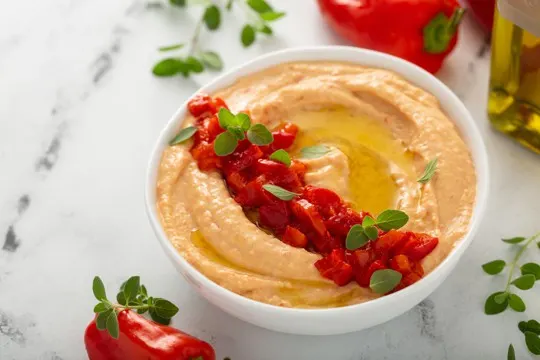 With the recent success of ethnic food in America, it has become more and more popular to incorporate these types of flavors into your menu.
Red Pepper Hummus Dip is an excellent example of this.
This dish is a creamy and savory Middle Eastern dip made with chickpeas, tahini, garlic, lemon juice, olive oil, salt, and pepper.
Not only does it taste amazing, but it's also vegan-friendly and gluten-free.
Combine all of the ingredients in a food processor or blender until smooth (or you can use an immersion blender) before plating.
It should be served cold for the best consistency, so refrigerate for at least two hours before serving to allow flavors to develop fully.
7 – Steamed Vegetables with a Creamy Sauce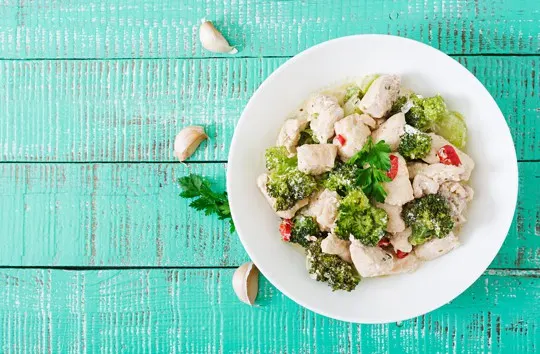 If you are looking for a tasty veggie side, I would recommend steamed vegetables with creamy sauce.
This dish is light yet filling and can go with any entree.
You may want to make the sauce ahead of time, as it will need a little bit of cooking on the stove before you mix in some cream cheese or sour cream into it.
It is vital that you incorporate either one or both BEFORE bringing this mixture back up to heat – otherwise, your sauce might break/separate.
To avoid this issue altogether, I would recommend using heavy whipping cream instead of pure cream for lactose intolerant ones (since there won't be much dairy fat).
If desired, use fresh herbs like parsley, basil, or dill to give this dish a little added flavor.
I usually use about a tablespoon of fresh herbs.
8 – Parmesan Polenta Fries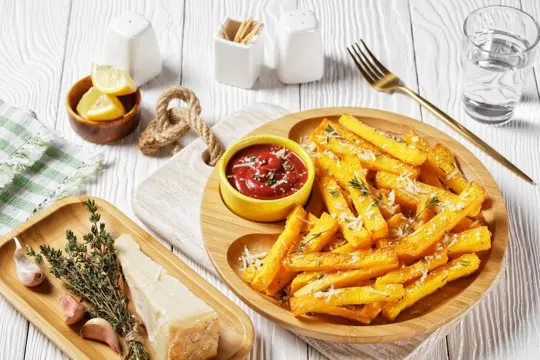 Have you ever tried Parmesan Polenta Fries? This is a fun and tangy take on the classic French fries and an extra punch of flavor.
Parmesan polenta fries are very easy to make.
Start by cooking your choice of cut potatoes in boiling water for about 20 minutes or until they're nice and soft.
Drain them well, then place them back into the pot where you cooked them (because there's still some liquid left).
Stir in one cup of milk, two cups whole wheat flour, one teaspoon salt, and a quarter teaspoon pepper.
Cook this mixture over low heat, stirring continuously, until it has thickened enough that it starts pulling away from the sides of the pan.
Add parmesan cheese and mix thoroughly so it melts into the polenta.
Cook for a couple more minutes and then take off the heat, stirring some parsley before serving.
9 – Grilled Asparagus with Lemon Pepper Butter
There is nothing like a mouthwatering bite of asparagus dipped in melted butter to bring out the best flavors.
These succulent green spears are grilled over high heat, giving them an earthy and robust flavor that combines nicely with lemon pepper seasoning – not too spicy but just enough for your taste buds to feel alive.
This easy but flavorful dish is not only perfect as an appetizer or entrée accompaniment but also makes a great light lunch idea in between meals when you're feeling too full from dinner the night before.
With its high vegetable content and low-fat content (thanks to butter), enjoy this satisfying side without regret.
10 – Greek Salad
The American palate seems to be getting accustomed to the more exotic foods of other cultures, and Greek food is no exception.
So when deciding what kind of side dish for gyros you want, why not offer one that has a slightly different taste than your typical salad?
The refreshing tanginess from the tomatoes will complement any spicy flavors in the main course while giving it an intriguing new flavor profile.
Likewise, the crunchy cucumbers are great for adding some texture without taking away too much moisture so that those who would prefer something lighter can get their fill on fewer calories.
Conclusion
If you are in the mood for some gyros but don't know what to serve with it – we got your back.
We've compiled a list of our ten favorite side dishes that go well with these delicious, Greek-style wraps.
You can't go wrong with classics like tzatziki and pita bread or other favorites like hummus and rice pilaf.
But, if you want something new, try a fresh vegetable salad or roasted potatoes for that extra pop of flavor.
So, which side dish are you most excited about?