Are you looking for ways to add more flavor and spice to your favorite dishes
Ground red pepper is one of the most versatile ingredients in international cuisine, but you might be not sure about how to use it or looking for a few substitutes.
Thankfully, this finely ground powder brings heat and vibrant color to any dish, and its unique flavor can be substituted with some other ingredients.
Whether you are trying to tone down the spiciness or just want something different, here are five of the best substitutes for ground red pepper.
What's Ground Red Pepper?
Ground red pepper is a popular, versatile spice that adds a flavorful kick to many dishes.
This simple ingedient may be small in size, but packs quite a punch when it comes to flavor.
You need to know the right amount to add to your recipes, because a little goes a long way.
Ground red pepper originates from ground chili peppers and tastes slightly spicy, smoky and earthy.
It is often found in Mediterranean and Middle Eastern dishes, as well as Chinese stir-fry, spaghetti sauce and added to marinades.
The spice is also known by its other names such as cayenne pepper and crushed red pepper flakes.
To use ground red pepper in your cooking, simply add it directly into any recipe for an extra hint of bold flavor.
Be careful though; adding too much can cause your dish to be too spicy for some palates.
Try starting with no more than 1/4 teaspoon for starters and adjust if needed for taste preference.
When cooked properly, ground red pepper will enhance the flavor of anything you choose.
The 5 Best Substitutes for Ground Red Pepper
Ground Red Pepper typically has a bright red color, with a mildly spicy taste that varies depending on the type of pepper used to create it.
If you're out of Ground Red Pepper in your kitchen, there are some good substitutes you can use in its place.
1 – Chili Powder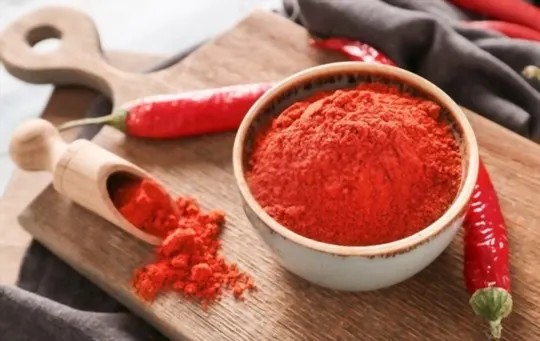 Chili powder is one of the most popular substitutes for ground red pepper and boasts a slightly smoky flavor with medium to mild heat.
Chili powder is made from dried chili peppers, cumin, garlic, and other spices, depending on the particular blend chosen.
Because chili powder already contains cumin and other aromatic flavors, start by using only half of the normal amount when substituting for ground red pepper.
When replacing one teaspoon of ground red pepper with chili powder, start with only a half teaspoon of chili powder and add more as needed to achieve your desired level of spice.
2 – Cayenne Pepper
Cayenne pepper is a type of red pepper commonly used as a spice and food seasoning.
It is very hot, with a rating of 30,000 to 50,000 Scoville heat units (SHU) in comparison to the milder jalapeño that rates about 2,500-8,000 SHU.
Cayenne pepper has been known for its medicinal properties for centuries and is most often associated with Chinese and Indian cuisine.
If you need intense heat in a dish where the flavor of the pepper is key, cayenne could be your go-to spice.
However, keep in mind that it can quickly overpower other flavors if you are not careful.
You may need to start by using just a small amount and increasing as needed; otherwise you could find yourself with an overly spicy dish.
3 – Paprika
Paprika is an often overlooked, yet excellent substitution for ground red pepper.
Unlike the heat from cayenne and other chiles, paprika is fairly mild, measuring in at 1,500 to 2,500 Scoville heat units; for comparison's sake, cayenne measures 40,000 to 50,000 SHUs.
Paprika comes in both sweet and hot format; if your recipe calls for the spicy variety of ground red pepper, opt for hot paprika.
Paprika is made from a mix of dried peppers including bells and chilies and adds a good degree of color — orange-red — to any dish that you are cooking with it.
This spice pairs well with potatoes and stews.
4 – Crushed Red Pepper
Crushed Red Pepper is made from dried, hot chili peppers that have been ground into tiny pieces.
The most common type of peppers used are cayenne peppers, although other varieties such as habanero, jalapeno, and ancho chilies are also sometimes used.
The amount of heat in crushed red pepper varies but even a small amount can add a lot of flavor and heat to foods.
When substituting for ground red pepper, it's important to keep in mind that crushed red pepper will likely add more heat than the recipe calls for.
To avoid over-spiciness, start off with less than the amount of ground pepper called for then adjust according to taste.
In addition to adding intense flavor and heat to dishes, crushed red pepper is also rich in vitamin A and has antioxidant properties.
5 – Hot Sauce
Hot sauce is the perfect substitute for ground red pepper in a pinch.
It brings a good amount of heat with some added depth of flavor due to other ingredients.
Typically, hot sauces contain vinegar, garlic, and other seasonings which can add flavor complexity to recipes that call for ground red pepper.
Dried pepper flakes can also be used if you are looking for something with more texture but be aware of the added moisture unless you adjust your recipe accordingly.
Conclusion
In conclusion, there are a variety of options to substitute for ground red pepper.
Depending on the dish you're cooking, you may be able to find an appropriate substitute that will provide the right spice and flavor.
If a recipe calls for using ground red pepper, its best to choose one of the discussed substitutes based on how much heat or flavor you need.
With a little experimentation, you should be able to make almost any dish with your preferred substitutes.
About The Author