Have you ever been stuck when a recipe calls for green enchilada sauce and all you have is red?
Fortunately, finding the perfect substitute for green enchilada sauce doesn't have to be overwhelming.
Not only can you use ingredients in your pantry to concoct a savory sauce, but there are also several store-bought alternatives worth exploring.
Whether you're in a pinch or simply looking to switch things up, learn how you can use common ingredients to make green enchilada sauce and discover the five best substitutes for it.
What is Green Enchilada Sauce?
Green enchilada sauce is a type of green salsa composed of tomatillos, chili peppers, and a variety of herbs and spices.
The chiles used vary depending on the region, but typically include jalapeño, serrano or poblano peppers.
The addition of herbs like cilantro and onion creates a flavorful finish that is both spicy and tangy.
This sauce is most commonly associated with green chile dishes like enchiladas suizas or huevos rancheros but it can also be used to liven up ordinary ingredients such as fish, shrimp or vegetables in tacos or burritos.
It also makes an excellent stand-in for traditional red enchilada sauce in everything from Tex-Mex to Mexican-inspired dishes.
When looking for canned green enchilada sauce at the store, look for options that are labeled as "verde" which means "green" in Spanish.
For truly authentic flavors opt for locally made sauces rather than generic brands – the amount of peppers and spices will be much higher yielding a more full bodied flavor with greater depth of flavor.
The 5 Best Substitutes for Green Enchilada Sauce
When there's no green enchilada sauce at the store, or you just want to change up your flavors, it's natural to look for a good substitute.
Here are five great options that can be used in place of green enchilada sauce:
1 – Taco Sauce
Taco sauce is a popular condiment that is commonly used as a topping on tacos, burritos, and other Mexican dishes.
It has a mild flavor with some heat that makes it the perfect substitute for green enchilada sauce.
To make it even more similar to the green dish, you can mix in some of your favorite spices or add some chopped cilantro and green chiles to the sauce.
Taco sauce is readily available at most grocery stores and can be found in the salsa section.
2 – Tomatillo Avocado Sauce
Tomatillo Avocado Sauce is a homemade enchilada sauce that combines fresh ingredients to both replicate the flavor of green enchilada sauce and add a unique flavor of its own.
To make this sauce, you'll need tomatillos, garlic, onion, jalapenos or serranos, cilantro, lime juice, avocado and chicken broth.
When blended together and sautéed briefly with a little oil, this mixture creates a deliciously creamy yet tart enchilada sauce with just a bit of spice.
This substitute pairs especially well with chicken dishes like tacos and quesadillas.
3 – Salsa Verde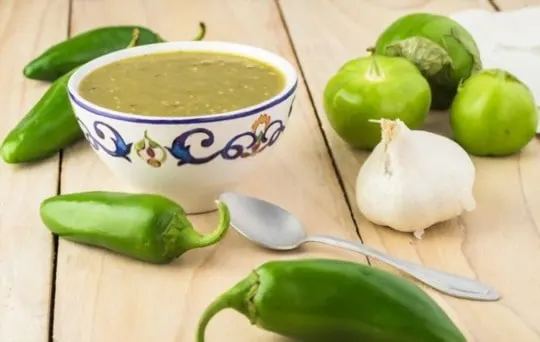 Salsa Verde is a popular green sauce widely available in Hispanic grocery stores.
It's a mixture of tomatillos, jalapenos, garlic, salt, pepper and other seasonings that can be blended to the desired consistency.
Though not as acidic or as peppery as enchilada sauce, Salsa Verde has its own set of flavors that can nicely complement Mexican dishes such as tacos and enchiladas.
To prepare a simple version at home, combine 1 ½ cups of roasted tomatillos (about seven 7-oz cans), two jalapeños (stemmed and roughly chopped), four cloves of garlic (peeled and finely chopped) and 1 teaspoon each of ground coriander2 and cumin in a blender.
Add ½ cup of warm water to the salsa mixture, blend until smooth, and season with salt and pepper to taste.
4 – Tomatillo-Chipotle Sauce
Tomatillo-Chipotle Sauce is an excellent substitute for green enchilada sauce that is packed with flavor.
Tomatillos are a staple of Mexican cuisine, and they have a tangy, acidic flavor that stands up well to the smoky depth of chipotle peppers.
This sauce can be made quickly with canned tomatoes, tomatillos and chipotles or you could roast your own ingredients to really elevate the flavor.
This sauce will bring rich depth and balance to your enchiladas and offer a slightly smoky finish.
5 – Chiltomate Sauce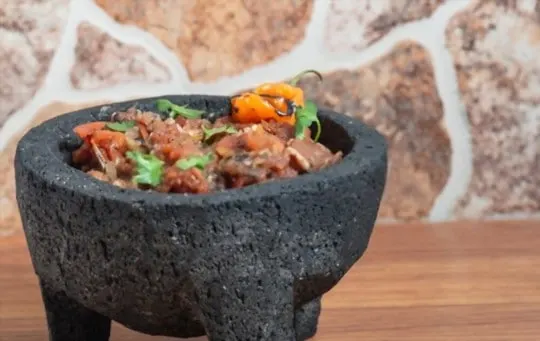 Chiltomate sauce is a Mexican staple made of roasted tomatoes and green chilies that's popular for adding flavor to tacos and enchiladas.
It's quite similar to green enchilada sauce, with a few exceptions: it is slightly milder, doesn't contain any cream, and is typically chunky.
To make this sauce at home, simmer chopped fresh tomatoes with diced jalapeños and/or poblano peppers, garlic, onion powder, cumin, oregano, salt to taste; then puree the mixture until it reaches your desired consistency.
The result will be a delicious and flavorful green salsa that makes an outstanding alternative to regular green enchilada sauce.
Conclusion
In conclusion, the perfect green enchilada sauce substitute can be found in your own kitchen.
Whether you use some combination of sour cream, salsa verde, and spices; create a homemade tomatillo and poblano pepper sauce; or get out the blender and make a green enchilada sauce with watercress; there is no need to run out and buy a jar of prepared sauce.
As long as you have access to basic ingredients and flavors, you can easily make great tasting, restaurant-style green enchilada sauces at home.
The addition of cumin, garlic powder, oregano, and other spices adds to these sauces' complexity — giving them a unique flavor that's all your own.