Thinking of Whoopie pies can make anyone crave delicious desserts.
While the traditional variety with marshmallow cream frosting is quite popular, people also love those filled with whipped cream and vanilla buttercream.
It has a lot of names like "Bob," "Big Fat Oreo (BFO)," "Black and White," "Black Moon," and "Gob.
" While the others are common, the last two names are particular to the Pittsburgh area.
An interesting fact about whoopie pies is you can call it a cake, sandwich, cookie, or pie.
So now we know that whoopie pies are pretty tasty and popular.
The yummy snacks are also easy to make but can they remain unspoiled for a long time? The answer is no; the delicious cookies tend to get spoiled fast.
So, how to increase their shelf-life? Can you freeze Whoopie pies? You will get a resounding yes to this query because you can freeze the tasty cookies.
Does Freezing Affect Whoopie Pies?
Often called the product of a cupcake and cookie love affair, whoopie pies are ideal dessert delicacies for any occasion.
As to whether freezing affects the delicious desserts, we will soon know as we continue reading this write-up.
It is a better idea to consume fresh food.
However, with whoopie pies being so delicious, you might want to eat them even at nighttime sometimes.
Since you can make yummy desserts for various occasions, you can bake some orange-cream-filled chocolate whoopie pies and put extra Halloween candy in them.
Freeze them and give them out as a treat for a wonderful surprise during Halloween.
You can bake and freeze the pies for other occasions too. Freezing does affect whoopie pies, but not in a negative way.
Freezing increases its longevity and retains the taste too. Chilled pies are yum, and many people like it that way too.
Though it is not challenging to make snacks, not many people have free time to bake.
So, if you stay busy with work, you can bake a big batch at once and store half in the freezer.
When you have the frozen pies in the freezer, you can enjoy the snacks whenever you crave some.
In the next section, we will learn how to freeze whoopie pies so that the cookies stay delicious for a more extended period.
All you have to do is follow the simple instructions below, and there will be a cookie in the fridge any time you want.
How to Freeze Whoopie Pies?
Unlike many other products, freezing whoopie pies is not tricky.
But you have to do it in the right way to preserve the pies' flavor and quality.
In this section, we will learn the best method to freeze the snacks.
What are the proper steps to freeze Whoopie pies?
As mentioned earlier, freezing the cookies is simple, and it is pretty helpful.
You can take one step at a time mentioned below to perform the freezing process.
First of all, make a big batch of cookies using your favorite ingredients. Everybody has a particular preference. So, you can use whatever you like for the outer part as well as the fillings.
Once done, you can keep the ones meant for freezing separately. Let the cookies cool down before you commence the freezing process. .
For the freezing process, you will need a few things. Take some plastic wraps, containers, and freezer bags.
Cover each cookie in a wrap separately. After this process, put all the wrapped pies in the freezer bags or containers according to convenience.
The next step is to label the containers or freezer bags with the date, time, and product name. Most of us tend to forget things after we put them in the freezer. Hence, putting the tags can be pretty helpful to keep things in mind.
Now, you can place the bags or containers in the freezer. The pies will remain fresh for a long time.
How many methods to freeze Whoopie pies?
Often considered unofficial Maine's state dessert, Whoopie pie is also a much celebrated sweet in Pennsylvania.
Over the years, the popularity has spread across the country.
So, there are probably a few methods to freeze the cookies.
However, the process described above is the simplest and the best.
It is because of this reason that most people use this process.
How Long Does Frozen Whoopie Pies Last In The Freezer?
Once you wrap the fresh cookies and place them in the freezer, they can stay in tip-top condition for up to six months.
Whenever you crave any pie, take out one or as many as you prefer and keep the remaining pieces in the freezer.
How to Thaw Frozen Whoopie Pies?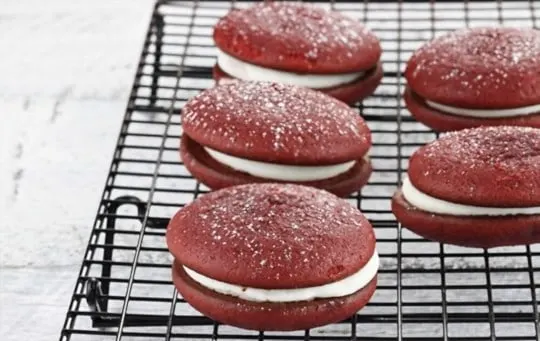 It is pretty simple to defrost Whoopie pies, and you don't have to do much.
However, you can also consumer chilled pies, and the experience can be equally pleasant.
There are two ways that you can use to thaw frozen cookies.
First of all, you can take out the required number of snacks from the freezer and keep them in one of the fridge racks.
You can take a piece out whenever you want to consume a cookie.
Secondly, you can also take out whatever number of cookies you need and place them out on the counter.
It will melt at room temperature. However, if you leave the snacks out too long, they can get relatively soft and gooey.
Very soft Whoopie pies are as delicious as chilled ones, but they can be messy too.
So, don't let the desserts stay out at room temperature for too long.
However, if you prefer warm pies, let them thaw for about thirty minutes to one hour but not more than that.
Defrosting does not change the flavor and quality of the cookies except for the small details mentioned above.
You should, however, make it a point not to keep it beyond six months from the day of baking and freezing.
Otherwise, the cookies will taste and smell different, and the experience can be pretty unpleasant.
Conclusion
Whoopie pies are delicious and easy to make. As seen in the article, you can freeze them for a long time.
While you can buy readymade ones, baking at home can be so much fun.
You can also get your kids involved in making whoopie pies by purchasing current baking kits for children from age four onwards.
The kits are available in many places, but you can undoubtedly pick a reliable one that comes highly recommended.
You can have a great time baking the pies and freeze them by following the instructions above.
Bake with the classic ingredients or select your preferences.
Once baked and frozen, you can enjoy delicious desserts whenever you crave some sweet food.