Seitan, much like soy meat, is a popular vegan meat substitute. It is made entirely of gluten which is the protein found in wheat.
Gluten is stretchy and sticky and it gives dough its elastic nature. Making seitan is fairly easy, and you can even make it at home.
You only have to knead the flour with water to make a dough. Then you wash the dough several times to remove the starch.
The remaining product is the gluten protein which is sticky and bland.
The bland nature of seitan makes itvery customizable in terms of seasoning,making it asuitable meat replacement.
There are many different ways you can prepare seitan which makes it very versatile.
Like any real meat, you can fry it, roast it, add it to broths, and even grill it.
Healthline also says that seitan is high in protein and has a good amount of nutrients.
It is low in fat and carbs because most of the starch is washed away, making it a very healthy food item.
So it's only reasonable to have this vegan staple in bulk.
But what do you do to make seitan last long? And can you freeze seitan like real meat to make it last? Well, you can, and we're going to show you how you.
Does Freezing Affect Seitan?
Yes, to an extent, freezing can affect seitan. However, the effects of freezing are not drastic.
And despite some changes, freezing does not cause much noticeable difference.
The Food Security and Inspection Service says that freezing is rather beneficial for preserving your food.
Keeping the food at freezing temperature slows down any microbial activity in your food.
Incidentally, seitan is made witha lot of moisture, making it prone to bacterial and fungal growth.
If left out in the open, the moisture can lead to unwanted changes in the seitan dough.
Now you might be wondering why freeze seitan when you can refrigerate it? However, keeping it in the fridge will only preserve it for an additional week or so.
If you want to preserve cooked seitan, refrigerating might be a good option.
However, for uncooked seitanit's best to keep it frozen.
Finally, you might have heard that freezing seitan might cause the dough to harden.
If you face hardening of texture when using frozen seitan, it's not because of the freezing process.
Instead, it could be because of the cooking methods.
How to Freeze Seitan?
There are two methods you can use to freeze seitan. You can either freeze it uncooked or cooked.
Freeze Uncooked Seitan
Freezing uncooked seitan is pretty straightforward.
Here are the steps:
Step 1 – Depending on how you plan to use the seitan, you can either choose to cut the seitan dough or not.
Freezing it whole will be very inconvenient if you do not plan to use the whole thing in one go.
If you decide to cut it, cut the seitan into meal-sized pieces.
Step 2 – Once you've cut the pieces, wrap them in saran wrap or any plastic wrap.
Then wrap them again in aluminum foil. This double wrap trick will ensure that the seitan doesn't absorb any odors in the freezer.
Step 3 – Put the wrapped seitan pieces into a large sealable air-tight bag.
Push out as much air as you can when you seal the bag.
You can even use air-tight containers if your freezer has the space.
Step 4 – Label the date of storage onto the bag or container and put them into the freezer.
Your frozen seitan should is best used within 3-4 months of freezing.
Freeze Cooked Seitan
This method will show you how to freeze your seitan dish whether it is in a broth, sauteed or roasted.
Here are the steps:
Step 1 – Make sure whatever seitan dish you're preserving is cooled down to room temperature.
Keeping hot or warm items in the refrigerator can be very risky.
Step 2 – Once your seitan dish has cooled down, transfer it to an air-tight, microwaveable and freezer-safe container.
You can also transfer it to a high-quality sealable bag.
Step 3 – Seal the container. If you're using a bag, make sure you don't leave too much air in the bag when you seal it.
Next, seal the container or bag in a bigger bag as a failsafe against spilling or leaking.
Step 4 – Label the date of storage on your container or bag. Put into the freezer.
Your frozen cooked seitan should be good for the next 1- 2 months.
How to Thaw Frozen Seitan?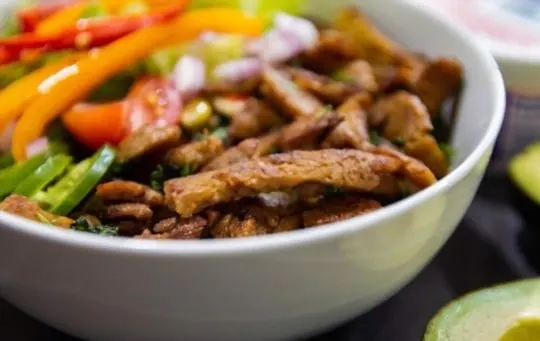 Whether you have frozen cooked or uncooked seitan, we will provide you with different methods to thaw it out.
1 – Thawing Frozen Uncooked Seitan.
Uncooked seitan thaws out quite easily.
Take out the portions you require from the freezer and, without unwrapping them, transfer them to the fridge.
Leave them there for about 2-3 hours to let it thaw out on its own.
We do not recommend thawing it using a microwave or over the skillet.
These methods will end up making the seitan dry. Once the seitan has fully unthawed in the fridge, unwrap it and use it as usual.
2 – Thawing Frozen Cooked Seitan.
Depending on the amount of liquid in your seitan dish, you will have to get creative while unthawing frozen cooked seitan.
If your seitan dish does not have much gravy or broth, use the first method to thaw it out.
Then reheat your dish in a microwave or over a skillet.
If your dish has a lot of liquid,a quicker method would be to transfer the container from the freezer to a microwave directly.
Let the seitan dish run on the highest setting for about a minute.
Chances are, it will still be frozen. If possible, try and stir it gently to distribute the heat and then put it back in the microwave for another minute.
Here are some tips:
If your dish is fully cooked, continue microwaving to reheat it.
If you want to cook the seitan or add more to it, remove it from the microwave when most of the liquid has thawed out.
Then transfer it to a pot or skilletand then continue cooking.
Conclusion
Vegans love seitan because of its meat-like texture and its versatility.
It only needs to be seasoned appropriately for it to turn into a hearty meal.
The good thing about seitan is that you can preserve it by freezing.
Freezing also does not have any negative effects on your seitan dough.
Besides, the freezing procedure is simple, and you can freeze seitan whether cooked or uncooked.
You only need to make sure that it is wrapped well to prevent it from absorbing unwanted flavors.
Thawing it is also pretty foolproof, without much hassle.
Once your seitan is thawed out, you are free to use it as usual.
About The Author