One of the most convenient breakfasts to make ahead is overnight oats.
They don't require any cooking and can be prepared ahead of time, so you don't have to make breakfast every morning.
There are many options for topping overnight oats with fruits, nuts, or yogurt.
It is a good idea to make large batches and store individual portions in the refrigerator.
But overnight oats will not keep indefinitely in the fridge. You can freeze overnight oats.
For up to three months, overnight oats can also be frozen individually.
This allows you to make small batches and enjoy them for a few days.
It would be best to freeze overnight oats with some precautions to ensure they keep their best quality and remain safe to eat after a while.
If you can make quick and easy breakfasts throughout the week by knowing how to freeze overnight Oats, it will save you time and effort.
How to Freeze Overnight Oats
It would be best to consider the following factors when making overnight oatmeal: the liquid you choose, the toppings, and any other add-ins that affect how your overnight oats also freeze, whether they will taste fresh or not after being thawed.
You should prepare overnight oats the same way as usual, but don't add spices or fruits to them.
This is because the flavor of the spices will change after they have been frozen and thawed.
It may not be as delicious when it's time to eat them.
If you add fruit to your oatmeal, such as sliced bananas or chopped apples, they will soften and become mushy.
Freezing Overnight Oats
Once you have selected a freezer-safe container for overnight oats, you can prepare them to freeze.
Layer the oats, liquid, and honey into the container.
You can leave out the spices and fruit for now. These should be added after overnight oats have thawed.
Allow for expansion. Overnight oats expand when frozen, so be sure to allow enough space.
If there isn't enough space for expansion in the container, you will experience an oat explosion that will be difficult to clean up.
Seal the overnight oatmeal container by closing the lid tightly or clipping off a plastic cover.
You should squeeze as much air out of a plastic freezer bag as you can to avoid a rapid decrease in quality.
Overnight Oats Without Refrigeration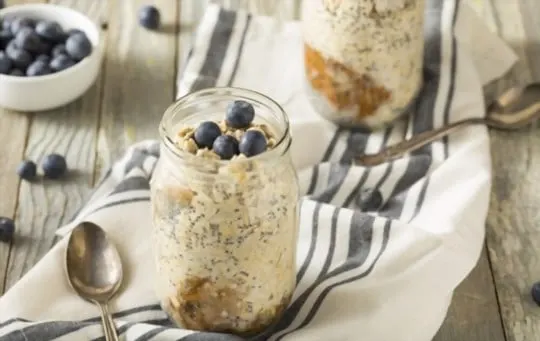 It is better to freeze overnight oats immediately than to put them in the refrigerator.
The oats will not get soggy overnight if they are placed immediately in the freezer without being refrigerated.
Mixing oatmeal with liquid can make them more vulnerable to bacteria growth.
This increases the risk of some foodborne diseases.
Freezing the oats right after they have been prepared will preserve their freshness and taste.
The oats won't soften in the refrigerator, so you can take the frozen oats out of the freezer, place them in the fridge, and let them thaw overnight.
They will soften after they have thawed in the refrigerator overnight.
If you do not want your overnight oats to be cold, you can let them sit at room temp for up to four hours.
You can then add any fruits, nuts, or spices to your dish and eat it right away or allow it to simmer for a bit.
Are Soaked Oats Safe To Freeze?
All oats are safe to freeze, including oatmeal, steel-cut oats (instant oatmeal), quick oats, and rolled.
If properly stored, cooked oatmeal can be kept in the freezer for three months.
When it is time to heat up, you can easily heat the oatmeal in your microwave.
Both soaked and cooked oatmeal can be frozen.
If you don't need large portions for family meals, it is best to freeze them in individual portions.
Are Raw Oats Safe To Freeze?
Raw oatmeal can be frozen. But, raw oatmeal can last for a long time if it is kept in the right environment, dark, cool, and dry.
Raw oats can still be frozen for up to one year if they are kept dry and free of moisture.
Bottom Line
Freezing overnight oats in a freezer is a great option to have some breakfast on the table when you don't want to do all of the work involved with making overnight oats each morning.
Place the overnight oatmeal into a single-serving jar and put them in the freezer—removable a portion from the fridge the night before breakfast to be used for breakfast.
Overnight oats thaw, and the ingredients will mix to make an amazing and healthy breakfast.