Jackfruit, the largest tree fruit, is delicious and packed with nutrients.
You can eat it ripe as a fruit or cook it as a vegetable when raw.
Its seeds are also edible and quite tasty.
Its health benefits still used to be unknown to many people till some time back.
But in recent times, it has gained plenty of attention and is often considered vegan meat.
The smell can be a bit overwhelming when it is ripened.
But once cut, its insides smell like a blend between bananas and pineapple.
However, it spoils very fast.
So, is there anything that you can do to preserve its life? Can you freeze Jackfruit to increase its shelf life?
You can definitely freeze Jackfruit and extend its life.
However, prepping the fruit for freezing can be a bit challenging if you buy a whole fruit.
We will learn more about the giant fruit, including freezing, thawing, and its many health benefits, in the following sections.
Does Freezing Affect Jackfruit?
Though Jackfruit is getting all the attention, it is still not readily available on the market.
Hence, if you are fond of it, you might want to buy more when you see the fruit on the shelves.
But once you bring it home, you may not be able to finish it in one go.
So, freezing is a good option, and no, the process doesn't negatively affect Jackfruit.
Instead, chilled and ripe Jackfruit can be quite yum.
But as with most other food items, it is essential to freeze the fruit according to the proper instructions.
Following the correct steps is vital to keep the fruit sweet, fresh, and healthy for an extended period.
There are two types of jackfruits, and you can freeze both kinds.
You can freeze both raw and ripe variety and tinned versions too.
It is possible to freeze cooked chunks too.
Since seeds are also edible, you can refrigerate them as well.
You can eat Jackfruit in many ways, and there are many readymade snacks available on the market.
Among others, Seril's Chakka Chips made with Jackfruit are delicious.
If you are a vegan, thaw frozen pieces and add them to various dishes.
So, let us see how we can extend a jackfruit's shelf-life by freezing.
How to Freeze Jackfruit?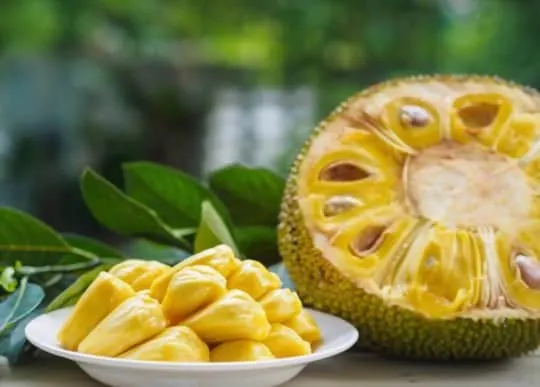 As there are different forms of Jackfruit, we will learn how to freeze each type without diminishing its standard and flavor.
Once you get fond of it, you may want to store all sorts of Jackfruit.
So, it would be handy if you have some idea about preserving each type of Jackfruit.
Before proceeding, rub the knife with edible but odorless fat or oil.
The sap is sticky, and it can be troublesome to work with a blade that becomes gluey.
What are the proper steps to freeze Jackfruit?
1 – Raw Jackfruit.
Remove the rind entirely and cut the fruit into pieces.
Place some parchment paper on a tray to stop the fruit from sticking to the tray. Place the chunks in one layer. If there are more pieces, get another tray and follow the same procedure. Make sure to keep tiny spaces while placing each chunk.
Put the trays in the freezer for about two to three hours or till they are stiff.
Put the frozen pieces into some freezer-friendly bags and seal them up.
Label the bags and store them in the freezer.
2 – Cooked Jackfruit.
You can also freeze cooked Jackfruit for future use.
Cut into pieces as before and cook them according to your preference.
Allow the chunks to cool down and follow the same process as the raw ones. While placing them on the trays, always see that the fragments don't touch each other.
Bag, seal, label, and pop them in the freezer.
3 – Ripe Jackfruit.
If you buy a whole ripe jackfruit, it will be impossible to eat all at once.
Some even contain as many as five hundred seeds. So, you will need to freeze them.
Follow the same method as with the raw variety and separate each bulb before freezing to avoid lumping.
Instead of using freezer bags, you can also use air-tight containers to freeze Jackfruit.
How long does frozen Jackfruit last in the freezer?
While Jackfruit freezes well, its shelf life cannot be extended even if frozen.
At the most, frozen Jackfruit can last up to one month without getting spoiled in any way.
How to Thaw Frozen Jackfruit?
It takes plenty of time and steps to freeze Jackfruit.
But when it comes to defrosting, it is another matter.
You don't have to stress, because it is a simple procedure.
It has been mentioned already but make sure not to stick the individual pieces together, or they will form lumps.
It will prove to be a problem after thawing them if you can't finish all.
Refreezing is not recommended, and the remaining defrosted pieces can go to waste.
Since they also don't last very long, use them within a month.
Jackfruit has high nutritional value with plenty of vitamins and minerals.
For instance, it has a lot of potassium which lowers blood pressure by restraining the effects of sodium and by decreasing the strain in the blood vessels' walls.
It is also suitable for the skin, heart, wounds, and diabetes.
But people with kidney issues should consult their physician before including Jackfruit in their diet.
With so many health benefits to offer, storing some quantity in the freezer can be a good idea.
When you need to use them, simply take them out and add them to the dish you are cooking.
You can also enjoy icy jackfruit chunks or make smoothies.
Add the pieces to your baking mixture and even cook savory dishes.
If you have to thaw the frozen Jackfruit, take some pieces from the freezer and put them in the fridge.
Use them as needed.
Conclusion
It has been fun learning about Jackfruit, which used to be relatively unknown till some time ago.
It is delicious though a bit weird-smelling.
It offers plenty of health benefits and can keep your belly full for half a day with just ten to twelve bulbs a day.
For vegans and those who used to be meat-eaters, Jackfruit offers almost like a pulled pork consistency.
So, they can use it in barbeque dishes and others.
Now that it is also confirmed that it can be frozen for at least a month, adding it to your diet can be a great idea.
Even its seeds are tasty once you remove the skin and cook them.
So, remember the tips to freeze Jackfruit whenever you have extra bulbs left.
Enjoy them when you have a craving.