French toast is one of the favorite breakfasts for everyone, and it is a classic weekend delight for the family.
If you are a busy person who doesn't have enough time to make breakfast, you don't have to worry as you can make a bunch of French toasts when you have time and freeze it.
French toast freezes well, and when you reheat the toast, it tastes the same as the freshly made one.
For most people, bread is a staple food, and many people love to have French toast for breakfast.
Making French toast is very simple, and it needs little effort.
If you have a lot of leftover bread at home which you don't want to waste, then the best thing to do is make French toast and freeze it for later use.
Does Freezing Affect French Toast?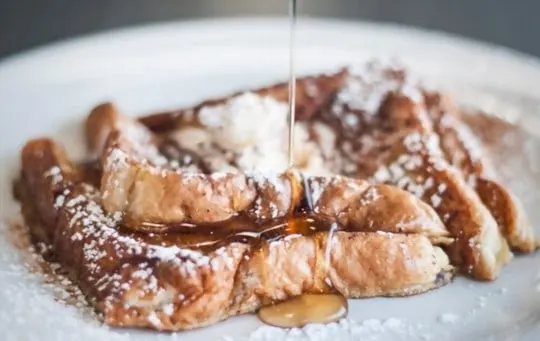 Can you freeze French toast? It is a very common question that many people ask, and the answer is, yes, you can freeze French toast.
The best part is, it doesn't change quality or taste when you freeze French toast.
If you want to freeze cooked French toast, put the toasts on a wire cooling rack and cool to room temperature.
Once the French toasts are cooled completely, you can transfer them into a freezer bag and put them in the freezer.
French toasts can stay fresh for up to two months when you freeze them properly in a freezer bag or an airtight container.
All you need to do is follow the below safely storing steps to keep your French toast fresh in the freezer and reheat it whenever you want to enjoy your breakfast.
Make French toast as per the instructions provided in the recipe and let them cool down on a wire holder.
Put a wax paper sheet between each portion of French toast.
Take an aluminum foil and wrap the French toast stack very tightly or put them in a heavy-duty freezer bag before placing them in a freezer.
Make sure to use the frozen French toast within one to two months for fresh and best quality.
How to Freeze French Toast?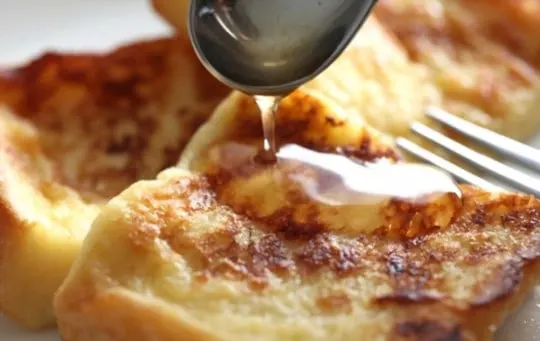 Freezing French toast is a simple process, but it is always recommended to freeze only the cooked French toast.
Freezing uncooked French toast may not stay fresh for a more extended period.
In any case, making French toast requires milk and eggs, and it takes a short time to cook, so freezing cooked French toast is always better.
You can defrost the toast and reheat it when you want to eat your favorite French toast.
Frozen French toasts are easy to thaw, unlike most foods.
You can put your frozen French toast in the oven instead of waiting for them to defrost after taking out the French toast from the freezer and put them in the refrigerator first to defrost.
However, when you are freezing French toast, you should make sure that you let each piece of French toast cool down separately.
You can put them on a wire rack to cool down so that the toasts stay crispy.
The best and fastest way to freeze the French toast is to place wax paper between each piece of French toast, and once they cooled down, freeze them in a heavy-duty freezer bag.
You have another option. Though it is as effective as the first option, it takes time.
In this option, you can freeze the French toast directly on the baking rack and then put them in freezer bags once the toast is frozen.
Also, you can freeze your French toast by wrapping them in wax paper like mentioned above, and once they are frozen, you can remove the foil and paper and transfer them into freezer bags.
Cooking the French toast process is also takes a vital role as you need to use the correct heat level for better results.
When you are making French toast, you have to put medium heat to cook them properly.
You should also make sure to preheat your pan or skillet for French toast.
The bread slices start cooking right away. You put them on the pan.
If you cook your French toast on low heat, the bread will dry, and the bread doesn't remain soft to make French toast.
If cooked on high heat, the bread gets burn on the surface, and it doesn't cook it perfectly.
You can also cook French toast in the oven.
Cooking it in the range is the fastest and most efficient method, especially when you make a lot of French toast.
How to Thaw Frozen French Toast?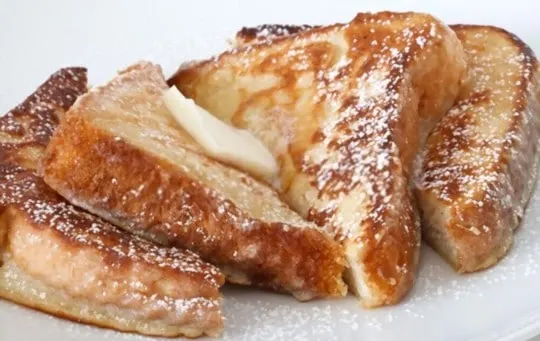 Different reheating French toast methods allow you to avoid defrosting, which is very much needed for other frozen foods.
However, you can thaw frozen French toast by putting it in the refrigerator overnight before reheating.
Thawing French toast doesn't change its flavor or quality if you reheat it immediately after thawing.
Presuming, if you plan to keep it in the fridge for a couple of days, then you miss the same flavor or quality of your French toast.
The benefit of defrosting your French toast is that it takes a short time to reheat.
However, it is entirely up to your liking and preference.
Place frozen French toast to thaw and reheat frozen toast slices in toaster and toast till it gets crisp.
You can also bake in an oven preheated 375-degrees for 9 to 12mins or till it gets crispy.
Oven Method: Put frozen French toast in a layer on a cookie tray and cover the tray with foil. Now, bake in a 375°F for between 8 and 10 minutes.
Toaster Method: Put the frozen French toast slices into the toaster and toast until the bread gets crisp.
Conclusion
French toasts are a yummy breakfast that allows you to freeze if you want to make a lot.
Cook the French toast and let it cool on a wire holder or rack.
Put a wax paper sheet between each slice before placing it in a freezer.
Stack the toast and wrap them closely in aluminum foil or put French toasts in a heavy-duty freezer bag and freeze.
You can use the frozen French toast within one to two months.