Cinnamon rolls are a standard pastry that people serve at parties and gatherings.
These yummy cakes can be served on their own or with a variety of different flavored icings.
All you need to prepare cinnamon rolls is flour, yeast, salt, and sugar, along with some milk, water, and butter.
You might also add in some eggs depending on the filling that you use.
However, cinnamon rolls can be time-consuming to make.
Like most people who enjoy these pastries but do not have the time to make them from scratch, try making cinnamon rolls from a frozen roll.
You can freeze any cinnamon roll, and they will taste just as good, but if you pay attention to a few easy steps, you can reduce the amount of time taken in the preparation and make your style of cinnamon rolls.
Frozen cinnamon rolls can be stored in the freezer for six weeks and are better if they are thawed before serving rather than being heated from frozen.
This will save you many hours in preparation time and help you do successive servings of the pastry with less effort than a freshly baked cinnamon roll might require.
In this article, we will guide you through the steps to freeze and thaw your frozen cinnamon rolls.
A Note on Preparing Cinnamon Rolls for Freezing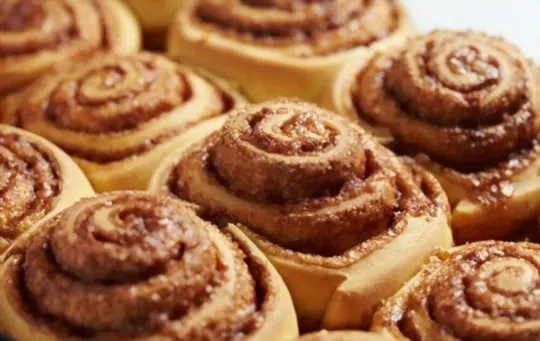 To ensure that you have an excellent tasting cinnamon roll, look for yeast recipes, as they will give the pastry something extra.
Most of these recipes can be frozen successfully but check the specific recipe to make sure that everything will taste as good after freezing.
To make sure that your freeze is successful, you should stick to the following tips:
When preparing, measure carefully – it will save you time in the long run. Also, do not over-beat your dough, as this can make it tough when thawed and baked. Make sure that all of the ingredients for your filling are fresh. Fresh ingredients will give you a much better taste than something that is just frozen and thawed.
When preparing the roll itself, make sure that you leave it to rise in a warm place for approximately 45 minutes to an hour. This will ensure that the dough fully rises before baking so that your pastry will rise during cooking. This can change the taste of your roll dramatically, so if your dough is not fully increased before cooking, it will change the texture and make it chewy or tough.
When baking your frozen rolls, be sure to preheat the oven for around 10 minutes before cooking. This will ensure that when you put your cinnamon roll in the oven, it will cook quickly, giving a better-tasting pastry and one that is not tough.
After a short time, your homemade cinnamon roll should be ready to eat.
When preparing to freeze and thaw cinnamon rolls, be sure to use well-sealed freezer bags as this will prevent any liquids from getting out, which can cause a mess in your freezer.
Does Freezing Affect Cinnamon Rolls?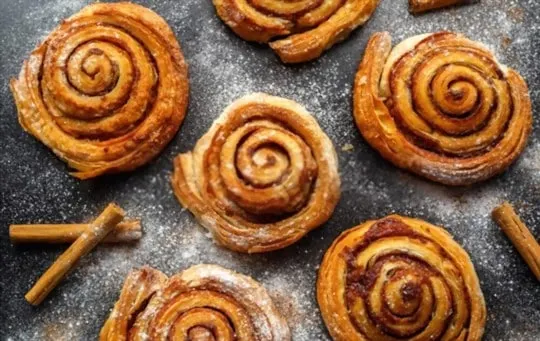 Freezing cinnamon rolls can help you create a delicious treat that is easier to make than the original recipe and can be made in less time.
When preparing your rolls, pay attention to the tips that we have provided to make frozen cinnamon rolls successful, leaving you with more time in your busy day for relaxing instead of preparation.
But does freezing affect cinnamon rolls?
Freezing is a straightforward process and one that can preserve food for considerably longer than the time it takes to prepare.
One of the most critical factors in deciding whether or not a pastry will freeze successfully is its ingredients.
Some foods do not work well when frozen, simply because they will change their texture, making them taste different or not very good.
There are also some foods that you cannot freeze alone but only in combination with other ingredients – this allows the food to be preserved without losing any of its taste or flavor.
When the unbaked, uncooked rolls are put in the freezer, they go into a hibernation-like state.
When typically taken out of the freezer and brought to room temperature, it will wake up again and continue absorbing sugar for CO2 gas production, making the dough rise.
Depending on how long yeast is left deep-frozen in a fridge or refrigerator, some of it may end up dying.
As such, be sure to plan out your baking schedule to ensure that you will have fully risen dough in your freezer before it starts thawing.
As most cinnamon rolls are made with sweet yeast dough, the normal process of freezing and then thawing can cause the pastry to become tough.
This can be solved by warming up the dough for around 5 minutes before making it into rolls.
This will result in a better texture, mainly if you use fresh yeast, which freezes quickly and can sometimes not be revived.
How to Freeze Cinnamon Rolls (Unbaked, Par-Bake)?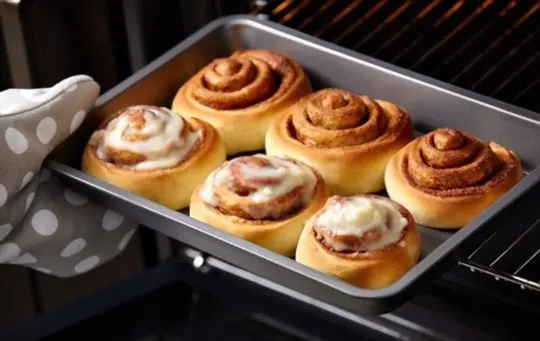 You can either freeze uncooked cinnamon rolls or par-baked ones.
It is your choice whether you want to freeze them in their original shape or as individual rolls.
In both cases, you should know how to freeze them properly to retain the best possible texture and flavor.
Freezing Unbaked Cinnamon Rolls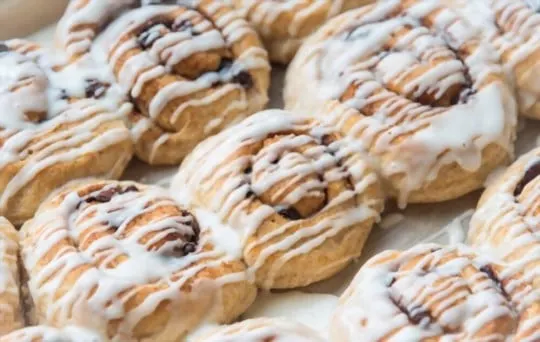 You will first need to roll the rolls, cut them usually, wrap them in plastic and freeze them before they rise.
Place them on a sheet of parchment paper and let them sit in the fridge for at least one night.
After they've doubled in size, place them on a baking sheet and bake them.
The problem with this method is that you might have to wait up to five hours for them to thaw at average room temperature before they rise again.
If you have to wait that long, it might be worth making a new batch.
However, as long as you let the dough rest in the fridge overnight, it will only take about an hour or two to rise.
This will vary depending on how warm or cold your kitchen is and how long they were kept in the freezer (see below).
But, the vital thing to remember is that you don't have to keep an eye on the clock.
You need only be paying attention to the rolls.
Only when they have doubled in volume will they be ready for baking.
Freezing Par-bake Cinnamon Rolls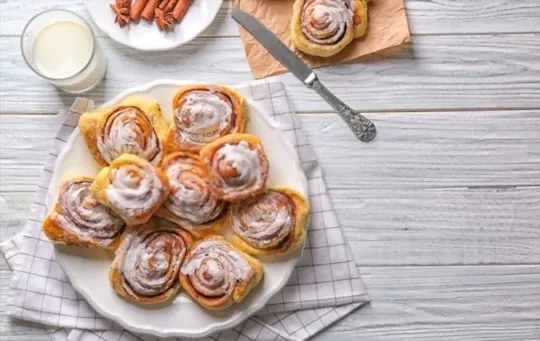 A better way to make cinnamon rolls and freeze them is to partake them.
This means you bake them part of their way until they reach full height but are still not starting to brown.
This should take about 10 to 15 minutes. Next, take the pan from the oven and allow it to cool completely.
These puppies should not be wrapped while still warm. Otherwise, frost could form on the frozen pups.
Allow them to cool completely before wrapping. You can wrap the whole pan in plastic wrap for two layers and then transfer it to the freezer.
Make sure that whatever sheet pan is being used will fit into your freezer before you start.
When you are ready to serve them, place them in a container and allow them to thaw overnight.
Bake at 350 F until golden brown. The icing can be made while they bake. You don't need to worry about freezing.
You can keep the pans safe if you don't leave them in the freezer for more than two weeks.
You can also use icing if they do not. You don't need to worry about raising the yeast with this method.
How to Thaw and Bake Frozen Cinnamon Rolls?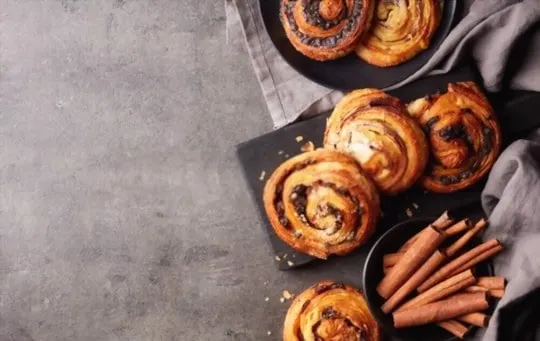 Thawing frozen cinnamon rolls is a relatively simple process as long as you have learned how to freeze them correctly (see above) properly.
Once they are in the fridge, wait 5 hours or so. They will defrost slowly over this period, and then you can bake them.
However, it is essential to note that they should not be baked straight out of the freezer.
Instead, allow them to thaw for about an hour at room temperature before baking.
This won't take long. Once they are thawed, you can continue to bake them as usual.
They should be done in about 35 minutes at 350 F. Bake until golden brown and serve up the delicious snack warm with plenty of icing or some other topping.
To make it even sweeter, serve with a cup of your favorite hot beverage.
For the icing, you may want to use pre-made or store-bought icing.
You can stir in some cinnamon and nutmeg to the extra icing you have leftover after making more than you need.
You can even keep them uncooked, par-baked, and frozen for up to 5 – 6 weeks without worrying about spoilage.
Conclusion
In conclusion, cinnamon rolls are a delicious treat that is best served hot out of the oven.
If you love baking cinnamon rolls, you can always double the recipe to make more than one pan at a time and then freeze them.
Hopefully, this article has taught you how to freeze cinnamon rolls.
Spend some quality family time in your kitchen making dessert.
Have fun and enjoy yourselves. If you have any comments, questions, or concerns, please leave a comment below.
I will be happy to help. Also, if you like this article, please share it with your friends.