Cheese lovers have so many options, with Brie cheese being one of them.
The pale yellowish cheese is tasty, healthy and you can eat it in a lot of ways.
It comes with a rind, and many people often wonder if you can eat it. The answer is yes; you can eat the rind too.
However, Brie cheese's texture is relatively soft and creamy, so that it can get spoiled fast.
So, you have to consume the whole quantity quickly once it's opened.
But it can't be possible to finish the entire thing in one go every time.
If you want to make Brie taste suitable for a more extended period, you need to find a way to preserve it.
The best and most straightforward method of enhancing the longevity of food items is to freeze them.
So, can you freeze brie cheese? Indeed, you can, and it is quite an easy process.
Does Freezing Affect Brie Cheese?
Since Brie cheese is soft, its shelf life is short. Besides, it is also pricey.
If kept in the open for a long time, it can get spoiled fast. So, it is best to freeze it to enhance its shelf life.
Else, you will have to throw out the remaining portion shortly, and it would be such a waste.
If frozen, its life span can increase up to a specific period. However, the quality and taste may be disappointing once defrosted.
If you eat the frozen and defrosted Brie with baked and cooked food, it will taste just the way it tasted before.
But if you choose to eat it with bread, you will feel a difference in the flavor and texture.
So, yes, freezing does affect Brie cheese.
And most people don't recommend freezing Brie because it can separate and becoming grainy when frozen.
But as it tends to spoil fast, there is no other way to preserve it. Hence, you have to freeze it by following the proper steps.
The Brie cheese will retain its flavor and standard for a while, and you can use it when you want to eat it.
But make sure to take out only the required amount as refreezing can deteriorate the condition of the cheese even more.
It won't be edible, and you will only have to throw the whole thing out.
How to freeze Brie Cheese?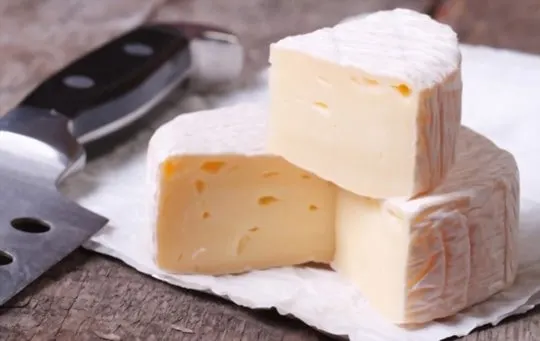 You can follow a few simple steps to freeze Brie cheese. What are the proper steps to freeze Brie cheese?
First of all, take aluminum foil and plastic wrap. If the cheese is still unopened, wrap the cheese package tightly in the plastic wrap and the aluminum foil. If the pack is still unopened, you have to cover the plastic and foil twice.
Next, put the cheese in a freezer bag and completely seal out the air. This step is for both opened and original packages. .
Once the wrapping and sealing are complete, place the cheese in the freezer. .
If the cheese is a big chunk, use a thin, straight blade to cut them into pieces. You can put them in separate bags to take out only what you need and preserve the other pieces.
You can also use parchment or wax paper before wrapping it with plastic and aluminum foil.
The key to preserving the cheese is to cover it as many times as possible.
Therefore, if you have the materials at home, use as many as possible for excellent results.
How long does frozen cheese last in the freezer?
Different people have different opinions regarding this fact.
Some suggest up to three months only, while others say you can keep the cheese frozen up to six months.
Taste and texture can go from bad to worse the longer you freeze it.
Hence, you should make it a point not to freeze it beyond six months at the most.
If possible, it is best to consume it faster so that you can enjoy eating it and not have to experience a strange taste.
Otherwise, flavor and quality will decrease, and it will all be for nothing.
How to Thaw Frozen Brie Cheese?
The texture and taste can alter even during the thawing process. So, you have to be careful when you thaw frozen Brie cheese.
It is a simple process, but you have to follow the proper steps. There are two simple methods to soften Brie cheese.
Defrost Brie in the refrigerator: It takes a more extended period to thaw Brie in the fridge, but it is the safest method to retain flavor and texture. If you need the cheese the following day, take it from the freezer and place it anywhere in the fridge.
The cheese will be ready for use in the morning. You can add it to cooked or baked dishes or eat with bread or other snacks. .
Thaw with a cold-water bath: This method takes about two to three hours to defrost the cheese. So, if you can't wait eleven to twelve hours for the cheese to thaw, it is an alternate way. All you have to do is put the bags of cheese in a bowl of cold water and wait a while.
However, the cheese may not taste as good as the cheese defrosted in the first method.
When you freeze the cheese, always make it a point to cut in slices in the shape you want.
That way, the remaining pieces will not have to be thawed unnecessarily.
Suppose you need the cheese for soups, stews, or other baked or cooked dishes, then you can take few frozen pieces and put them in the pot.
It will taste delicious with the same texture.
Conclusion
While you can freeze Brie cheese for a certain period, it is not always recommended.
Hence, the best way to enjoy Brie is to purchase a small quantity and consume it at the earliest.
You can only buy a more considerable amount if you like it if it is available at a discount.
Brie is not cheap, and so you can save money by buying a little more.
Brie cheese consumed in moderate amounts is healthy as it has several substances that can improve overall health.
Eat it alone or with various dishes according to preference. When you use frozen cheese, follow the tips to retain its taste and texture as long as necessary.