Beef Stew is a nutritious and tasty dish made of beef cubes, vegetables, beef broth, and spices.
Cooking a beef stew takes a lot of time when you follow every step correctly, and you can enjoy eating a beef stew at supper after a long busy day.
Many people want to know if they can freeze beef stew, and the answer is yes, you can freeze beef stew, but you need to follow a procedure to make your beef stew tasty, and so it cannot lose its taste even if you eat it after a couple of days.
When you want to eat your frozen beef stew after a couple of days, all that you need to do is defrosting it overnight and reheat it.
This allows you to save a lot of time preparing the delicious beef stew when you feel like eating now and then.
It is a filling meal, and you have it for lunch or dinner.
Serve this tasty stew with any bread or crackers to make it more filling.
Does Freezing Affect Beef stew?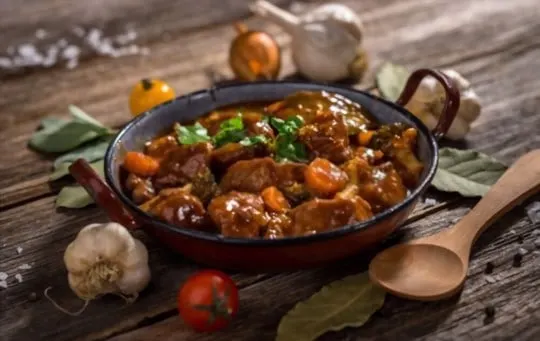 You should cut the beef into cubes, fry it, add beef broth or water, and cook until it gets tender.
Many people add veggies like celery, onion, carrots, and some special spices to their stew after the beef is tenderized in the broth.
When you want to freeze the entire beef stew, make sure that vegetables are slightly undercooked.
When you reheat the stew, the veggies in the stew get entirely cooked before serving; also, many cooks say that potatoes are a staple in beef stew.
However, potatoes do not freeze properly, and also they lose their texture and get gritty or soggy.
If you follow the below steps correctly, then freezing doesn't affect beef stew.
Simmering Stew
You can cook beef stew on the stove, oven, or slow cooker and make your stew tasty and healthy.
Cooking the stew for a long-simmering time on low heat allows the stew to get a rich flavor and enthralling taste.
If you want to thicken your beef stew, add flour and mix it well in a glass of water until it gets lumps free, and add this liquid to your hot stew while cooking.
If you don't want the undercooked, starchy taste and rough consistency, heat the thickened liquid on a stove and follow the specified cooking time in the recipe.
Also, instead of using a flour mixture to thicken your beef stew, you can use dry potato flakes or puree.
You can as well put the more cooked vegetables in the stew before refrigerating the beef stew.
Storing and Reheating Beef Stew
Beef stew is a perfect dish that can be refrigerated and reheated.
You should follow a few guidelines before freezing the stew so that you keep the stew fresh, tasty, and ready for reheating.
After cooking the beef stew, let it cool before freezing. Cover the beef stew tightly in a tight container to stay fresh for up to three to four days. .
Defrost the frozen stew in the refrigerator and use it on time.
The flavor of onions might fade, and green bell pepper might increase, so you have to make sure to adjust your spices and seasonings to taste while reheating. .
You can reheat your frozen beef stew in the microwave or on the stovetop.
How to Freeze Beef Stew?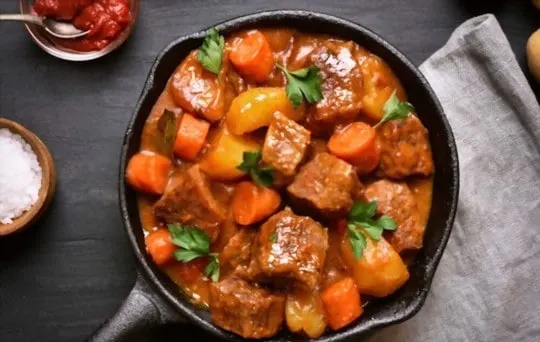 Can you freeze beef stew? The best answer is yes; you can as stews freeze well, so you can happily cook beef stew and store it in a freezer for later use.
Here you can find some valuable tips on how to freeze beef stew:
Store beef stew in an airtight heavy plastic container, and leave around ½ or ¼ inch space for expansion of the stew in the freezer.
Beef stew can be stored in the freezer for up to three months.
Beef stew thickened with corn-starch or flour may get separated after freezing. If you want to freeze a stew, let the stew get thicken before you reheat it.
Right Temperature – You should cook beef stew on a low flame and boil it for a longer time, like one or two hours, so that the beef tenderize and the stew gets thicken.
Once the stew is cooked correctly, let it cool for ten to fifteen minutes before putting it in the freezer.
Make sure it is at room temperature before it goes into the freezer, as it is essential for the safety of the food.
Cool – You should not store cooked beef stew in the freezer until it is at room temperature and cools completely.
But, you cannot leave the stew out for a longer time as it could cause bacterial growth.
That is why you should make sure that the stew gets cooled quickly.
The best method is to place the stew pot in ice water and let it stay in it for 10 to 15 minutes or until it reaches room temperature.
Containers – Use airtight plastic containers to store your beef stew in the freezer.
Choose the right size of the container to keep the stew.
If you cooked for the entire family, store the stew in a larger container or use the smaller container for an individual meal.
Choose the right size of the container accordingly so that you can defrost the stew quickly.
How to Thaw Frozen Beef stew?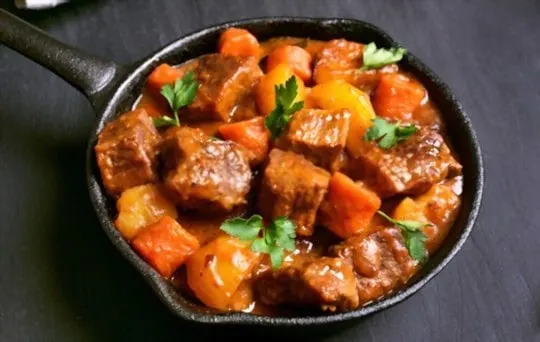 After taking out the stew from the freezer, the best method of defrosting beef stew is to keep it in the fridge overnight.
Though it is a long process of defrosting beef stew, it is the safest way as well.
But, if you want to thaw quickly, you thaw beef stew in a saucepan or the microwave.
Both methods are effective, but before placing the frozen stew in a saucepan or microwave, you must set the container under hot water for some time.
The run of hot water on the beef stew container loosens the stew a little bit so that you can directly place it into a saucepan or microwave.
Also, make sure to stir during the defrosting process so that it won't cause any clumping.
Defrost the stew in a proper pan when thawing in the saucepan and heat it on a low flame.
Keep the flame low until the stew is melted completely.
Conclusion:
You can freeze beef stew if you follow the above steps correctly.
To intensify the flavor of your beef stew before freezing it, place it in the fridge overnight.
Keep it in the fridge all night and the next day, put it in the freezer.
Placing the beef stew overnight in the refrigerator will give your stew to develop the full flavors so that your beef stew tastes better for later use.
About The Author