Are you wondering what to do with that mysterious bottle of fennel pollen?
The delicate, fragrant yellow-brown powder might seem a bit intimidating if you're an amateur cook, but once you've used it a few times, the possibilities are endless.
Fennel pollen adds a unique sweetness and subtle licorice flavor to your favorite dishes and can be used as a rub on chicken and fish or as a seasoning for bread, pasta sauces, and salads.
If you don't have any fennel pollen at hand, there are some great substitutes that can carry the same aroma and flavor complexities.
Some of the best stand-ins include cumin, fennel seed powder, and caraway seeds.
What is Fennel Pollen?
Fennel pollen is an aromatic spice harvested from wild fennel plants.
Unlike dried herbs and spices, it's made from the delicate yellow flowers of the finocchio plant, which provide a flavor far more complex than its green counterpart.
The flavor profile lies somewhere between sweet, with hints of anise and licorice and earthy notes of oregano, nutmeg, and honey.
Its texture is finely granulated, so it can easily combine with other ingredients in a dish to create some depth of flavor.
Fennel pollen works especially well when paired with pork or fish dishes; a pinch of it sprinkled over the top gives any recipe that added boost to make it stand out.
The 5 BEST Substitutes for Fennel Pollen
If you're a fan of cooking with exotic spices, you may have heard of fennel pollen.
This flavorful spice has been traditionally used in the Italian cuisine for centuries and adds a unique flavor to many dishes.
Unfortunately, finding fennel pollen can be difficult and expensive, so if you're looking for an alternative, here are the five best substitutes for fennel pollen.
1 – Ground Fennel Seeds
Ground Fennel Seeds are a great alternative to fennel pollen for adding incredible flavor to your cooking.
When properly ground, these seeds offer an intense licorice-like quality with subtle notes of sweetness.
When added to dishes, the texture is pleasantly crunchy and adds complexity to every bite.
Ground Fennel Seeds can be used instead of regular fennel in any dish that calls for this famously aromatic herb, such as roasted vegetables, vinaigrettes, or even rubs or marinades.
As a substitute, they offer similar flavor complexity but with a slight difference in texture which can help elevate any dish.
Experiment with ground fennel seeds and take your recipes to the next level.
2 – Anise Seeds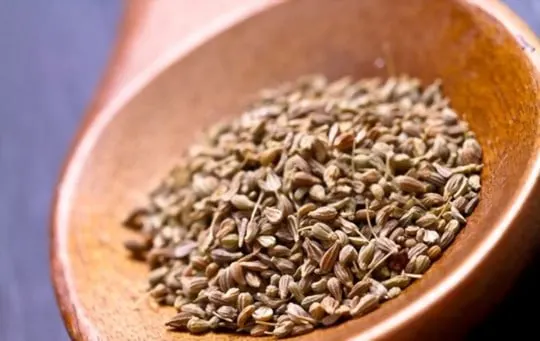 Anise seeds are unique flavoring agents that can take any dish to the next level.
Native to the eastern Mediterranean, anise seeds are small, thin, and black in appearance.
They have a robust flavor profile, exhibiting licorice and sweet notes, which allows for quite a range of culinary possibilities.
These seeds have a crunchy texture when sprinkled into dishes, adding a hint of spiciness.
When used in baking or desserts, anise imparts hints of sweet berry floral aroma paired with its intense licorice flavor.
Though it is similar in flavor profile to fennel pollen, anise offers a more pungent flavor and should be used sparingly during cooking as its strong taste can easily overpower some ingredients.
Try substituting anise for fennel pollen in recipes for an added punch of licorice flavors.
3 – Dill Seeds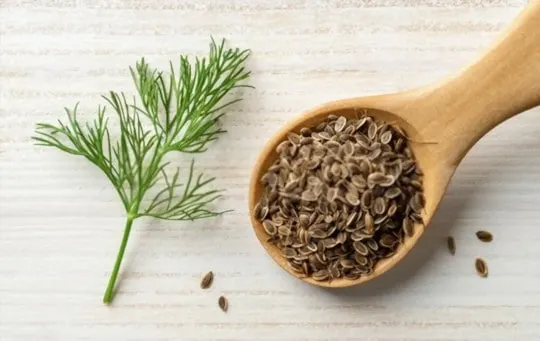 Native to India and Southern Europe, dill seeds are incredibly versatile and flavorful, adding a unique taste to dishes.
In their dried form, they resemble caraway or celery seeds but have a much more pungent flavor.
With a peppery kick and a hint of citrus, the crunchy seeds burst with flavor in the mouth, making them the perfect addition to any recipe.
Chefs can easily substitute dill seeds for fennel pollen in recipes if needed—simply grind the dill seeds and use them as desired.
Having a pantry stocked with dill seed can offer chefs fantastic options when it comes to creating delicious masterpieces their guests will love – from salads to side dishes or even desserts.
4 – Fennel Fronds
Fennel fronds are the flat, feathery leaves of the fennel bulb and have a distinct anise-like flavor.
When fresh, the fronds are green with light purple tips, though they can also be found dried.
Fresh fennel fronds have a milder taste than their bulb counterpart and can be enjoyed raw or cooked.
The texture of fresh fennel fronds is crunchy and delicate; when cooked, it softens slightly but still holds its shape.
Fennel fronds are a great garnish for meals ranging from salads to fish dishes, lending both color and flavor to any dish.
Moreover, they can be used as an alternative or substitute for fennel pollen in recipes calling for it, adding depth of flavor without changing the overall outcome of the dish too drastically.
5 – Caraway Seeds
Caraway seeds are unique and flavorful spice native to Europe and western Asia.
They have a pungent, slightly bitter flavor that can be described as a combination of anise, black pepper, and dill.
Caraway seeds are small and brown in color, with ridges running lengthwise down their sides.
With a texture similar to other spices like cumin or coriander, they're often used to add flavor to pickles, sauerkraut, rye bread, soups and stews.
Caraway is also used to substitute for fennel pollen in recipes; however, the flavors will not be exactly the same since caraway has more of a licorice taste compared to the sweet anise taste of fennel pollen.
Regardless of how it's used, caraway adds an extra level of complexity to many dishes.
Conclusion
In conclusion, fennel pollen can be difficult to come by or expensive, so having a few substitutes on hand is essential for any chef or home cook.
Ground fennel seeds, anise seeds, dill seeds, fennel fronds, and caraway seeds are all great alternatives when it comes to adding flavor to cooking.
Each of these ingredients offers unique flavors that can elevate the taste of dishes and can be used as substitutes for fennel pollen.
So next time a recipe calls for fennel pollen, just remember – you have plenty of options to choose from.