How do you get the delicious briny and sweet notes of eel sauce without actually using it?
This is a perplexing question that many people struggle with, but luckily there are several substitutes for eel sauce that can yield a similarly flavorful experience.
Depending on the recipe you're making, replacing eel sauce can be as easy as finding an alternative within the same flavor profile and other savory common ingredients.
Knowing how to substitute eel sauce effectively will save a dish and make prepping meals even faster.
What's Eel Sauce?
Eel sauce, also known as unagi no tare in Japanese, is an umami-rich condiment made from sweet and savory ingredients.
It's commonly served over grilled or broiled eel dishes like nabemono and is also a popular topping for sushi.
For those that enjoy the unique combination of sweet and salty, eel sauce offers a delicious way to enhance your favorite recipes.
However, not everyone has access to eel sauce or may be averse to using it due to its use in dishes containing eel.
The good news is that there are several alternatives that can produce the same flavor profile without the need for eel sauce.
In this article, we will explain what eel sauce is and how it's used before discussing some options for substituting it in recipes.
In addition to its traditional use in Japanese cuisine over broiled or grilled eels, you could use this condiment as an ingredient when cooking stir-fries or omelets; drizzle it over meats such as chicken wings or salmon; mix it into mayonnaise-based salad dressings; combine with oil and sesame seeds as a savory dip; or use it as an alternative combination to wasabi and soy sauce when eating sushi rolls.
The 5 Best Substitutes for Eel Sauce
Those in search of ways to replicate the flavor of eel sauce without actually using eel sauce may find great success in these alternative condiments.
Why try any of these alternatives? Eel sauce has a unique flavor that can be difficult to recreate with non-seafood ingredients, but these five substitutes are some of the closest tasting alternatives.
Not only are they delicious, but they're also quite easy to make.
1 – Teriyaki Sauce
Teriyaki sauce is a popular Asian condiment that is made of sake, soy sauce, sugar or honey, and sometimes mirin (a sweet rice wine).
It has a strong umami flavor that can be great for pairing with sushi.
Even though it doesn't have the same flavor as eel sauce, it provides a similar salty-sweet profile.
Teriyaki sauce goes well with many dishes such as chicken or beef teriyaki and can also be used to glaze salmon, shrimp, and other seafood.
For the closest match to eel sauce in terms of flavor and texture, use an equal ratio of wheat-free tamari and honey or maple syrup when making your own teriyaki sauce at home.
2 – Hoisin Sauce
Hoisin sauce is another popular substitute for eel sauce due to its similar sweet-tangy flavor profile.
It is a thick, reddish-brown sauce made from fermented soybeans, chili peppers, garlic, and Chinese five-spice powder.
It is commonly used to flavor roasted meats in Chinese cooking and can easily be found in most grocery stores.
The flavor of hoisin may not be as intense or complex as that of eel sauce but it carries the same sweet base notes.
Additionally, you can add a pinch of salt or sugar to adjust the sweetness level to your liking.
3 – Oyster Sauce
Oyster sauce is a light brown condiment made with oyster extracts, salt, sugar and water.
It is commonly used in Chinese and other Asian cuisines; however, it has also become a popular condiment in the United States.
The flavor is sweet and salty with an umami kick to it.
It has a thick texture that resembles thick-cut maple syrup.
Oyster sauce can act as an excellent eel sauce substitute due to its similar flavor profile and texture.
It should be noted that if you are using oyster sauce as a eel sauce substitute it is important to read the labels on your sauces to ensure that your product does not contain fish or shellfish allergens.
Oyster sauce pairs well with stir-fry dishes for added flavor and color or can be used as a marinade for meats to add sweetness and umami notes.
4 – Fish Sauce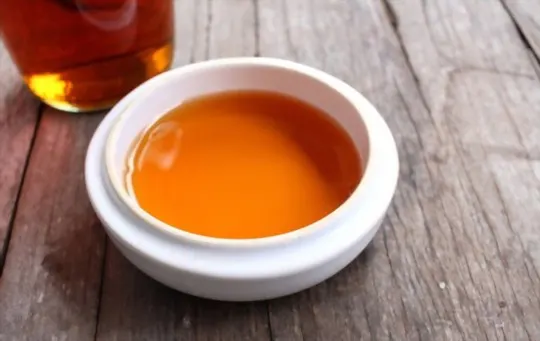 Fish sauce is a condiment commonly used in Southeast Asian cuisines, especially Thai and Vietnamese.
It has a salty, mildly sweet flavor with a slight fishy smell.
Although it doesn't have a strong eel flavor, it can be used as an effective substitute for eel sauce due to its complex taste and deep color.
You can find this condiment in many international grocery stores or online sources, but be aware that brands tend to vary in flavor and intensity.
If you do use fish sauce, you may want to start with less than the recipe calls for and then adjust to taste.
5 – Soy Sauce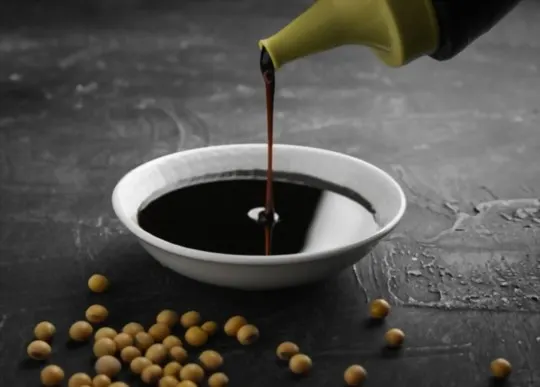 Soy sauce is the most obvious and widely available substitute for eel sauce.
It is a commonly used condiment in almost every cuisine around the world.
The flavor of soy sauce is fairly similar to that of eel sauce, with a subtle sweetness and salty aroma.
Soy sauce can be used as a marinade, or as a dipping or finishing sauce in many dishes.
Although not quite as sweet or thick as eel sauce, it still provides similar umami flavor profile.
Additionally, soy sauce can also be used in recipes in place of eel sauce such as teriyaki or tempura dishes where eel sauce may not be available or difficult to come by.
Conclusion
In conclusion, eel sauce is a popular sweet and savory accompaniment of Japanese cuisine made by boiling down fermented kombu seaweed and sugar.
Despite its unique flavor, it can be difficult to find in some regions.
Fortunately, there are several great substitutions that you can use to get similar flavors and textures.
For the most authentic results, try making your own eel sauce with kombu and brown sugar or even trying a vegan version of the sauce with tamari or liquid aminos for a boost of savoriness.
About The Author