Have you ever heard of Cioppino? It's an Italian seafood stew that is popular in San Francisco.
If you've never tried Cioppino, you're missing out. Californians know how to cook up seafood dishes.
Cioppino is great to serve when you have family and friends coming over because it can feed many people at once.
Seafood is always healthy too. Cioppino is also very affordable because you can find most of the ingredients at the local grocery store.
It is a rich, flavorful seafood stew made up of different types of fish, crab meat, shrimp, and clams.
The traditional way to have this dish from San Francisco is to have it served over spaghetti.
In this article, we will list seven side dishes that you can serve with Cioppino.
Why Consider Serving Side Dishes for Cioppino?
Cioppino is a seafood dish perfect for dinner during the week or as a special occasion meal.
It doesn't matter if you have people over for dinner, cooking for family, or eating healthier; Cioppino is an option available to you and your guests.
The flavor of Cioppino is perfect for seafood lovers and for those who are not.
The spices, herbs, and other ingredients blend nicely to create a dish rich with flavor and light and fresh.
Cioppino is also a great dish to make when trying to impress someone because it shows that you can cook up seafood in a unique and tasty way.
It's not every day that you meet a person who has had Cioppino, so if you prepare this dish for them, they will be impressed.
What to Serve with Cioppino? 7 BEST Side Dishes
Below, we have listed seven side dishes that you can serve with Cioppino.
Some of these side dishes are traditional while others are not and may be based on personal preference.
1 – Garlic Bread with Cheese
An easy way to have delicious garlic bread with cheese is to buy some baguettes at your local grocery store, cut them lengthwise, and then put in a garlic butter mixture.
Top it off with some shredded cheese like mozzarella or parmesan, and pop it in the oven until the cheese is melted.
Serve this dish with Cioppino, and you have the perfect meal.
You can also make garlic bread by using Ciabatta bread.
Slice it, put some butter, fresh parsley, and parmesan cheese, and then bake for 10-15 minutes in a hot oven.
2 – Garlic Knots
Garlic knots are a great side dish with Cioppino and are an excellent alternative to garlic bread.
They're fun and easy to make.
All you need is some of your favorite pizza dough, a touch of olive oil, garlic powder, fresh basil, and parmesan cheese.
You can have the taste of garlic bread but in fun knotted shape.
To make garlic knots:
Take a small piece of dough and roll it into a log shape.
Take the two ends, loop them together, and twist them until they are in a knot shape.
Sprinkle on some olive oil, garlic powder, basil, and parmesan cheese.
Then, place the garlic knots on a baking sheet and bake at 375 degrees for 10 minutes until golden brown.
Don't forget to serve this dish with marinara sauce.
3 – Potato Salad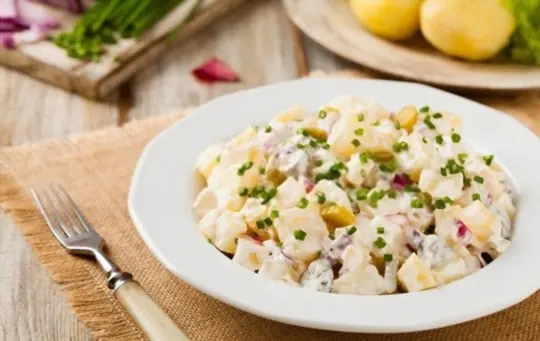 Potato salad is an American staple side dish that has made its way around the world.
It is perfect for Cioppino because it adds some color to the dish and texture and taste.
The salad is made up of boiled potatoes, mayonnaise, mustard, and pickles.
You can make your potato salad, or you can buy it at the grocery store.
It's a nice and creamy side dish that is very flavorful and goes excellent with Cioppino.
You can also make a healthier version of the dish by using greek yogurt, mustard, and pickles instead of mayonnaise.
You can also use olive oil instead of canola or vegetable oil.
4 – Grilled Asparagus
Asparagus is one of the most popular vegetables to serve during the springtime.
It's also healthy and contains lots of vitamins.
All you need is to buy asparagus at your local grocery store, wash it carefully and then put it on the grill alongside your Cioppino.
It's a straightforward side dish to make and is also quick.
It doesn't require any marinating as some vegetables do, so you can easily have it ready in 10-15 minutes (or less).
Grilled asparagus is delicious and healthy. There are many ways you can serve it.
You can drizzle olive oil over it, add lemon juice and salt or add balsamic vinegar to the mix.
You can also serve this dish with a sprinkle of cheese like parmesan or mozzarella.
Grilled asparagus tastes delicious and compliments Cioppino very well.
5 – Fried Zucchini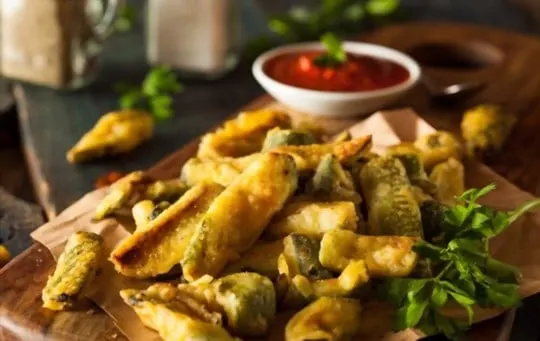 Zucchini is a trendy vegetable to use.
It's healthy, delicious, and tasty, so it's no surprise that people like to add it to their dishes.
You can make fried zucchini as a side dish for your Cioppino by cutting the zucchinis into thin slices and adding flour, eggs, breadcrumbs, and spices.
Fry the zucchini in a pan with oil until golden brown and crispy, and then serve with Cioppino.
You can also use olive oil to fry them instead of vegetable oil.
This side dish is guaranteed to leave you wanting more.
6 – Mashed Potatoes
Mashed potatoes make a delicious side dish to serve with Cioppino and are very easy to make too.
You need potatoes, butter, milk or cream, salt and other spices like garlic powder or pepper.
You will also need a masher to mix it all up together until the desired consistency is achieved so that your mashed potatoes are nice and creamy.
Cut the potatoes into cubes and boil them until they become soft.
Then, mash them up with a masher and add butter, milk/cream, salt (and any other spices you want).
Mashed potatoes are easy to make but delicious.
The mashed potato/Cioppino combination is delicious.
7 – Cornbread
Cornbread is an excellent side dish to serve with Cioppino.
It's a straightforward recipe to make and takes less than 30 minutes.
You need cornmeal, sugar, baking powder, egg(s), salt, and milk.
Mix all ingredients into a bowl until it has a smooth consistency, and then pour the mixture into a bread pan.
Bake the cornbread in an oven for 30 minutes, and you're done.
It's a moist, sweet and delicious side dish that tastes great with Cioppino.
Serve it with the tomato sauce from your Cioppino to add some more flavor.
Conclusion
In conclusion, Cioppino is a great dish to serve with all these side dishes.
They are easy to make and taste very delicious.
From potato salad, mashed potatoes, and fried zucchini to grilled asparagus, bread and cornbread – there is something for everyone on this list that you can try out at your home.
Give them a try, and please let us know which one you liked the best.
About The Author