Have you heard of Chinkiang Vinegar?
It is a popular black vinegar found in Chinese cuisine, and if you haven't used it yet for cooking, you may be curious about how to best use this ingredient.
Not only that, but what are some of the best substitutes for Chinkiang Vinegar if you don't have access to it?
Fortunately, there are several options available to allow you to give your dishes the traditional flavors of Chinese cooking with different types of vinegar.
Let's explore how to use this unique thing, as well as what great alternatives will give your meal an extra special kick.
What is Chinkiang Vinegar?
Chinkiang vinegar, also known as black Chinese vinegar, is a dark-colored East Asian condiment made from fermented rice and malt.
It adds an umami edge to dishes while also bringing out more of the flavors of the ingredients used in a recipe.
With its tangy and smoky flavor profile, it has been used for centuries to make specialties like zhajiangmian (noodles with meat sauce) even more delicious.
Chinkiang vinegar provides subtle notes of sweetness and a pleasing texture to any dish.
This naturally brewed vinegar can be added near the end of cooking to take flavors up a notch or can be used as-is for dipping sauces, marinades, and dressings.
With its unique flavor dimensions and versatility, food connoisseurs know that Chinkiang vinegar is an essential pantry staple.
The 5 BEST Substitutes for Chinkiang Vinegar
If you are looking for a great substitute for Chinkiang vinegar, you have come to the right place.
Here we will discuss the five best substitutes for Chinkiang vinegar you can use in your cooking.
1 – Date Vinegar
Date vinegar, also known as black oud vinegar, is quickly becoming a new favorite among professional chefs.
A traditional ingredient in some Middle Eastern and North African cuisines, date vinegar typically has a rich and syrupy texture with a mellow sweetness followed by just a hint of acidity.
It has a subtle molasses-like flavor that enhances the taste of many dishes without overpowering them.
This type of vinegar can be used as a substitute for Chinkiang rice vinegar to add more depth and complexity to stir-fries or kale salads.
As enthusiasts are discovering its unique flavor profile, it's easy to see why this type of vinegar is becoming increasingly popular in cooking circles.
2 – Malt Vinegar
Malt vinegar is an essential ingredient for many recipes, and its distinct taste can take dishes to the next level.
The deep brown-colored liquid has a mildly tart yet slightly sweet flavor.
It's made with fermented barley malt and has a texture that falls between light and thick.
An excellent alternative to Chinkiang vinegar when cooking Chinese food, it adds depth of flavor that enhances all types of dishes – from bangers and mash to fish & chips.
When substituting one for the other, keep in mind that you might need a bit more malt vinegar than you would Chinkiang, traditionally used in Chinese cooking due to its lower acidity levels.
3 – Balsamic Vinegar with a splash of Worcestershire Sauce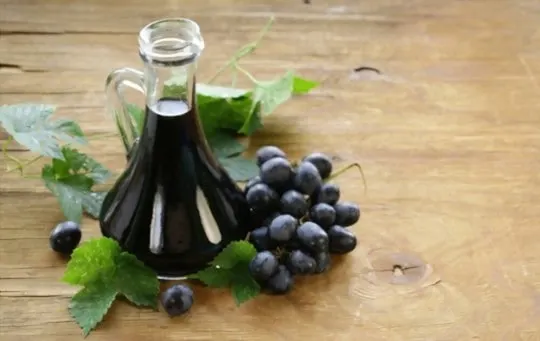 Balsamic vinegar with a splash of Worcestershire Sauce is the perfect harmony between tart flavors and deep umami.
It is made by cooking balsamic vinegar with Worcestershire sauce, allowing the warmer notes of the latter to add complexity to the dish without overpowering its taste.
After reduction, this concoction has an intense acidic flavor that is contrasted by its mild sweetness.
The texture of the combination is surprisingly light while still being limited enough to avoid thinning out a dish.
This mixture should not be used as a substitute for Chinkiang vinegar but applied sparingly with grilled vegetables, fish filets, barbecued meat dishes, and even cold salads to give them an extra depth in flavor.
4 – White Wine Vinegar with Soy Sauce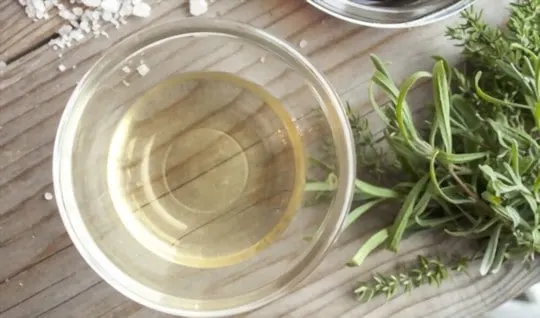 White wine vinegar with soy sauce is a unique condiment that provides a myriad of flavor profiles to your dishes with its unique blend of sweet and savory.
This incredibly versatile condiment pairs perfectly with both cooked and raw dishes, adding an Asian-inspired twist with its flavors of pungent brewed white wine and dark, salty soy sauce.
The texture is both nuanced and balanced, allowing it to coat many types of proteins in tangy flavor combinations.
It also pairs nicely with other umami ingredients like stir-fried oyster mushrooms or fresh chilies for an even spicier kick.
When used as a substitute for Chinkiang vinegar, this combo gives dishes a tropical sweetness providing an entirely different flavor experience that people can't get enough of.
5 – Rice Vinegar with Soy Sauce
Rice vinegar with soy sauce is an interesting combination that offers a strong, umami-rich flavor.
It is often used as a seasoning or base for marinades, dressings, and dipping sauces.
The taste of the vinegar is pleasantly tart and acidic, while the soy sauce brings an earthy and salty complexity to any recipe.
The texture of this combination can range from smooth to lumpy depending on how it's prepared.
For those who love Asian cuisine, rice vinegar with soy sauce makes an excellent alternative to Chinkiang vinegar.
All you need to do is reduce the soy sauce amount slightly and increase the ratio of rice vinegar for a similarly tart flavor profile.
Conclusion
In conclusion, Chinkiang vinegar is an incredibly versatile ingredient that can enhance a variety of dishes.
While it isn't always easy to find, there are plenty of substitutes that can provide similar flavor profiles and unique textures.
From malt vinegar to balsamic with Worcestershire sauce, rice vinegar with soy sauce, and white wine with soy sauce, these substitutes will take your cooking to the next level.
So, if you're looking for an alternative to Chinkiang vinegar in your recipes, try one of these delicious combos and get experiment.