Have you ever wanted to use Chinese sesame paste in a recipe but weren't sure what it was or how to use it?
This surprisingly versatile ingredient adds sweet nuttiness to many dishes, but finding a substitute can be difficult if it's not available.
Fortunately, there are several workarounds that will make the unique flavor of Chinese sesame paste available whenever you need it.
Let's explore five of the best substitutes, so you can get started cooking delicious dishes with Chinese sesame paste today.
What is Chinese Sesame Paste?
Chinese sesame paste is an important ingredient in Chinese cuisine and is commonly used in dishes like Mapo Tofu and Dan Dan noodles.
Made from toasted sesame seeds that have been ground into a paste, Chinese sesame paste has an unmistakable flavor and texture that can truly add depth to your dishes.
Here's a look at this savory condiment and its uses.
To make Chinese sesame paste, toasted sesame seeds are ground until they form a thick, oily paste.
This process reduces the overall bitterness of the seeds while still allowing them to retain their characteristic nutty flavor.
Usually sold either in jars or as dry blocks, the color of the paste can range from pale beige to dark brown depending on how long the sesame was roasted before grinding.
Chinese sesame paste is commonly used in savory dishes like Mapo Tofu or hot pot broths for added texture and flavor.
It's also regularly used as a condiment for dipping dumplings or spooned onto steamed vegetables for extra richness.
For best results, warm up the paste before adding it to your dish; this will help release its full flavor potential.
Finally, you can mix some Chinese sesame paste with soy sauce or vinegar for a delicious homemade dipping sauce that pairs well with almost anything.
The 5 Best Substitutes for Chinese Sesame Paste
While Chinese sesame paste is relatively easy to find in Asian grocery stores, it can be difficult to find outside of these specialty stores.
Fortunately, there are some excellent alternatives that can make an excellent substitute for Chinese sesame paste in cooking.
The five best substitutes for Chinese sesame paste are:
1 – Tahini
Tahini is a sesame paste made from hulled, ground sesame seeds.
It is considered one of the most popular substitutes for Chinese sesame paste as it can be used as an alternative in many dishes.
The taste also varies slightly from that of traditional Chinese sesame paste, though it does offer some of the same benefits including a nutty flavor with hints of bitterness and saltiness.
It is commonly used throughout the Middle East and Mediterranean regions in recipes such as hummus, baba ganoush, and za'atar sheep fat breads.
Besides being able to substitute for Chinese Sesame Paste in cooking, tahini can also be whipped together with water and lemon juice to make a creamy salad dressing or dip.
2 – Peanut Butter
Peanut butter is a popular substitute for sesame paste among Westerners with a preference for its flavor.
Whether you prefer it chunky or smooth, peanut butter can provide the taste you desire while also supplying your body with protein and fiber.
While it is sweeter than Chinese sesame paste, peanut butter still pairs well in dishes such as lettuce wraps and can be used to replace the protein texture of the paste.
There are many variations of peanut butter on the market, including low-fat options that are healthier than traditional recipes.
However, it does contain more sugar than Chinese sesame paste and is not a true replacement for its nutritional value — but it's still a tasty option as an alternative.
3 – Almond Butter
Almond butter is a suitable substitute for Chinese sesame paste in many recipes.
It contains healthy fats, protein and fiber and also provides a flavor that is touched with nutty overtones.
If you opt to use almond butter as a replacement, you should only use the smooth variety, because the crunchy type often contains bits of nuts which affects the texture and consistency of your dish.
To substitute almond butter for Chinese sesame paste, use an equivalent measure of almond butter based on the original quantity of sesame paste called for in the recipe.
Additionally, you may add a touch of honey for sweetness if needed.
4 – Sunflower Seed Butter
Sunflower seed butter is a pale yellow spread made from roasted sunflower seeds and salt with no added sugars or preservatives.
It has a creamy, nutty flavor and contains fewer calories than other nut butters.
Sunflower seed butter tends to have a mild flavor so you may need to add additional ingredients for a stronger sesame taste.
It can be used as a sandwich spread, stirred into soups, or blended with other ingredients to make sauces or dressings.
This nutrient-rich substitute sets itself apart from other alternatives in that it provides 55 percent of your daily recommended zinc intake in one tablespoon serving.
Be aware that some brands may contain soy, which can affect its substitution potential if you're looking to avoid it completely.
Sunflower seed butter can be found in the specialty section of most grocery stores or online retailers.
5 – Soybean Paste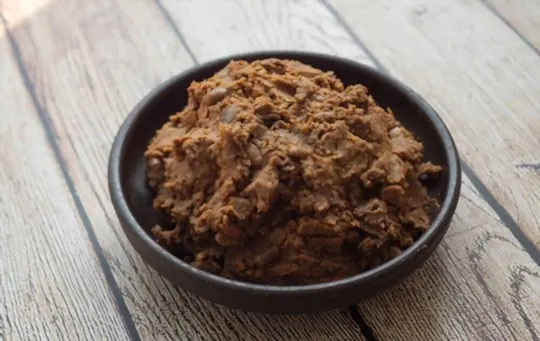 Soybean paste is a thick paste made from fermented yellow soybeans.
It has a unique sweetness, and it's quite salty in taste.
To make soybean paste, the fermented yellow soybeans are cooked until they turn into a solid form, then they're mashed and mixed with salt and vinegar.
The resulting flavor of this ingredient is slightly sweet, nutty, and a bit smoky.
Soybean paste can serve as an excellent substitute for Chinese sesame paste due to the similar taste it offers.
It is often used in stir-fries to bring out more nutty flavor in food or as an ingredient in salad dressings or sauces for added depth of flavor.
Conclusion
In conclusion, Chinese sesame paste has a unique flavor that can be hard to replicate but with these five substitutes you can still recreate dishes using a similar ingredient.
While the flavor may not be the same as using Chinese sesame paste directly, each of these substitutes can be used interchangeably in various recipes to achieve dishes that are close enough to the original.
About The Author