We all know the benefits of eating fish. Its taste is like no other meat not, only that it has so many health benefits for the body.
But, what many people don't know are the health benefits of eating carp.
Yes, you read it right. We are going to talk about carp, its taste and its benefits.
Many people in the United States and Europe do not favor eating carp because they usually hear that it has a 'muddy' flavor or too 'bony.'
Despite all the rumors, if you catch it from the right water, carp has a delicious and subtle flavor.
What is Carp?
Carp is commonly found in all parts of the world. The highest consumers of Carp are from Asia, Central Europe, and Australia.
If you are a U.S. reader, eating carp might be off-putting for you. But, excluding America, the rest of the world regards it as a commercial value. Because of its abundance, it is very cheap to buy.
People who eat carp tend to favor eating it deep-fried or baked. Since carp contains healthy muscle oil, it is good to eat fried Carp.
The most common types of carp that people eat are Common carp, Crucian carp, Chinese mud carp, and Bighead carp.
What Does Carp Taste Like? Does Carp Taste Good?
Carp has a moist and flaky flavor. Hernan Santiesteban from Reel Game tells their readers that many people think carp taste is muddy is only natural.
He informs that the Carp is muddy because of the direct result of the fish's stress reaction.
The taste of a Carp relies on the vegetation of the area it thrives.
If the vegetation is polluted, it reflects on the meat quality. If carp thrives in a clean place, the quality of taste improves.
Clove Garden, an international food site, describes the taste of Common Carp as tender, white, mild with no "fishy" taste, and smooth in texture.
Crucian Carp is the best type of carp among carp fishes for first-timers.
It is the tastiest among all kinds of Carps and is part of traditional Christmas Eve dinner in Poland, Slovakia, and the Czech Republic.
Culture P L, a national cultural institution founded by the Polish Ministry of Culture and National Heritage, states that Carp is a culinary symbol of Polish Christmas Eve.
Eating one fillet of Carp provides over 250 counts of calories, around 80 grams of protein, and a healthy amount of vitamin B12 and potassium.
It is good for your heart, promotes good digestion, and slows the aging process.
It also enhances immunity, improves gastrointestinal health, and improves your sleep.
Check out the full list of the nutritional value of Carp at Health Benefits Times.
How to Cook Carp?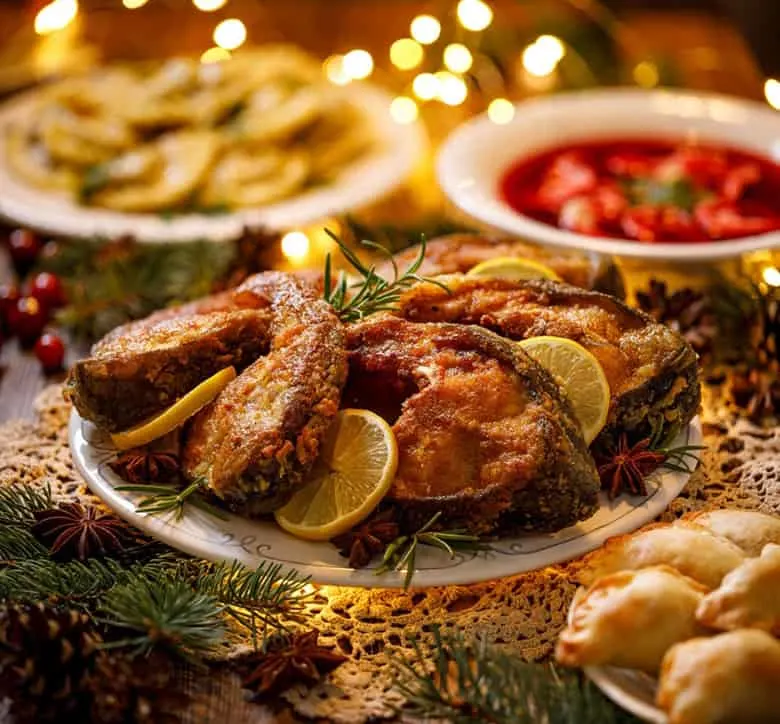 It is vital to know how to prepare Carp. Unlike other fish, it has very thick scales.
It is impossible to skin the fish with your bare hands. You will need a carp fillet.
Not only that, overcooking the Carp can destroy its firmness and make it taste very bland.
Rapid cooking or boiling of The Carp will tear the meat up easily. It will become too soft to eat.
Pamela Eyden from BigRiverMagazine gives a tip to cut out all the red meat, which contains the most oil and is responsible for what some people call the 'muddy' taste of Carp.
We advise our readers to eat baked or pan-fried Carp if they try it for the first time. Baking or frying Carp enhances the flavor of the meat.
Simple pan-fried Carp with seasonal vegetables is one of the most popular dishes. Here is a simple recipe for cooking Carp from Sainsbury's.
Smoked Carp is also another popular favorite. The small bones inside the fish become soft during smoking, and it is easy to swallow too.
Since Carp has more bones than other fish, please ensure that you remove its 'spine' properly if you plan to fillet the fish yourself.
Not doing so can result in choking while eating the dish.
The eggs inside the Carp are also delicious. It is a good source of Omega-3 fatty acids.
Conclusion
Eating carp not only expands your palate but is good for the environment.
People in the United States and parts of Europe use carp only for fishing bait and clearing out vegetation in the water.
They are the largest contributors to fish waste. This wastage is because consumers prefer to eat only fillet fish.
This fillet preference results in high wastage of the other body parts of fishes throwing in the sea or only for animal feed.
Aside from saving the environment, carp is a healthy and tasty choice of meal for the body.
It is a good source of nourishment and is easily found anywhere.
About The Author