Have you ever had Butter Chicken? There are many different recipes of popular dishes all over the world.
However, they mostly have one thing in common: they are delicious. The butter chicken is a dish of Indian origin.
It's also known as Murgh Makhani, which translates to 'butter chicken'.
It's becoming popular not only in India but all over the world.
Now it can be found on the menu of many Indian and non-Indian restaurants.
This Indian dish is made from chicken marinated in a creamy blend of tomatoes, butter or cream, spices, and fresh ginger.
In India, they also add ground cashews which make the dish rich and thick.
However, some people can find it too heavy, so that you can substitute it with unsalted roasted peanuts instead.
The sauce goes well with rice, but you should be fine if you want to go for something lighter such as quinoa or couscous.
The flavors of this dish are vibrant and creamy but still subtle enough.
In this article, we will list the seven best side dishes you can serve with Butter Chicken.
Why Consider Serving Side Dishes for Butter Chicken?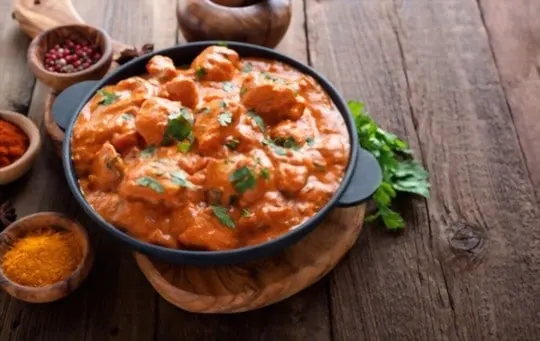 Like any other dish, the Butter Chicken is usually served with side dishes.
Many people consider that it's not complete without vegetables or carbs to go along with it.
The whole point of taking your time to choose a side dish is to make the meal more filling and flavorful.
Have you ever had butter chicken as the only dish at dinner? It just doesn't sound right.
Butter Chicken is loved by many. However, not everyone can eat it all the time because of its rich flavors and high-calorie count due to the butter and cream.
In this case, choosing the best side dish for Butter Chicken makes a difference.
If you are serving butter chicken to your family, it's worth considering the side dishes that you are offering.
Another thing you should keep in mind is the health factor.
Butter chicken may be a tasty dish, but it can also make you fat.
You should serve it with side dishes that contain fewer calories and won't ruin all your efforts to stick with your diet.
To make the meal more interesting, you can choose one or two side dishes entirely different in flavors and calories to make you feel like having something new.
Something like this will be especially appreciated if you serve the Butter Chicken for special occasions such as family gatherings, dinner parties, or birthdays.
What to Serve with Butter Chicken? 7 BEST Side Dishes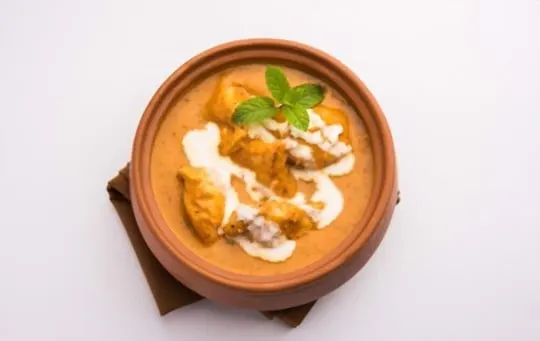 We put together a list of the seven best side dishes that will go well with butter chicken.
As you will see, some of them are cooked in Indian spices, while others are more familiar dishes.
If nothing on this list strikes your fancy, look at the side dishes section on an Indian restaurant menu near you.
You can find both traditional and modern recipes to try out.
1 – Samosa
Samosa is an excellent choice if you want to serve something Indian-inspired.
It's a crispy pastry stuffed with boiled potatoes and peas, seasoned only with salt and pepper.
It originates from the West Punjab region of Pakistan, where it's served as a breakfast dish.
The potato filling can also be mixed up with other vegetables such as cauliflower.
However, when served with Butter Chicken, it's usually fried in oil and seasoned with Indian spices such as curry powder to give it a distinct flavor.
Before frying them, you can also brush the samosas with egg wash to get that nice golden color.
The pastry goes perfectly well with the creamy tomato sauce of the butter chicken.
The spices are mild enough not to overpower the flavor of each dish.
2 – Basmati Rice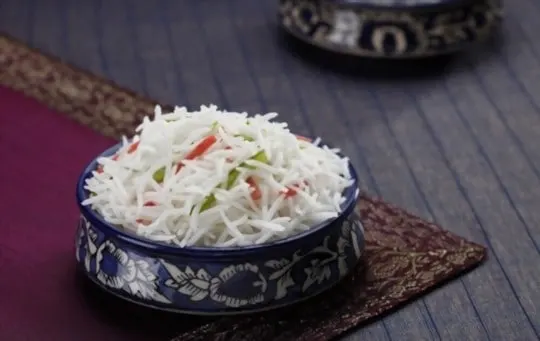 Basmati rice is probably the most popular side dish served with Butter Chicken.
The reason for this is pretty simple – the two flavors go well together.
When cooked together, they create a perfect balance of carbs and proteins.
This makes it more filling than just one or the other.
Basmati rice also contains some fiber, and it's very low in sodium.
It is usually flavored with some Indian spices such as cumin, coriander, or ginger to give a distinct taste that goes well with your butter chicken dish.
As a plus, the aroma of basmati rice cooking is simply outstanding.
It will fill up your entire kitchen and make Butter Chicken taste even better.
3 – Naan Bread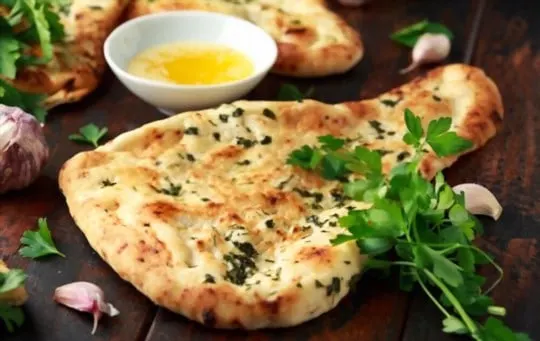 Naan is a flatbread cooked in a tandoor oven to give it that unique texture and smoky flavor.
In most cases, it's served plain with the butter chicken.
However, you can also serve naan bread stuffed with vegetables or meat to make it more filling.
You could even use butter chicken sauce instead of regular tomato sauce and spread some on each piece of naan before baking it.
This way, the flavor will be infused in every piece, and your dinner guests will love you for it.
Naan goes well with both the butter chicken and the side dishes that contain Indian spices such as samosa or basmati rice.
4 – Onion Rings
Onion rings are a great alternative to naan if you're looking for something more familiar.
This dish is perfect for serving the Butter Chicken if you're throwing a dinner party where not everyone likes Indian dishes.
It goes exceptionally well with the butter chicken sauce, but you can also serve it plain or with some honey mustard dipping sauce to give it a different taste.
Onion rings work nicely as a side dish because they absorb very little oil and contain fewer calories than most deep-fried dishes.
5 – Roasted Broccoli or Cauliflower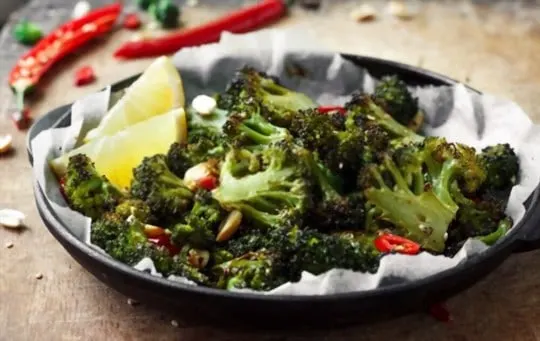 Yet another familiar dish that goes well with the Butter Chicken is roasted broccoli.
You can steam it and season it with salt and pepper or give it a more distinct Indian flavor by adding some cumin powder or coriander before baking it.
Just roast the vegetables on a tray lined with parchment paper, as this way, there's no need for additional oil to keep the broccoli from sticking.
If you prefer cauliflower, make sure not to overcook it because the texture of overcooked cauliflower is pretty gross.
The key here is to roast each piece until it gets a nice golden color and starts releasing a delicious smell.
6 – Aloo Gobi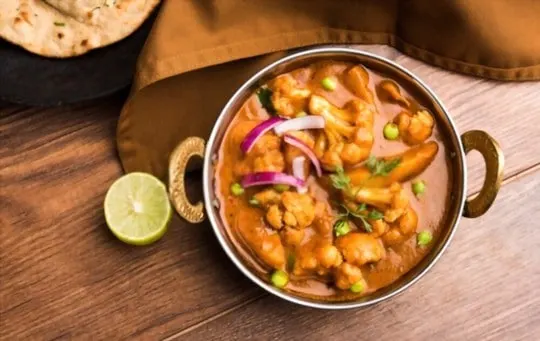 Aloo Gobi is a classic Indian dish consisting of potatoes and cauliflower cooked with onion, garlic, ginger, and cumin.
You can serve it either as a side or even as an appetizer if you create small potato dumplings for each piece to make it more filling.
This dish has many variations since some people add tomatoes to the mix while others add chickpeas.
You can vary it depending on your liking, and make sure to season it with Indian spices such as curry powder or cumin before roasting it in the oven.
Try not to use sour cream when serving this dish because its textures don't work well together.
Instead, you can use yogurt and add a little bit of fresh chopped cilantro to give it a lemony and fresh taste.
7 – Raita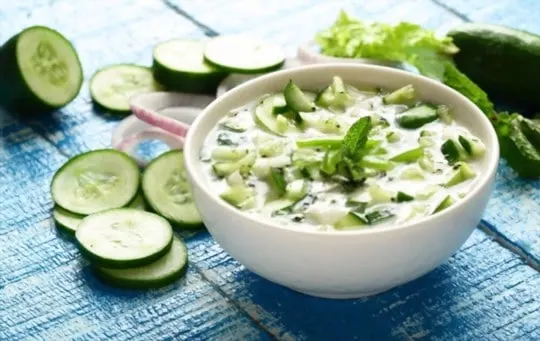 Raita is a very flavorful side dish that can be served with any Indian dish, but it also goes well with the Butter Chicken.
It is made of thick yogurt mixed with cucumbers, curry powder, and fresh chopped cilantro.
The combination of flavors makes it taste fantastic.
It's creamy yet refreshing at the same time.
Raita is especially good for cooling down your mouth after eating a spicy Indian dish.
To make it even better, you can sprinkle some roasted pine nuts on top to give it an extra crunchy texture.
This will also add some healthy fats so your fat intake won't exceed 20% if you only have the raita as a side dish.
Conclusion
In conclusion, butter chicken goes well with all these dishes, and it would be a shame not to serve any of them.
However, if you're planning on serving butter chicken as an appetizer, make sure to avoid pairing it up with anything too filling, such as naan bread.
Instead, serve it with some vegetables or even some cucumber slices.
I hope you enjoyed this article, and good luck with your future dinner parties.