There are many different types of cheese in the world.
One type that is becoming more popular by the day is Burrata, also known as Italian Cream Cheese.
This cheese is considered a very "fresh" kind of cheese because it is made with fresh cow's milk.
The inside of Burrata Cheese is creamy, and the outside looks like the regular mozzarella cheese sticks popular in America.
The texture of Burrata Cheese has been described as being similar to cheesecake because it's creamy and comes in a round ball.
Burrata Cheese is one of the most expensive cheeses on the market.
When warm, Burrata Cheese becomes very soft and creamy.
It's used often in salads because it soaks up the flavors of the dressing, making it taste even more delicious than before.
Burrata Cheese is becoming increasingly popular across the world, especially in America.
This cheese has become a staple in many homes. However, Burrata Cheese does have its downfalls.
For example, it can be very expensive to purchase, and some say that you need to eat the cheese fresh because if you leave it out for too long, it starts to taste bad.
Because of these two reasons, people are looking for substitutes for Burrata Cheese.
This list contains the top five substitutes for Burrata Cheese, and hopefully, you'll be able to try them out.
What is Burrata Cheese?
Burrata, a "contemporary" specialty cheese from Puglia, was created in the 1900s.
Burrata is a cow's milk cheese made with mozzarella curds and fresh cream comparable to mozzarella.
The creamy texture of the cheese and its sweet flavor truly stand out among other cheeses.
The curds are pulled apart by hand and then wrapped around the mozzarella center, where sweet cream is added.
The stuffed cheese is then tied with string to ensure its shape stays intact during the aging process.
The cream filling gives Burrata cheese its unique flavor.
Additionally, this cheese has a higher fat content than most other cheeses.
Burrata cheese is usually served with a drizzle of extra-virgin olive oil, black pepper, and other herbs.
This cheese is widely used in salads also.
The 5 Best Substitutes for Burrata Cheese
Since Burrata is a relative newcomer on the cheese scene, it's hard to come up with readily available substitutes.
Luckily, if you want to avoid missing out, other cheeses are similar enough to provide what you need.
Here are the top five substitutes for burrata cheese.
1 – Queso Fresco
Queso fresco cheese is an aged cow's milk cheese.
This particular type of cheese is also white cheese, with a delicate flavor and springy texture.
As a result, it may melt evenly in dishes that require cooking.
The best part about this type of queso fresco cheese? It melts well without becoming stringy.
In addition, some recipes call for queso fresco cheese to be sprinkled on top once a dish is finished cooking.
Some queso fresco cheese is aged for up to 6 months, which gives it a stronger flavor.
So, depending on your recipe, you may need to purchase mild or aged queso fresco cheese.
2 – Mozzarella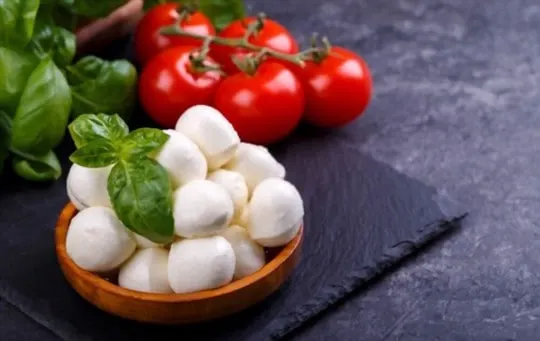 Similar to a burrata cheese, mozzarella is made from cow's milk.
It's a traditional Italian cheese that was developed in the 1900s.
It is the second-most popular cheese in America.
This type of string cheese may be used in various dishes or even eaten alone.
When purchasing mozzarella, it's important to note that it is available fresh, low-moisture, and part-skim.
It's crucial to purchase mozzarella made from whole milk or low-moisture.
Some dishes that use this cheese include lasagna, Caprese salads, casseroles, and many more.
Depending on the recipe, mozzarella may add a cheesy flavor and creamy texture.
3 – Ricotta Cheese
Made from whey, ricotta cheese is an Italian cheese made by reheating the liquid leftover from making another type of cheese.
The best part about this cheese? It's exceptionally high in protein.
Some companies add a little bit of milk to give this cheese a creamy texture.
In terms of flavor, ricotta cheese has a very mild flavor.
It may be used in traditional dishes such as lasagna and ravioli.
In addition, it may be commonly found in desserts such as cheesecake or cannoli.
Still confused? Just think of Italy's version of cottage cheese.
4 – Feta Cheese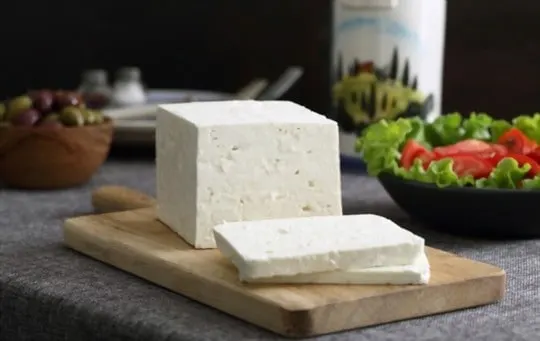 Feta cheese is traditionally produced in Greece, typically made from goat's milk.
This cheese is firm and slightly crumbly.
It may be used as a crumbled topping or sprinkled on salads.
When purchasing this type of cheese, it's crucial to purchase one that has not become too dry.
Unfortunately, some companies sell fake feta cheese, which contains a mixture of different types of cheeses.
If possible, purchase feta cheese from a local Greek market to guarantee that this product is made from goat or sheep milk.
In terms of flavor, feta cheese has a sharp and salty flavor with a hint of lemon.
It's also commonly seasoned with pepper and oregano.
This cheese is an excellent topping for salads, sandwiches, and pasta dishes.
5 – Cream Cheese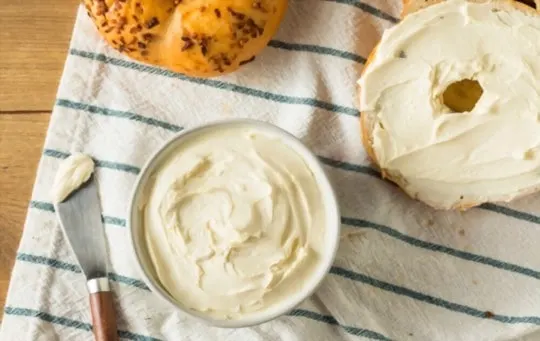 Cream cheese may be commonly found in bagel shops across the US.
It is made from cow's milk and has a smooth texture and rich flavor.
It also tends to have more fat than other soft cheeses because of its high-fat content.
In terms of flavor, cream cheese is milder than most types of cheeses.
It also has a rich and creamy texture that pairs well with fruit spreads.
Cream cheese is often used in desserts such as cheesecakes and French toast.
One of the most popular types of cream cheese is the Philadelphia brand.
It's a staple for many households due to its creamy texture and rich flavor.
In terms of substitutes, cream cheese may be an excellent substitute for burrata cheese because it has a rich and creamy texture that melts well in dishes that call for cooking.
Conclusion
Burrata cheese is a type of Italian cheese made from cow's milk.
This cheese has a smooth and soft texture that pairs well with fruit preserves or salads.
Some recipes also require burrata cheese as a topping once a dish is finished cooking.
Unfortunately, burrata cheese can be expensive at grocery stores due to its high-fat content and authentic Italian roots.
Thankfully, many alternatives boast a rich and creamy texture without the steep price tag.
All mentioned substitutes have a rich and creamy texture that works particularly well with fruit spreads in terms of flavor.