Brandy is a kind of spirit distilled from wine or brewed fruit juice that produces 30-60% alcohol.
Brandy can be produced from different fruits such as grapes, apples, and peach.
It can also be refined from any liquid that accommodates sugar. Brandy is known to be the most popular spirit used in bars.
The name Brandy is originally a Dutch name, which means" burnt wine." Brandies are simple to produce.
Brandy is of different types. Many people think Brandy and whiskey are the same, but they are two completely different spirits.
The distillation of fermented fruit juice produces Brandy, the distillation of fermented grain squash produces whiskey.
Brandy is consumed as a light drink or served as a cocktail drink with vodka and grenadine or many other beverages.
Many people seem to enjoy Brandy and rum during the cold seasons. But does Brandy go bad? Let take a look at the shelf life of Brandy.
Does Brandy Go Bad? How Long Does Brandy Last?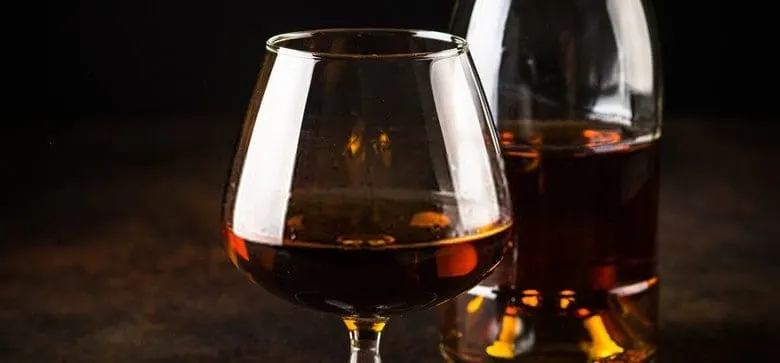 Spirits like Brandy tend to evaporate faster than water. So yes, if a Brandy is not stored correctly, it can lose its flavor over time.
Unlike other drinks or food, Brandy can be stored for a surprisingly very long time.
It says that Brandy can be stored for an indefinite time if kept unopened and stored correctly.
Brandy does not go rancid quickly because of the high alcohol contained in Brandy.
If you intend on storing Brandy for the later years to come, make sure to store it in a calm and dark place, away from the light and heat.
Because when Brandy is exposed to heat and light, it speeds up the oxidation process, thus degrading its quality.
Always store Brandy in an airtight container. Brandy that comes on corked bottles may not last as long as those that come in tightly sealed jars.
Because corked bottles slightly lead passage for oxygen and over time leading to oxidation. Oxidation leads to a decrease in pigmentation, aroma, and flavor.
Even if a Brandy has been un-bottled, there are still chances that it can be stored indefinitely.
That is, only if Brandy has been stored in the right place and at the right temperature.
However, the original taste and quality of the Brandy may change in time once opened.
The quality of Brandy deteriorates because the compounds present in Brandy undergo oxidization due to exposure to oxygen.
As a result, changing its flavor and leading to bacterial infection.
How to Tell if Brandy is Bad? Brandy Shelf Life!
Any liquor that contains 10 to 12 percent alcohol tends to spoil faster than any liquor that contains an alcohol level above 40 percent.
Since Brandy has high alcohol content, it does not quickly go rancid.
But Brandy is known to be susceptible to oxidation and evaporation so it can degrade in quality and lead to spoilage if not stored properly.
Here is how you can tell if Brandy has gone wrong:
Before you pour a glass of your precious collection of Brandy to your loved ones, make sure you smell and taste it first to ensure it is safe to drink.
The flavor of your Brandy will become less distinctive. The change in taste happens when the bottle is stored in a warm place, leading to evaporation.
When Brandy is exposed to sunlight and oxygen, it becomes oxidized, and as a result, the taste turns bland.
Once opened, the quality of the Brandy deteriorates and taste flat. So if you feel that your Brandy does not feel good, it merely means that Brandy has lost its quality.
If you notice that the Brandy had developed some off-smell, it is a sign that your Brandy has gone rancid.
Conclusion
Anything consumed beyond the limit can be harmful to our bodies. Brandy contains much medicinal value.
If consumed the right way, Brandy can help boosts your immune system.
And it has anti-bacterial properties too! Are you someone who has trouble sleeping? Try taking Brandy.
It can help you get a sound sleep. One great property of Brandy is that it can reduce the risk of cancer and slows down aging.
Overall, Brandy has a lot of usages and is highly beneficial for our health.