If you've heard of black vinegar, you probably know that it is the key to spicy and flavourful Chinese dishes.
But did you know this is not simply a condiment? It is a versatile ingredient with its unique taste and properties, making it excellent for cooking.
Black vinegar has a deep black color that can add serious flavor to whatever you're cooking.
It is also perfect for making Cantonese BBQ dishes with an added smoky zing.
If you've ever been to a Chinese restaurant, chances are your food was cooked with this secret ingredient.
In cooking, black vinegar can create amazing sauces and gravies.
It is often used to cook with meats since it gives any dish a hearty, smoky flavor.
If you are looking to include more Asian-style dishes into your cooking routine, this ingredient will be sure to satisfy you.
Black vinegar can also be used in salads and marinades, so experiment with cooking up the unique taste.
However, if you cannot get your hands on black vinegar, then several substitutes can be used in its place.
Come and discover the five most common substitutes for this secret ingredient.
What is Black Vinegar?
Like the well-known rice vinegar, black vinegar is made from rice, sorghum, or millet.
It is, however, aged in a container with the addition of water and salt for a longer period.
This gives black vinegar a rich flavor well suited to Chinese cuisine.
Black vinegar has a complex flavor that's slightly sweet and tangy with aromas of molasses, caramel, and apple cider.
It is used in many dishes, from soups to stir-fries.
It works well in sauces and dips, lending a pleasant tartness.
Black vinegar's rich flavor is due to the fermentation process.
A brine solution is created by mixing water with salt and adding rice or another type of grain into it.
When the bacteria naturally found in the grains are added to this solution, it ferments and becomes vinegar.
The vinegar is then aged for different amounts of time, depending on its desired flavor.
During this process, the liquid evaporates and leaves behind a dark, full-flavored product with a deep brown color.
The 5 Best Substitutes for Black Vinegar
So, you've run out of black vinegar but are in the mood for some delicious Asian cuisine.
What can you substitute?
1 – Rice Vinegar
Let's begin with the most obvious.
You substitute rice vinegar for black vinegar in any dish that calls for it.
Rice vinegar is rich in flavor, has a hint of sweetness, and is slightly acidic.
Rice vinegar is made from fermented rice wine found in Japanese cuisine.
It's considered milder than other vinegar because it contains far less acid.
It's also gluten-free.
In addition, you can use rice vinegar as a marinade or dressing for salads to achieve a mild sourness.
It works well with sesame oil and ginger to make an Asian-style dressing easy to prepare.
Because this vinegar has a slightly sweet taste, it often accompanies steamed vegetables.
2 – Balsamic Vinegar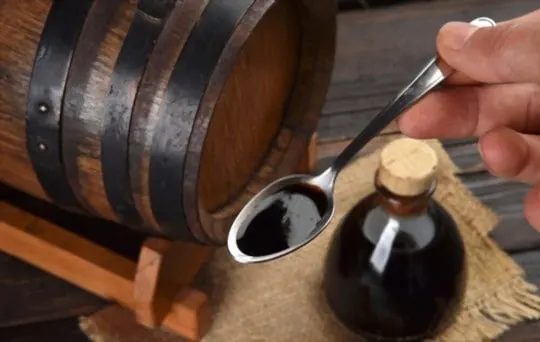 Balsamic vinegar is a rich-tasting, sweet vinegar produced from the juice of white grapes.
It's made in Italy, but similar products exist worldwide.
Grapes are fermented for different amounts of time before the actual vinegar is produced.
Balsamic vinegar is dark brown or black and has a thick consistency.
It's aged in wooden casks for at least 12 years, though most commercial brands are younger than that.
In terms of taste, balsamic vinegar is tart and sweet.
The taste has been described as piquant, woody, and earthy.
It has a high level of acidity due to the acetic acid found in it.
This vinegar is perfect for salads and meat dishes like pork medallions or grilled vegetables with vinaigrette dressing.
It also works well with braised meat, garlic, and onion.
This is because the vinegar has a rich flavor that will enhance your dishes in no time.
3 – Red Wine Vinegar
Third on our list is red wine vinegar.
This vinegar comes from red or white wines that have been fermented for a period of time.
Red wine vinegar is produced by the same process as white wine vinegar, with an important difference: it's aged in wooden barrels during the fermentation process.
This allows the acetic acid and other flavors to mature and provides the vinegar with its rich taste.
Red wine vinegar is brown and has a complex flavor that adds character to salads, soups, stews, sauces, and marinades.
It works best when combined with olive oil or balsamic vinegar because it can be quite strong on its own.
This vinegar is perfect for dishes rich in flavor, like spaghetti sauce.
4 – White Vinegar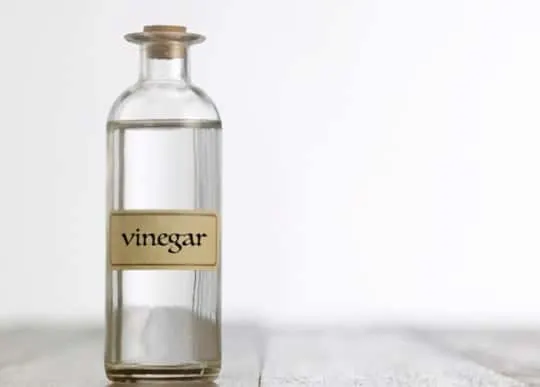 As its name suggests, white vinegar is made from fermented grain alcohol, and it's the lightest kind of vinegar on our list.
It has a very high acidity level that makes it sharp to taste.
White vinegar can be used as a replacement for black vinegar in any dish calling for it, but keep in mind that this substitute may slightly affect the flavor of your recipe.
White vinegar is clear and has a refreshing taste that will enhance the flavors of your dishes.
It's perfect for use with pickled vegetables because it neutralizes their acidity.
This vinegar is perfect for sweet dishes like fruit salads.
5 – Apple Cider Vinegar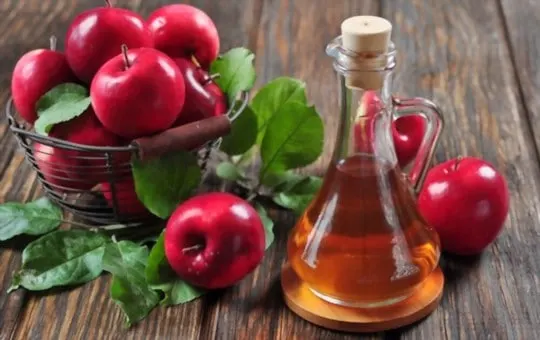 Lastly, we have apple cider vinegar.
This type of vinegar comes from fermented apple juice or apples steeped in water with yeast to create alcohol.
The liquid then goes through the same process as wine and becomes a sour-tasting vinegar.
Apple cider vinegar is light yellow and has a tangy flavor.
It comes in various flavors, such as cinnamon apple and garlic, but plain apple cider vinegar works well with most dishes because it can be sweet at times.
This vinegar goes well with salads and fruit-based dishes like fruit salad or coleslaw.
It also pairs well with warm vegetables like cooked carrots or beets.
Because this is the lightest vinegar, it goes best with mild dishes.
Conclusion
Black vinegar is perfect for dishes rich in flavor, but there are other options out there that can be used as alternatives.
Balsamic vinegar, red wine vinegar, white vinegar, and apple cider vinegar all go well with various dishes and can be used as substitutes for black vinegar.
With these alternatives at hand, you'll be able to make your recipes even if you run out of black vinegar.