Are you looking for an exotic flavor to upgrade your next dish?
A great way to kick things up would be to add in the traditional, Levantine blend of spices known as Baharat.
Most commonly used in Middle Eastern and Arab cooking, this zesty mix is sure to make whatever you're creating the talk of the table.
Not sure how to use or where to find this special seasoning?
Don't worry – I'd love to explain how you can use Baharat spice, as well as provide some alternatives if it's not available.
To truly unlock its potential, all it takes is a bit of heat and a few shakes.
Of course, if Baharat is out of reach for any reason, you shouldn't lose hope; several more accessible substitutes work just as well too.
What is Baharat Spice?
Baharat Spice is a flavourful and aromatic Middle Eastern spice blend that combines 7 to 12 different spices from the region.
This fragrant mix of spices includes cumin, coriander, cardamom, nutmeg, cloves, cinnamon, and peppercorns, and some variations include sumac or fenugreek.
Together these ingredients create an invitingly complex blend with flavors of heat and sweetness as well as earthy undertones.
There's a slight smokiness that comes through due to the generous amounts of black pepper in the mixture.
In terms of texture, it can be both coarse or fine, depending on how you grind it yourself.
Baharat Spice is versatile in cooking – great in marinades for grilled meats such as lamb or poultry; sprinkle on fish before char-grilling; toss with vegetables before roasting; add to slow-cooked stews like musakhan (Palestinian chicken) or make your own baharat dust for delicious shawarma roast beef.
Give this unique spice mix a try and unleash the unique flavors of Middle Eastern cuisine.
The 5 BEST Substitutes for Baharat Spice
If you're looking for a unique flavor to add to your dish but don't have access to it or don't want to buy the traditional Middle Eastern blend of spices called Baharat, there are several good substitutes out there.
Here is a list of the five best substitutes for Baharat spice:
1 – Garam Masala
Garam Masala is an aromatic and flavorful spice blend that adds a unique taste to any dish.
This popular Indian spice mix typically includes several different ingredients, including cardamom, cinnamon, black pepper, cloves, coriander, and cumin.
When used lightly during the cooking process or sprinkled over finished dishes, Garam Masala adds depth to the flavor profile of a dish without overwhelming its natural flavors.
Unlike several other popular spice blends, such as Baharat, Garam Masala also adds a hint of warmth due to its mild heat.
The best way to use this delicious spice mix is by lightly toasting it in a dry skillet before incorporating it into your dish for maximum flavor and aroma.
2 – Ras el Hanout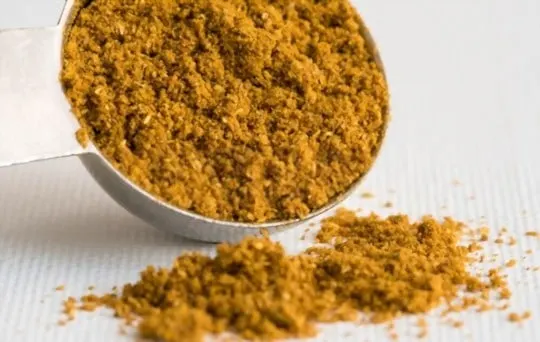 Ras el hanout is an exotic Middle Eastern blend of warm spices that is subtly sweet and savory.
These flavors create a warm, inviting aroma and mellow flavor blend.
It combines aromatic cardamom, cumin, coriander, and other spices to evoke the complex tastes of North Africa.
Ras el Hanout has a distinct peppery flavor with a hint of sweetness and a richly layered flavor palate.
It makes a great addition to all kinds of dishes, from grilled meats and soups to vegetable curries.
If you can't find Baharat, Ras el Hanout can provide a similar flavor profile with an extra layer of complexity.
Make sure to use it sparingly, as its intense flavor can easily overpower the other flavors in your dish.
3 – Za'atar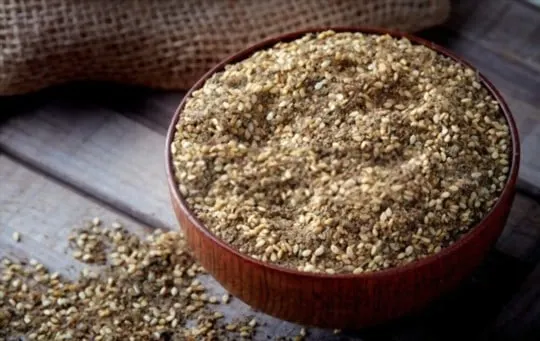 Za'atar, a widely used Middle Eastern spice blend, is a mixture of toasted sesame seeds, sumac, oregano, and salt.
What makes it unique is its tart yet savory flavor with a hint of sweetness from the toasted sesame.
It also has an earthy aroma that can brighten any dish.
There are various ways to incorporate Za'atar into your cooking, depending on the context.
It can be added as a topping for toast or hummus or can be stirred in the soup or sprinkled on vegetables before roasting for an extra layer of flavor.
For dishes that call for Baharat, you can substitute it with Za'atar for an updated and unique twist.
Try it out on your next dish and experience the delightful taste of Za'atar.
4 – Curry Powder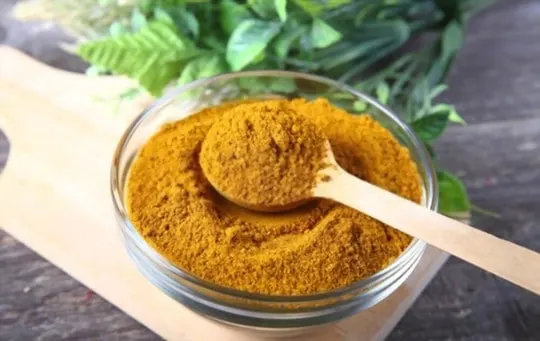 Curry powder is a vivid and flavorful blend of spices, typically including turmeric, cumin, coriander, ginger, garlic, and chilly.
A single batch of the classic Indian spice can bring bright tones of lemon and earthiness to any dish it's poured into.
With its seasoning of chilies, curry powder adds an unparalleled warmth to dishes that other types of spices can't imitate.
It's also become a great substitute for Baharat spice in Middle Eastern cuisine.
Its well-balanced combination makes it especially fitting for marinades and sauces or as a rub for plain pieces of meat.
Taking advantage of curry powder as an ingredient could make any recipe surprisingly delicious with just a hint of its flavors.
5 – All-Purpose Seasoning
A delicious blend of flavors, all-purpose seasoning is an essential pantry essential for any home cook.
This amazing spice blend is a combination of garlic, salt, onion, and pepper, as well as other spices that can vary from maker to maker, such as cinnamon and cayenne pepper.
The mix of these spices gives it a savory taste with a little sweetness and a kick of heat.
Its texture adds complexity to whatever meal you choose to make with it.
All-purpose seasoning can be added to vegetables or meat dishes or sprinkled over pre-made meals for an instant burst of flavor.
It can also be used in place of the traditional baharat spice if you're looking for a more subtle flavor in your dish.
Conclusion
In conclusion, Baharat is a great spice blend that can add depth and complexity to any dish.
However, sometimes we need just the right substitute for this Middle Eastern flavor.
Fortunately, there are plenty of options available.
You can use Garam Masala, Ras el Hanout, Za'atar, Curry Powder, or All-Purpose Seasoning to achieve a similar flavor profile.
Each of these options adds its own unique twist to the traditional Baharat taste and can be used in various dishes to liven up your cooking.