Have you been looking everywhere for ancho chili powder but can't seem to find it?
You may have even tried calling a grocery store, only to find out that they don't carry it either.
Ancho chilis is a type of dried poblano pepper easily found online or at specialty food stores.
Ancho Chili Powder is a popular ingredient used in many different types of cuisine and may be difficult to find.
Poblano chili peppers are often dried, smoked, and ground into powder.
Ancho chilis are typically sold whole before being dried and smoked, which gives them their distinct flavor.
This spicy pepper is milder than other chili powders but can be used in several dishes, from sauces to main courses.
That being said, finding ancho chilis in a store can be quite challenging.
If you don't have the time or patience to look for ancho chili powder at stores, then you might consider trying one of these alternatives.
What is Ancho Chili Powder?
Ancho Chili Powder is a type of spice common with Mexican cuisine, and it is among the popular spice found in the country.
The spice has a mild heat, and it is gotten using ground poblano chiles.
The spice is cooked in Mole, salsa, and sauces.
Ancho chili powder may be found in different places, but it is easy to find it in Mexican groceries or supermarkets.
Ancho Chili Powder has an earthy and sweet flavor which may impact the fruitiness of the dishes.
When you cannot get the ancho chili powder, you may use poblano peppers and grind them; however, if you cannot get such options, you can consider getting the best substitutes.
5 Best Substitutes for Ancho Chili Powder
Here are the top 5 best substitutes for Ancho Chili Powder when you cannot get it.
1 – Guajillo Pepper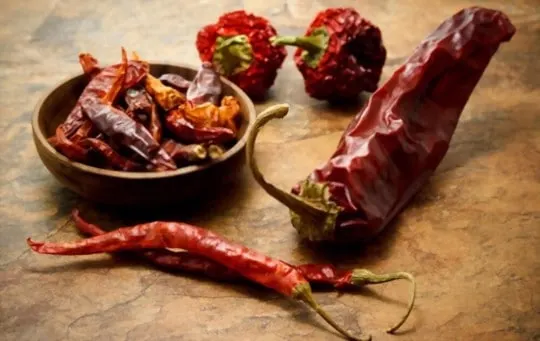 This pepper measures up to 4 inches, and it does have a deep and smooth red color.
It is part of Mexican holy trinity peppers, and it is available in the paste or powder form; however, these forms do have preservatives.
The peppers have a unique and fruity flavor with some smoky flavor.
The heat is medium or mild and they are common used in sauces and salsa.
When you cook with guajillo pepper, it will be the right way of building a wonderful flavor.
It is common in Mexican cuisine and recipes.
It should be dried using a hot pan, and then it should be cut open to get rid of the seeds and rehydrate them for 30 minutes using hot water.
Then, it is turned in the past, added to the soups, stews, marinades, moles, sauces, and dishes.
Even if the flavor is not identical to Ancho, since Ancho tastes more as a dark and earthier flavor, while guajillos are fruity with green tea traces, they can work wonders if they are mixed.
2 – Pasilla Pepper Powder
This is also called Chili Negro, and it is found in Holy Trinity for Mexican Chili peppers.
Pasilla does have the level of heat of guajillos, but the pepper is somehow sweet with cocoa and berry flavor.
Such chilies do have similar heat, such as that of poblanos.
They will be used with the same quantity of Ancho Chili Powder in the tacos, soups, and sauces.
The pepper should be rehydrated in hot water for 30 minutes before giving the sweet flavor.
3 – Chipotle Pepper Powder
Chipotle pepper came from Mexico, and it has become the popular spice in the household of North America.
The pepper is made using Jalapeno, and it is also found in the American household.
Jalapenos peppers are first dried and then smoked before they can turn in the Chipotle powder.
In the USA, there are two types of powder which are Morita and Meco.
Morita chipotle powder doesn't have the same smokier flavor as Meco.
However, when it comes to using Chipotle powder instead of Ancho, you should remember that Chipotle is hotter compared to Ancho.
4 – Mulato Pepper Powder
This is another substitute for Ancho Chili powder, and it is more popular than pasilla and guajillo.
Mulato chili is not too hot, so if it is used as the substitute for Ancho Chili Powder, it should be used in large quantities.
It is also found in the Holy Trinity of Mexican chili pepper, and it is deep and dark brown.
It has a sweet and bitter chocolate flavor with tobacco notes.
You can find Mulato chili in the form of powder or paste.
For instance, you can get pure Mulato chili powder and then rehydrate it before using it.
5 – Red Chili Powder
Red chili powder is a mix of red chili powder and other species such as cumin and oregano.
Red chili is common in Indian cuisine, and it is common in most foods that are cooked.
It can be in powder form or as a whole. An entire country will use it in a certain form or another.
Red chili is found in different types, and they have different forms and unique tastes.
The red chili may also be used in blends like sauces, condiments, and blends.
They have a hot taste with a spicy kick which will bring many benefits to the foods.
Even it is not common to discuss it; there are many benefits that people can enjoy when they use red chili as part of their daily food.
In addition to adding the taste, the dishes will be healthier with each pinch of the red spice added.
The bioactive plant called capsaicin found in the red chilies is behind the health benefits and the taste of the red chilies.
When there is a high amount of capsaicin within the spice, it will taste hotter and add even more benefits to the food.
Conclusion
If you are looking for a substitute for Ancho chili powder, you may check from supermarkets or foods that sell Mexican ingredients.
It is possible to check into the exotic food section when there is any.
However, when you get ancho powder, there will be no need to get a substitute.
If you like to buy online, you will also see different websites that sell the Ancho or any of its substitutes.
Wherever you decide to buy the product, you have to make sure that no additive was added to it.
You may also try out organic brands.